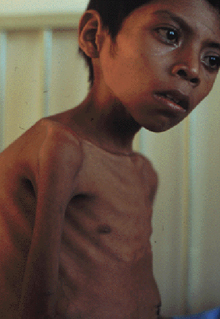 A victim of Tuberculosis
TB cure is still a distant reality for these villagers
Around 110 kilometers of state capital of Uttar Pradesh, residence of Ganga Jamuni village are fighting against-tuberculosis (TB) since their three generations. This is the third generation of TB cases in many families of this village. 'My forefathers have also died few years back due to TB. The situation is same in most of the surrounding villages also. However, no step has been taken forward by the district health department and primary health care centre of Visheshwarganj,' says Tirathram a tuberculosis patient, who is suffering from TB for the last five years now.
In the past two year 8 villagers have lost their lives to TB and about two and half dozen new cases of the disease have come up. Health facilities barely 10 kilometers away yet death has become the fate of TB patients in this village. Their abject poverty forcers them to discontinue their TB treatment, giving away to multi drug resistant TB and the consequential death. "The problem is poverty, despite we providing medicines free of cost for a month of the patients but these people fail to turn up even to collect free medicines and for the necessary and routine medical test," says Mr. Ashok Shukla, Coordinator, DOTS and Sputum collection Centre, Bindra Bazar. These patients not only facing TB related problem, ruthlessly they are also facing stigma and discrimination in their society and in own family too. Patients have been forced to live in a separate shanty outside the family hut to keep him and the disease he carries, away. Family members fear that he may also be a patient and may pass on to the TB infection to the kids. The youngest TB patient in this village is 3 years old girl. Ministry of Health and Family Welfare shows 100 per cent geographical coverage of DOTS centre in India. However, in most of the rural areas DOTS centres are not functional properly and often they are being closed. Mr. Ashok Shukla further says that "Coordinators of DOTS centre are also not fully committed for patients health, because they are not getting paid any honorarium, remuneration etc. to serve their duty."
TB is a disease of poverty affecting mostly young adults in their most productive years. The vast majority of TB deaths are in the developing world, and more than half of all deaths occur in Asia. Statistically, there is 1 TB-related death that takes place every 18 seconds, 1 HIV death every 16 seconds, 1 child dies of pneumonia every 15 seconds and 1 smoking-related death every 13 seconds. The enormous public challenge posed by the combined epidemics of tobacco smoking, HIV, TB and COPD, is undoubtedly alarming. More than 2 billion people or a third of the world's total population, are infected with mycobacterium tuberculosis.
Tuberculosis is now the world's seventh-leading cause of death. It killed 1.8 million people
worldwide last year, up from 1.77 million in 2007. It is one of the three primary diseases that are closely linked to poverty, the other two being AIDS and malaria.
"We have a unique historic opportunity to stop tuberculosis, but we must act now," said Dr Marcos Espinal, Executive Secretary of the Stop Tuberculosis Partnership. "The challenge now is for people to work together in putting the plan into action, in order to stop one of the oldest and most lethal diseases known to humanity. This plan tells the world exactly what we need to do in order to defeat this global killer."
The 2010 World TB Day campaign with its slogan "On the move against tuberculosis Innovate to accelerate action" is focused on individuals around the world who have found new ways to stop TB and can serve as an inspiration to others. The Forum of International Respiratory Societies (FIRS) convening at the 40th Union World Conference on Lung Health in Cancun, Mexico, declared the year 2010 as the Year of the Lung. This was done to recognize that hundreds of millions of people around the world suffer each year from treatable and preventable chronic respiratory diseases.
Lets hope that the government and non-governmental organization will not only raise their voice for the sake of TB patients till World Tuberculosis Day. They will go beyond and will become a ray of hope for these un-heard patients also.
Amit Dwivedi
Author is a development journalist and public health advocate. Recently he has visited this village to cover this story. He can be contacted at: amit.dwivedi.lko@gmail.com