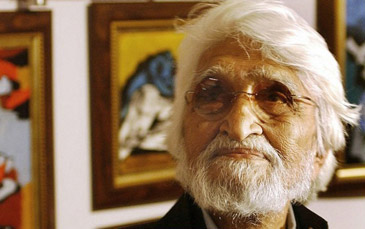 Indian painter M.F. Husain
Indians have always taken pride in the fact that they are a highly tolerant and understanding society. The country's majority faith, Hinduism, has often been described not as a religion, but as a way of life that never believed in conversions, force or violence. But all these appear to be disappearing in a storm of religious bigotry and persecution.
One writer commented that persecution is older than history, and as old as civilization itself. The twenty-first century India seems to be much more dogmatic than it ever was, and the worst sufferers are artists and writers. However, nobody has drawn the kind of attention as Indian painter M.F. Husain has in recent years. This came to a head the other day, when the 90-odd-year-old artist –- who has been living in exile mostly in Dubai – was granted Qatari citizenship. Obviously, there was a hue and cry over this in India's literary and artistic circles, with fingers pointed at the government for failing to provide security and solace to Husain, who left the country some years ago following threats to his life by fanatical Hindu groups.
Husain, a Muslim, whose paintings of Hindu gods and goddesses have evoked the wrath of extreme politico-religious groups, is a much celebrated Indian having been honoured with some of the nation's highest civilian awards. He was once nominated to Parliament's upper house, Rajya Sabha.
In India, where nude figures are magnificently carved out of rock in some very ancient Hindu temples, Husain's art, some of which depicting gods and goddesses, appears to have been singled out because he belongs to another faith.Recently, there was news of arson and looting from the southern Indian State of Karnataka, where a newspaper article purportedly written by Bangladesh's Taslima Nasrin on the burqa provoked the ire of, this time, Islamic fundamentalists. Newspaper offices have been set on fire, and mob rampage has been widely reported. In 2008, Nasrin, who had taken refuge in India after being forced to flee her homeland, was hounded out of her host country as well. She now lives in Sweden.
It is clear that tolerance in Indian society for another point of view is at its lowest now, with both Hindus and Muslims resorting to violence and mayhem at the slightest pretext. It could be a newspaper article, it could be a painting, a comment or just about anything else.
Recently, when Bollywood star Shahrukh Khan commented on a public platform that the Indian Premier League could have handled the controversy over franchisees not selecting Pakistani cricketers at an auction in a "nicer manner", fanatics rose in anger. They warned that they would not let theatres in Mumbai (where Khan lives) screen his latest film, "My Name is Khan". The actor was asked to go away to Pakistan.
Sadly, Muslims in India are not only called upon, time and again, to prove their national loyalty, but are also increasingly being identified with terror – as is Islam itself. In the movie, it does not, therefore, come as a surprise that Khan's character, suffering from Asperger Syndrome, keeps repeating: "My Name is Khan, but I am not a terrorist".
In 2003, when the Oxford University Press in India published James W. Laine's book, "Shivaji: Hindu King in Islamic India", Right-wingers were so furious with a few paragraphs that they blackened the face of a Sanskrit scholar who had helped the author!
All these merely make me wonder how are we Indians different from nations such as Iran, which at least do not pretend to be secular. (India's Constitution highlights this.) The other day, award-winning Iranian cinema director Jafar Panahi and his family were arrested and taken to an undisclosed destination. A favourite of arthouse critics and fans, his pictures are socially relevant and even critical. Despite his international fame, much of his work is banned in Iran. Many Iranian artists suffer a similar fate under Tehran's authoritarian regime.
India's is far from that. It is a healthy democracy where elections are free and fair, and governments change peacefully. Yet, narrow, parochial views that have no room for dissent have been allowed to have a free run. The great social fabric, built over 5000 years of civilization and culture, stands endangered.