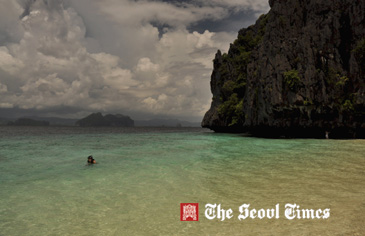 El Nido beach
El Nido Resorts is just like living in paradise and in the end, you will not want to go home.
If you are planning to spend your honeymoon or just a quiet getaway for you and your significant other, El Nido Resorts (www.elnidoresorts.com) is your best bet. Also, make sure to spend a few days in Manila for shopping and sightseeing fun.
Honeymooners, I cannot stress this enough, this place is paradise and you will not be disappointed.
Flying from Seoul is easy. There are several flights a day by several air carriers.
Personally I always prefer dealing with the national air carrier of my destination. In this case it is Philippine Airlines (www.philippineairlines.com), the reason being that they give you a little taste of your destination even before landing.
On my recent trip to El Nido there were couples from as far as Wisconsin, United States on their honeymoon and several honeymooners from Korea. There was even a Japanese couple in their 50s who wanted to relive their honeymoon in the very same place about 25 years prior.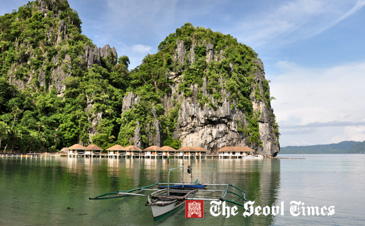 El Nido boat cottage
There are two ways of getting to El Nido, one is right away, and the other is taking the first flight out the next morning
My recommendation is spend one night in Manila before heading out. This will get your feet wet and ready for one incredible relaxing and romantic trip.
For your first night in Manila before heading off to Palawan, the island where El Nido is situated, stay at the Diamond Hotel.
The Diamond Hotel Philippines (www.diamondhotel.com) is perfectly located against the magnificent golden sunset along scenic Manila Bay area and is only minutes away from the international and domestic airports, and the Makati business district.
Also within the vicinity are Manila's famous historical landmarks, cultural and convention centers, shopping malls, and Malate's spectacular night life.To make your stay at the Diamond Hotel truly memorable before heading down to Palawan, the hotel has a variety of restaurants and bars specializing in different cuisines and diners are sure to have a remarkable dining experience.
If you want to spend more than a day in Manila before heading to for El Nido then make sure to enjoy an afternoon's lunch or even a day at The Farm in San Benito.
This is relaxation at its finest, no holds bared.
The Farm (www.thefarm.com.ph) is exactly what the doctor ordered to wash off the stress from living and working in a busy city like Seoul.
Their vegan restaurant Alive!, one of the first in Asia, will provide you with a surprising twist on your concept of healthy eating.
To enhance the culinary experience, the restaurant offers cool, screened indoor seating and ample outdoor deck tables shaded by majestic trees.
The food is delicious beyond belief even for sworn meat-eaters like myself.
At no point did I feel I was eating a vegan meal and at the end, I was fully satisfied.
Their philosophy is to provide the environment, guidance and support you need for your body to heal and maintain a healthy functioning state.
Once fueled and ready to go, head down for an afternoon of sightseeing at Tagaytay City.
Only 55 km away from Manila, Tagaytay is one of the country's most popular tourist destinations and provides a good view of the Taal Volcano.
The city is a popular summer tourist destination because of its cool climate due to its high altitude.
On your way up make sure to stock up on fresh fruits so that your picnic on top of the mountain is a truly romantic experience.
For dinner, you do not need to go any further than Josephine Restaurant which offers a breathtaking view of the volcano and some of the finest home-cooked local cuisine (www.josephinerestaurant.com). There is so much to do and experience in the Philippines that just a few days does not make it justice. My recommendation is to spend at least a week between El Nido Resorts and Manila.
Once you hop off the plane onto Palawan, you know that this trip is something special. Hotel staff greets you with a cool drink and a song.
But that is not it; you have to hop on a 45-minute boat ride to get to either Lagen Island Resort or Miniloc Island Resort. Both are excellent and both are highly recommended.
For all intense and purposes, this story will focus on Lagen Island.
Lagen Island Resort has a total of 50 rooms with a variety of accommodation types to choose from.
There are water cottages built on stilts on both sides of its cove, Beachfront Cottages with a view of the entire cove and of the sunset, Forest Rooms and Forest Suites built on the fringes of a tropical forest.
For a true seaside feel I recommend staying in the water cottages. This is the place where a million pictures where taken, furthermore, any time while you are relaxing on your balcony you can see an array of tropical fish swim by.All cottages, rooms and suites have floors made of antique wood, furnishing made of old wood from old Filipino houses and a full-height sliding glass doors that open up to a private verandah, and depending on the room, affords guests with views of the cove, the cliffs, the bay or the sunset.
Each cottage, room and suite is air-conditioned and has a private toilet and shower with bath amenities and a hair dryer, a mini-bar, stereo system with CD player, and IDD telephone. Television junkies be warned, there are no boob tubes but you don't need one because you will be too busy enjoying what the resort has to offer.
Among El Nido Resorts' numerous eco-friendly activities are diving, snorkeling, lagoons tours and rock climbing. Non-motorized water sports activities such as hobie-cat sailing, windsurfing and kayaking are also available.
Due to El Nido Resorts' first-class facilities, impeccable service and commitment to environment protection, the Association of Southeast Asian Nations bestowed to the resort the Green Hotel Recognition Award in 2008.
The resort strongly believes in respecting its natural resources through responsible tourism. Lagen Island Resort, set in a cove, fringed by a thick primary forest, is a showcase of El Nido's flora and fauna.
Trees and limestone cliffs provide various niches for a diverse variety of birds, mammals and reptiles.
In fact as soon as you get to the resort, hotel staff will offer a brief explanation of its green policy and friendly animal neighbors.
No matter how long you spend there make sure to sign up for everything they have to offer.
One memorable activity, amongst the many others, is paddling your way to nature's wonders at your leisure with either sea kayaks or regular kayaks.
"Truly Spectacular" describes the natural wonder that awaits those who kayak into the Small Lagoon.
This is the place to spend time with a loved one while enjoying your private adventure, surrounded by the towering limestone cliffs.
The Big Lagoon at Miniloc Island is an exploration into one of nature's wonders and best of all; it is at your leisure. The more adventurous can even do some rock jumping.
While my wife and I were signing up for everything and anything the Resort had to offer, that friendly Japanese couple I spoke about earlier had a different idea of their perfect second honeymoon.
They would take invigorating walks amongst the giant trees and lush rainforest where monkeys would run and frolic, take pictures of the Palawan hornbill and other wondrous flora and fauna and ended up at a beautiful cove on the west coast of the island.
If you have never snorkeled or scuba dived, this is the place to start.
Guests are encouraged to snorkel from Miniloc's pier where hundreds of coral fish and giant Jackfish swim around their house reef.
You can be adventurous and explore them on your own, or be accompanied by one of their Marine Sports Guides. A complete line of snorkeling equipment may be used for free on a first come first serve basis.
If you would like to get certified as a scuba diver, then the resort is the place with five-day packages that in the end will make you a certified and addicted scuba diver.The following dive courses are offered at El Nido Resorts: open water, advance and rescue diving.
The dive sites range from gradual slopes to drop-offs, wall dives to reef flats. Visibility is generally good, with an average of 10 to 30 meters in the summer months of March until May. Dive equipment available for rent includes BCDs, regulators, wetsuits, weights, mask, fins and snorkels.
While under the sea you can't help but notice the 1.5 meter long jack fish swimming around. They are harmless and a true delight to hang out with, that's if you can keep up.
At Miniloc's very doorstep, the long dock where guests are welcomed, guests can snorkel alongside Jackfish and hundreds of sergeant majors, damsel fish, fusiliers, and other multi-colored tropical fishes. The myriad colors of the fish will make you not want to get out of the water.
But El Nido Resorts is not only about water fun, there is also a historical trip that is also a must.
Cudugnon Cave is one of El Nido's stunning geological formations which archaeologists believe was used as a burial site during Neolithic times.
This ancient cave was formed by million of years of weathering action that hollowed out large portions of the emergent limestone layers.
If it's sunbathing you want them you are in luck because there are over 100 private beaches readily accessible from both resorts. Enjoy the privacy and the environment and return to the resorts at your leisure.
Blessed by nature, El Nido has many unique features, including Vigan Island, also known as Snake Island, because of its winding white "snake's tail" of sand. Island Hopping includes a visit to Snake Island as well as other interesting sites.
With all this activity you and your loved one will really need a massage or a visit at their spa.
These massages soothe the senses at their beachfront sala and make it a perfect end to a day of activities.
There are many different packages and massages styles to choose from including shiatsu, Swedish and combination massages.
Couples, sign up for the 150-minute Romantic Treat for Couples Package which starts with a Balinese foot wash for both, an apricot body polish for her, a lavender lift facial and scalp treatment for him then a relaxing aromatherapy for both to enhance your romantic vacation.
Now for the food, it is unique, delicious and has something for everyone including kimchi.The sound of waves gently lapping at the beach accompanied by the ambient reflection of lights on the pool creates a memorable dining experience under the stars.
Make sure to organize a private lunch or dinner at one of their private beaches. Nothing beats being left alone with your loved one enjoying a world-class meal.
Their service is impeccable, unobtrusive, informative, friendly, warm and gentle.
One welcomed touch was a little folk take left on my pillow every evening about people from the island. Every night after our evening walk I would look forward to a different tale.
At the end of your stay it is hard to say goodbye to the hotel staff that you have made friends with, the animals you have encountered and the area you would gladly leave your life for.
While some take a connected flight back to Seoul or home, I would suggest not to. Instead, enjoy Manila for a few days.
Forget about the financial crisis, a honeymoon is a lifetime experience so checks into one of Manila's excellent luxury hotels like the Edsa Shangri-la (www.shangri-la.com).
Set in lush tropical gardens with the feel of a deluxe resort, Edsa Shangri-La Manila is a luxury hotel that combines attentive service with exceptional facilities in the centre of Ortigas' businesses and shopping areas.
This Manila hotel is home to a fine range of lavishly appointed rooms and suites that offer delightful views of the city and the hotel's tropical garden.
The restaurants at Edsa Shangri-La offer guests a culinary tour of the best in international cuisine.
This hotel beckons discerning diners to indulge in fine cuisine at its range of restaurants. Dine on Italian pasta and seafood at Paparazzi, indulge in Cantonese specialties at Summer Palace, or sample the market fresh sushi at Senju.
If you can't decide exactly what you want them a visit to their buffet restaurant HEAT is exactly what your taste buds are asking for. HEAT offers an international buffet served throughout the day. A constant variety and the ever-changing choices in the breakfast, lunch and dinner menu bring guests an excellent sampling of Asian and Continental dishes and desserts.
Buffets at these deluxe hotels are big, with an assortment that is befitting royalty.
If buffets are your fancy then a must meal at the Sofitel Philippine Plaza Hotel (www.sofitel.com) is a must. The Spiral restaurant at the hotel offers the world on your plate with a choice of seven different cooking theaters. New and popular dishes are prepared using traditional methods with a modern twist by a team of international culinary specialists.
As for sightseeing, Manila has it all including several World Heritage Sites including the famous San Agustin Church.
San Agustin Church is a Roman Catholic church located inside the historic walled city of Intramuros in Manila.
Completed by 1607, it is the oldest church still standing in the Philippines and is a perfect example of Baroque style with an Asian touch.
It has withstood numerous earthquakes that have destroyed many other Manila churches.
The church courtyard is graced by several granite sculptures of lions, which had been gifted by Chinese converts to Catholicism.
Intramuros was built by the Spaniards in the 16th century and is the oldest district of Manila.
Following the design of medieval fortifications, along the massive walls of Intramuros are strategically located bulwarks, ravelins and redoubts.
Entrances to the city are through gates, most of which have been restored or rebuilt.
If you only have two days in Manila then it should be divided into one day for sightseeing and the other day for shopping.
Coming from an expensive city like Seoul you will find shopping in Manila a dream and a bit dangerous considering the amount of better priced brand name goods. My suggestion is to bring an extra suitcase.
There are two top quality shopping meccas to choose from, one is SM Mall of Asia (www.smmallofasia.com). The other shopping mall you should visit is the Shangri-la Plaza Mall (www.shangrila-plaza.com) located next to the Shangri-la hotel.
Shop 'till you drop was the perfect phrase to describe a shopping excursion into these two malls. Everything you want can be found there at affordable prices, compared to Seoul.
If you want something more traditional, something more like Namdaemun or Dongdaemun, visit Greenhills (www.greenhills.com.ph).
I recommend going on the weekend when the flea market opens. At Greenhills indoor flea market, you will find stalls upon stalls of goods like costume jewelry, authentic South Seas pearls, clothes, shoes, knock off branded handbags, Oriental furnishings, Christmas decorations, paintings, souvenirs and linens.
For dinner there is no reason to go further than to Gerry's Grill (www.gerrysgrill.com) where they serve a selection of grilled seafood, Filipino favorites and exotic cuisine.
I highly recommend the Crispy Pata and the Beef Kaldereta.
The evening before you leave make sure to book a session at CHI spa at the Shangri-la.
This is a private sanctuary of calm, personal space and timelessness in a spa within a spa concept.
Nestled in the hotel's Garden Wing, this luxury spa features a variety of single, double and specialty treatment suites, outdoor bathing, relaxation lounges, a library and a yoga studio with classes.
CHI offers treatments based on Chinese and native Philippines healing concepts, including the traditional Hilot massage.
Body massage, exercise, stretching, hydrotherapy, and movement of the mind through relaxation and meditation combine to assist the body's natural renewal and form the basis of the spa; a perfect idea before coming back to Seoul, one of the busiest cities in the world.
In the end you will not want to come home and will be looking forward to your next holiday in the Philippines.