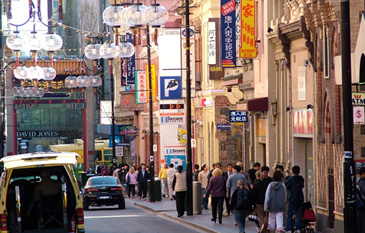 An Asian community in Melbourne, Australia
Melbourne was the nicest city I saw during my visit to Australia a couple of years ago. The people there were very friendly, smiled often, even at strangers like me, and made me feel comfortable and happy. But in the intervening period, Melbourne and the State of Victoria that the city is located in seems to have turned ugly, at least for Indians, students especially. Out of the 95,000-odd Indian students in Australia, Victoria alone is home for 45,000. And it is this region that has over the past few months seen incredibly horrible attacks on Indian students. One reason why other Australian States have remained free from such purportedly racist attacks could be the concentration of the Indian student community in Victoria.
The question now is, if these attacks have been motivated by race, why have the Chinese students, for example, who are larger in number than Indians been spared? There is no clear answer emerging, but there are unmistakable clues.
For one, Indians tend to be far more submissive on foreign soil. The Chinese can be far more aggressive and less inclined to take things lying down. So, Indians are seen as softer targets. Most of the recent attacks have been on those hailing from small Indian towns, and the students from there probably found it much harder to mingle with Australians. A certain ghettoization could have taken place, leading to misinterpretations and misunderstandings, even hostility.
Also, in the state of economic gloom that the world has been witnessing for many months now, local Australians perhaps feel that Indians, usually hardworking, thrifty and not habituated to partying or merrymaking, have brighter prospects at the job market.Incidentally, many Indian students began looking towards Australia after 9/11 made the American destination and dream less attractive. And Australia was a virgin territory, largely unexplored educationally or economically by Indians. Let us face it, most Indian students went to the U.S. not just to study, but also to work and eventually get a green card or residence permit. It was, therefore, not surprising that Indians flying down to Australia nursed similar hopes. A PR (permanent residence) there could open up employment prospects.
Unfortunately, Australian market or economy has never been as big as America's. All said and done, Australia is a very small market with a small population, and it certainly could not afford to extend employment opportunities to the thousands of Indians who chose to descend there.
A point came when Indian students spent a whopping USD 30,000 to USD 40,000 on a one-year course in Australia, and often it was to study fashion designing or makeup or hairstyling. These courses were freely available in India, and conducted by well-known institutions. Apparently, the motive guiding the migrating students was not education, but what they perceived as a comparatively more lucrative job market, and what they rightly felt afforded much higher living standards than home.
Aiding and abetting this was the mushrooming of tens of schools in Australia, outside regular universities, that offered courses such as fashion designing, beauty treatment, hairstyling and so on, and these institutes made a quick buck from expat students.
Now with battle lines between Indian students and Australians clearly drawn, the fate of these schools could be in serious jeopardy. More importantly, the Australian economy could suffer. The country's third biggest export earner after coal and iron ore is education, and it brings in about USD 16 billion a year from foreigners.
Student visa applications from India fell by a disturbing 46 percent between July and October 2009 compared with the corresponding period a year earlier. The Indian media has been shouting from the rooftops about the attacks on the country's students. Bad publicity has also been seen in other big markets such as China. This came on the heels of the bad press about the collapse of many private colleges offering cheap vocational qualifications to foreign students. These had made huge money at a time of chronic skills shortages in Australia, when hairdressing and catering qualifications made it easier to acquire permanent residence in that country. But immigration rules have since been tightened.
The Australian government has been making serious efforts to correct the situation. Senior Ministers have been coming to New Delhi, and Indian journalists have been offered junkets to Australia. Kevin Rudd, Australia's Prime Minister, went overboard when he attested his fondness for Indian food in an apparent gesture of camaraderie! But he must understand that it is not so much his professed love for the curry as it is the end to curry bashing that will hopefully bring the smile back on the Indian student fraternity.