Dalia Lama talks with US President George Bush at the White House on Sept. 10, 2003. President Bush invited the Tibetan spiritual leader to the US.
Courtesy White House
The Dalai Lama is still the head of Tibet. He may be just a figure head. But China, which annexed Tibet in 1959 and drove the Dalai Lama and his followers into India, knows that only this monk can convince his people to reconcile to Beijing's control over Lhasa.But the Dalai Lama is 69, and China understands that the stakes are getting higher. His death would leave an irrevocable void among Tibetans, who could then rise in a bloody revolt.Also, it appears that there may not be another Dalai Lama. The present one, the 14th — who now lives in the Indian town of Dharamsala, the headquarters of the Tibetan government in exile — does not wish, in any case, to be reborn.Despite this, an average Tibetan's faith in the Dalai Lama is still unshakeable. Beijing's consistent efforts to eradicate the man from the people's memory have not really paid off. Many Tibetans still yearn for the return of one whom they consider their spiritual and temporal head. While China makes it a point through its official media to spit venom on the Dalai Lama calling him a traitor bent on dividing Tibet from the mainland, his followers' trust in him merely grows deeper.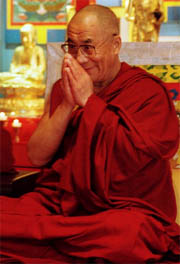 Dalai Lama
One reason for this could be the Dalai Lama's ability to comprehend the pressures of changing situations and the need to adapt: he has virtually given up the demand for a free Tibet, and instead seeks greater autonomy. He realizes that it will be impossible to dislodge China from the plateau, and that, given the geopolitical compulsions of the time, no other country will really help Tibet achieve total independence.Unfortunately, Beijing is yet to seize this opportunity. It is yet to begin talking to the Dalai Lama. If it does not, there is a good chance that Tibet will turn uglier.Analysts aver that China has a "rare opportunity to solve the Tibetan question once and for all." In fact, many Chinese do admit to this in their private conversations, and feel that Beijing is unnecessarily paranoid about a people who are largely peace loving and wonderfully cultured.Yet, China remains blind to the point of being obstinate. Its hard-line policies seem to be adding to the simmering discontent and resentment among the Tibetans. Beijing's use of Tibet as a nuclear dumping-ground breeds indignation there.Above all, China's policy of mixing repression with liberal central-government money, most of which benefits ethnic-Chinese immigrants, has set the 2.4 million Tibetans all the more resolutely against Chinese rule. The constant denigration of the Dalai Lama threatens to be the final straw.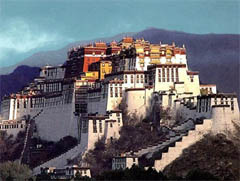 The Potala Palace, Lhasa, Tibet
The spiritual leader knows that China can do what it wants to in Tibet. He has absolutely no power to stop that. And, as he grows older his urge to return home and be amongst his people gets stronger. He is willing to offer concessions that will enable Beijing to lift the ban on his entry into Tibet. He has already made it clear, perhaps much to his own anguish and that of his people, that he will be willing to accept greater autonomy for Tibet and forego his demand for total freedom.In essence, he will affirm China's sovereignty over Tibet. He is ready to bring Tibetans around this line of thought.Admittedly, the Dalai Lama is brave. For, this involves abandoning the grand goal of many Tibetans and their chic Hollywood supporters. It also rules out any temporal role for himself.I would think that with the Dalai Lama having gone much more than half the way, Beijing ought to cease its policy of humiliation and confrontation. Over 600 Tibetans are in jails. Most of them are monks and nuns. They must be freed. China's policy of destroying the Tibetan language should be scrapped; it must be reintroduced in schools in Tibet.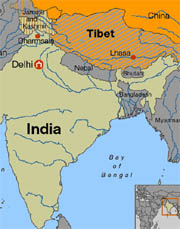 A greater peace in Tibet will not only reassure Taiwan that China is a responsible guardian of its territories, but will also facilitate a more voluminous flow of trade between India and China. Already, a trade route has been established between the two via Tibet. Something still smoother will undoubtedly help New Delhi and Beijing to find a quicker solution to their own border problem. After all, today, economics and commerce rule ties, not quite common political isms.Tibet may well be the plateau of a platform for a free flow of goods and services between the world's two most populous nations.