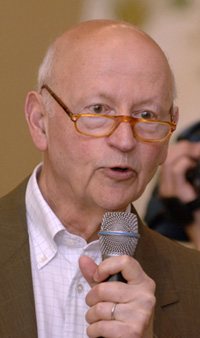 Cannes Film Festival President Gilles Jacob
The Cannes Film Festival to run from May 12 has always been eager to tap the key to fantastic experiments. Last year, it opened with Disney's animated work, "Up" by Peter Docter. This was the first ever occasion that Cannes began rolling with an animation movie, and "Up" with its 3D imagery and sweetly poignant story of an old widower and a wisp of lad took the French Riviera on an awesome adventure.
This year, Cannes will again transport us back, though covertly, to the world of cartoons and caricatures through the American director, Tim Burton. He has been named president of the Festival's jury. This will be the first time in the history of Cannes that an artist whose beginnings were in animation heads the jury.
But animation is only one of the several alleys that Burton has trudged along. Gothic humour and sweet madness as well as horror and magic have also been his pet avenues. No wonder Cannes Film Festival President Gilles Jacob described Burton as "a magician of visual delights who turns the screen into faerie wonder". Let us hope his presence on the Croisette turns Cannes' famed beachfront ethereal this summer.
Also an illustrator, a painter and photographer, Burton spent his boyhood in southern California reading Edgar Allen Poe and watching old cartoons and horror movies that undoubtedly shaped his thinking and future. His somewhat warped sensibility and passion for the ghoulish pushed him to test the bizarre. His work has been deliciously unconventional though he managed to remain within mainstream Hollywood.His 14 features have peeped into just about every genre from biography ("Ed Wood" in Cannes Competition 1995) to science fiction ("Mars Attacks" in 1997 and "Planet of the Apes" in 2001) to Gothic ("Sleepy Hollow", 1999) to fantasy ("Big Fish" 2003) to animation ("The Corpse Bride", 2005) to children's stories ("Charlie and the Chocolate Factory", 2005) and to at least one musical ("Sweeney Todd", 2007).His next film, "Alice in Wonderland," is a 3D adaptation of Lewis Carroll's cult novel starring Johnny Depp and Helena Bonham Carter. To have a theatrical release in March, it is a sequel to Carroll's story and happens 10 years after the girl's mad voyage. Alice is now 19, and once again tumbles into the rabbit hole trying to escape a party that has been secretly organised to announce her engagement with an arrogant and dull man.Once again, it is a rabbit wearing a waistcoat and a pocket watch that seduces the girl into a flight of imagination.
"The Night Before Christmas" auteur is rumoured to be planning "Sleeping Beauty", where he will retell the classic fairytale through the eyes of the wicked Dark Fairy Maleficent.Such mystic and sometimes macabre plots have always haunted Burton, who equates movies with dreams, and perhaps nightmares. His early obsession with cartoons could have pushed him into a world of the unreal. But it certainly took him to the doors of the Disney-created California Institute of the Arts. He won a scholarship to study there, and later worked as an apprentice animator at Disney. It was a terrible time for the studio (animated megahits were far away), and young Burton found it trying to draw cute little foxes. His refreshingly, though radically, different ideas failed to impress the Disney bosses.Burton left Disney carrying with him his creativity that some felt was strange. But Warner Brothers' "Pee-Wee's Big Adventure" that he was asked to helm turned out to be one of the biggest hits in the early 1980s. This box-office success helped him clinch "Beetlejuice" (1988), a comic twist to the "Shock Theatre" images he saw as a child.Tim Burton did not really have to fret after that.
Gautaman Bhaskaran has been covering the Cannes Film Festival for two decades.