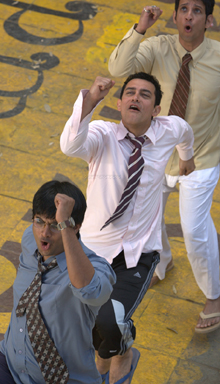 Rajkumar Hirani's "3 Idiots"
The best way, I wrote years ago, to watch an average Indian film was to walk into the cinema without a thinking cap. Theatre and thinking can well be allergic to each other. For, the moment you begin to use rationality and logic, the questions that may occur to you will merely evoke further questions. And you would be left confused and confounded.
Let us take as an example Rajkumar Hirani's "3 Idiots", the current craze that seems to have swept men and women off their feet. The movie has made its moolah. The producers must be celebrating with caviar and Champagne, while the audiences are being tickled pink.
Admittedly, the Aamir Khan starrer opened just before the Christmas week, and it's extremely witty one liners added to the festive joy and the spirit of the season. Christmas and New Year are undeniably mood-elevators, and people are less critical and more forgiving at such celebrators times.
Besides, its humour (some of it is juvenile), "3 Idiots" has a profound message. It lambasts the bookish education system in India, where the mad chase for marks robs students of the pleasure of school and college days. Parental and peer pressure and the frightfully huge fees for professional courses push boys and girls into performing puppets. The higher your grades, the closer you are to securing a centum, and the brighter are your chances of clinching a money spinning job, and, well, a rich bride or groom.
The Hirani film makes this point all right (though it appears terribly preachy at times), but look at the kind of vehicle he has used to transport it. Worse, look at the situational ploys.
"3 Idiots" begins with a passenger plane returning to the tarmac soon after it takes off, because Madhavan's Farhan Qureshi has had a heart attack. Minutes later, we see him jump off the wheelchair and escape – all to meet a long lost friend! This young man travels up to Ladakh with no cop chasing him for his misdemeanor.
Aamir Khan becomes Rancho, an engineering student, tops the university and goes on to become an internationally renowned scientist (who also plays teacher to poor little kids in a remote hilly area). But wait a minute, he is not Rancho. He has been impersonating Rancho. The real Rancho wants it easy: he gets his degree and an attractive contract, and his rich father plays a cool accomplice to this crime. The unreal Rancho could not care, for he is not after medals and degrees, but real knowledge!
There is more. A paralytic man gasping for breath is taken to the hospital on a two-wheeler that stops just inside the intensive care unit. The doctor says well done. A vacuum cleaner's pump is used to suck a baby out of its mother's womb. Medicine is made into a mockery!
Liberally peppered and spiced with a string of coincidences to boot (Kareena Kapoor's Pia decides to get married the day the three friends, Farhan, Rancho and Raju Rastogi/Sharman Joshi meet after years), the movie caricatures its lead actors. Poor Boman Irani as the principal of the engineering college is turned into an idiot himself, replete with a bicycle, a lisp and a devilish glint in his eyes. Chatur Ramalingam (essayed by Omi Vaidya) is an epitome of exaggeration: he does not understand Hindi, so he memorises the college day speech and rattles it off little realizing that Rancho had changed a couple of words to demean and defame the principal. "Chamatkar" (excellence) becomes "bhalatkar" (rape).
As for performances, there is little to get our hearts racing. Khan remains Khan, the hero of the village ("Lagaan"), the hero of the school ("Tare Zameen Par") and now the hero of "3 Idiots", a cool genius who gets his marks and his maiden.
"3 Idiots", in short, insults our intelligence, and if this is the price we have to pay to be entertained I call it sad.