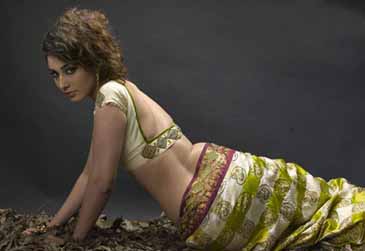 A woman in Indian attire
The rules of sex are being rewritten in India. Sexual freedom is sweeping across the country, and in this euphoric atmosphere women are increasingly finding that the price they have to pay is very heavy. Much like the Western women of the 1960s sexual liberation that the pill facilitated, their Indian counterparts are realizing that free sex can be potentially lethal. A basic reason for this is the different perceptions of expectation that men and women have. While men offer love to get sex, women submit to sex to attain a sense of emotional fulfillment.
It was, therefore, not exactly surprising when a young teenage girl in the Western Indian city of Pune recently agreed to meet her boyfriend on Friendship Day. She must have been excited at the first flush of love that leaves one dreamy and desired. But the boy brought three of his friends along, and they took turns in raping her – just for some fun! The day after this, the shattered 15-year-old girl hanged herself to death in a tragic interplay of misunderstood notions. She wanted love, and he sex. This is one of the hundreds of incidents where boys and girls are playing the dating games with a set of completely diametrically opposite rules. And perhaps values.
Young Indian girls exposed to the bold television programs from the West and daring reading material, part of most middleclass homes, are eager to befriend boys and experience the thrill of being in a relationship. Obviously, the hormones of a young girl play up as much as those of a boy, and sex is an important part of this union. However, girls, especially those from towns and small cities and who have led rather sheltered lives, are totally unprepared to meet the exigencies that may arise out such bonding. They fall prey to the first predators who come along.
In an interesting film, "Dev D", by one of India's new, young directors, Anurag Kashyap, we see how a young girl in the first days of a heady romance is shocked to see on mobile internet images of her giving fellatio to her lover. The girl is brave enough to face the shame and scandal that engulf not only her but her family as well. She lives, unlike the poor the Pune teen.
Boys film girls undressing or making love, and send the clips to friends for vicarious pleasure. Sometimes, the clips are used to blackmail the girls in an attempt to hold on to them. Occasionally, a rejected lover stalks the girl. Things turn sadistic when frustration runs high: acid is thrown on the girl's face marring her for life. There are even cases of girls being kidnapped and imprisoned. Often, such girls would have had little clue about the boys they decided to trust in the first place, unprepared as they are in a society that practiced sexual segregation for decades.
India's sexual freedom is a recent phenomenon, and it happened too quickly in just about 10 years. In the West, the process was gradual. Indian girls are obviously unprepared for the sexual revolution and its implications. With parents and teachers still shy or wary about imparting sex education, girls walk blindfolded into the arms of boys. An awful lot of misunderstanding arises out this situation.
When a girl as much as smiles at a boy, he tends to misread the signal. He does not understand that the girl may be drunk or skimpily attired or behave suggestively, and can still say "no" to sex. And it means "no". The boys are foxed by this. The old familiar rules have vanished. A girl has the right to refuse today, and in a stiflingly patriarchal society like India's men are uncomfortable with this. They have never been taught to respect a woman's right to choose. Obviously, the transition from segregation to mingling has been too fast, unlike in the West.
On the other hand, young Western girls are well equipped to handle boys. The girls develop a keen sixth sense after healthy discussions on sex with their mothers and sisters. More information comes from television/classroom debates and magazines, and the girls can detect the slightest of dangers in a relationship. Indian society affords little scope for this kind of deliberation and openness. Also, the feminist movement has had a much stronger impact in the West than it has in India. The ideas of Germaine Greer, Simone de Beauvoir and Betty Friedman percolated popular consciousness, a process that has been largely absent in India.
As one writer quipped, Indian girls have darted from Jane Austen to Paris Hilton. Armed with Austen's sense and sensibility, the girls now find Hilton's shoes too hot for comfort or comprehension.