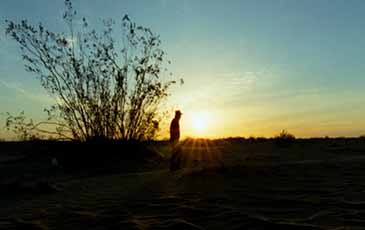 Rigoberto Perezcano's Mexican work "Northless"
The 9th Marrakech International Film Festival's top Golden Star Award went to Rigoberto Perezcano's Mexican work, "Northless", a bitter-sweet story of illegal immigration into America. Focusing on a Mexican desperate to cross over despite several failed attempts, the movie pictures the pulls and counter-pulls he faces in a small town where two women try and stop him from going away. A small movie with no fancy production values, "Northless" is, nonetheless, a classic work that tugs at your heart strings. The 10-member jury, chaired by renowned Iranian director Abbas Kiarostami, gave away two Jury Prizes, one each to Belgium's "The Barons" and Malaysia's "My Daughter". Nabil Ben Yadir's "The Barons" is literally a growing up story of a group of boys, whose problematic relationship among themselves is elaborated in a delightfully light-hearted manner. Charlotte Lim Lay Kuen's "My Daughter" looks at a mother-daughter relationship that develops out of an unhappy tie the older woman has with a drunken slob. The Best Actress Award went to Lotte Verbeek in Poland's "Nothing Personal", shot in Ireland. Verbeek as a rebellious young woman finally gives up her solitude to be with a much older man in a performance that is powerful but understated. Cyron Melville walked away with the Best Actor Prize in the Danish entry, "Love and Rage". As a gifted pianist descending into violent insanity, he essays the hopelessness of the character with enormous conviction, and shares with us the pain and pathos of the illness. There were 15 entries from 15 countries competing for the top prizes this year.
Gautaman Bhaskaran has been covering the Marrakech International Film Festival for several years.