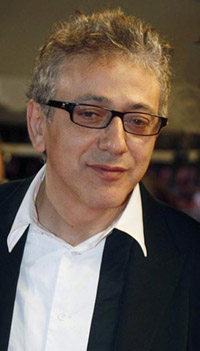 Palestinian movie director
Elia Suleiman
Palestinian movie director Elia Suleiman – who is on the jury at the Marrakech International Film Festival here – told me during an interview yesterday (Dec. 8, 2009) that he felt a strange sense of hope when Barak Obama was elected American President. "I had always been apprehensive that any American Head of State or, for that matter, any political leader could make a difference to the Palestine question, because I am deeply suspicious of any political solution coming from a power structure. The power structure could be a government or a revolutionary group. Such a solution I feel may not adhere to justice. Having said that I must admit that there is a tiny bit hope within me as far as Obama is concerned". "But one must remember that Palestine is not the only one in the world crying for justice. There are so many other areas that need to be attended to", he smiled at me. Was he referring to the Kashmiris' right to decide their own future? Or, for that matter, the Sri Lankan Tamils? Suleiman was born in Nazareth, and is best known for his 2002 work, "Divine Intervention", a contemporary tragic-comedy of characters having to suffer occupation in Palestine territories. It won the Jury Prize at Cannes, and not without merit. His cinema is often compared to Jacques Tati and Buster Keaton for its "poetic interplay between burlesque and sobriety". Also known by its more apt title, "Chronicle of Love and Pain", "Divine Intervention" uses the surreal and the abstract to analyse the degrading humiliation of Palestinians living under Israel. The helmer captures the emotional consequences of this and elaborates on the criticality of it all. Suleiman said that there was a sudden interest in the Palestine issue among movie-makers the world over. "I do not know why, but I am completely certain that it has nothing to do with me… However, I have no problem with this. I would have a problem only if a film is not cinematically good. I do not believe in imposing restrictions on people wanting to make a movie in Palestine or about Palestine. Such a restriction would mean censorship". Cinema cannot be stopped at any checkpoint. It will always transgress borders. And that is what is so powerful about images. Yet, Suleiman himself had to face a form of censorship when the Academy of Motion Picture Arts and Sciences discouraged the producer of "Divine Intervention" from submitting it for the best foreign language movie award on the grounds that Palestine was not a recognized country! The auteur's work is usually autobiographical. He talks about his own experiences and the times he has lived through since his birth in 1960. But his last movie, "The Time That Remains" (Cannes Competition, 2009) is autobiographical in a different way. "The 1948 (when Israel declared its independence) segment here is not the period I lived. But I have adopted it from my father's descriptions of the situation from his own experiences", Suleiman averred. "I wanted to make the film as personal as possible". "The Time That Remains" is made up of four chapters revolving around his family from 1948 till the present days, and it graphically portrays the lives of those Palestinians labeled as Israeli-Arabs and forced to live as a minority community in their own homeland. "My movies are inspired by my everyday life. When you live in a sensitive area like my country, politics is simply a part of life," he said. This work came seven years after "Divine Intervention", and its sad stories are narrated with wit and humour. Yet a sense of pessimism is noticeable throughout, perhaps implying the director's own. "I am not a very optimistic person" he had once said. Still, even in the deep crevices of human pessimism, a faint ray of hope struggles to survive. It is true for Suleiman as well, and pushing that hope to exist is Obama, whose recent Nobel Peace Prize has merely added an ounce or two of bitter-sweet anticipation in the helmer.
Gautaman Bhaskaran has been covering the Marrakech International Film Festival for several years.