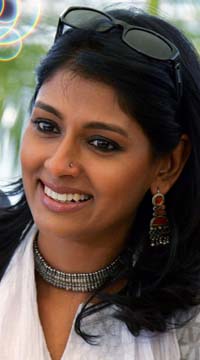 Indian actress-director Nandita Das
Indian actress-director Nandita Das will be part of the 10-member jury at the Marrakech Film Festival, starting on December 4. Headed by the renowned Iranian auteur, Abbas Kiarostami, the jury will be impressive with French-actress director Fanny Ardant, Italian actress Isabella Ferrari, Spanish actress Marisa Paredes, Palestinian helmer Elia Suleiman, French author Christophe Honore, British moviemaker and composer Mike Figgis, Argentinean filmmaker Pablo Trapero and Moroccan dancer and director Lahcen Zinoun.
Born to a painter father and a writer mother, Das first came into cinematic limelight through her sensitive performances in meaningful movies, such Toronto-based Deepa Mehta's "Fire" and "Earth", Jagmohan Mundhra's "Bawander" and Bengali maverick Mrinal Sen's "Aamar Bhuvan".
Das's tryst with full-length fiction feature came with "Firaaq". Based on the Gujarat genocide of 2002, when thousands of people lost their lives, the ensemble film looks at multiple incidents over a 24-hour period. Das, who co-wrote the script with Auckland University professor Shuchi Kothari, traces the trauma of a few ordinary men and women. Her characters come from different segments of society. Some are victims, some perpetrators and some mute witnesses. "Firaaq" circled the globe and won many honours for its creator.
Das has been on several juries, including that at Cannes in 2005, and she is now the Chairperson of the Children's Film Society – India, having piloted the recent International Children's Film Festival at Hyderabad with a degree of dexterity.
Some of the other members of the jury are fairly well known in India. Cineastes remember Ardant for her stellar performance opposite Gerard Depardieu in Francois Truffaut's "The Woman Next Door" (1981) and in Franco Zeffrelli's "Callas Forever" (2003) where she plays an opera diva.
Elia Suleiman has had a glorious innings. His first feature, "Chronicle of a Disappearance" in 1996 got the Best First Film Prize at Venice. In 2002, his second work, ""A Chronicle of Love and Pain, won the Jury Prize at Cannes. His latest creation, "The Time That Remains", competed at Cannes this May.
Figgis has worked with some of the most renowned Hollywood stars, such as Richard Geri, Melanie Griffith, Tommy Lee Jones, Andy Garcia and Juliette Binoche. His masterpiece, "Leaving Las Vegas" in 1995, narrating the tragic love story of a fallen-from-grace-Hollywood executive (Nicholas Cage) and an abused prostitute (Elizabeth Shue), clinched four Oscar nominations, including those for Best Director and Best Adapted Screenplay (Figgis).
"Leaving Las Vegas", may not have been a Bollywood kind of feel-good romance, but there was an uplifting message at the end. Figgis himself remarked to an interviewer after the movie's release that tragedy never depressed him, but moved him. Well, Marrakech may well have its fair share of dark tales, and we shall see how Figgis and the rest of jury face them.
Gautaman Bhaskaran has been covering Marrakech and other top film festivals like Cannes and Venice for many years.