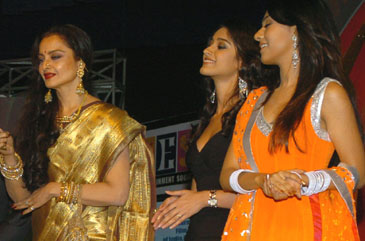 International Film Festival of India (IFFI) at Goa, India
The first few days of the 40th edition of the International Film Festival of India now on at Goa merely confirms what I have been writing for years. If a movie festival is to grow and develop, it needs a strong leader at the helm of its affairs. Let me give the example of Cannes, a festival that the Directorate of Film Festivals that runs IFFI has been so desperate to emulate. Cannes, which opened in 1946, reached its undoubtedly premier position on the world festival map through sheer stability. It had Robert Favre Le Bret leading it for 30-odd years, Gilles Jacob for 20-odd years, and now Thierry Fremaux would probably head it for as long, if not longer. Therein lies Cannes' one vital secret of success.
Another major global festival at Venice, despite being the oldest having begun its run in 1932, could never match up to Cannes. The reason is apparent. For the first 50 years of Italy's Republic, there were 60 governments and as many heads of the Venice Film Festival.
IFFI's record is equally abysmal. In the past decade or so, we have had directors come and go with the change of seasons. Deepak Sandhu, Neelam Kapur, Shankar Mohan and now S.M. Khan have headed the Directorate but with little success. To begin with, most of them have really not been keyed to cinema. The last Director who had a fairly good sense of cinema was Malti Sahai. Unfortunately, she was never given the kind of support by the Directorate's parent body, India's Information and Broadcasting Ministry. She left with a broken spirit and a demoralised Directorate.
Although it has been discussed and debated for years that the Directorate must be given complete autonomy to run IFFI with the Government being just the funding, not executive, authority, precious little has been done in this direction. Even a few weeks ago, when I met Raghu Menon, Secretary in the Information and Broadcasting Ministry, he said that IFFI must not be run by the Government.
But like many others who have shared this opinion, Menon would probably push IFFI out of his mind once the festivities end at Panaji. And the Directorate's Joint Director, Shankar Mohan's words would prevail. "This is a Sarkari Festival. What more can you expect?" And by 2010 November, when the Festival's next edition would begin, it would have covered a little more ground on its journey downhill.
It does not, therefore, come as a surprise that this year's IFFI has an extremely poor content. In one of the Festival's top category, Cinema of the World, there are neither big movies nor renowned helmers. Pedro Almodovar (with his "Broken Embraces") and Jacques Audiard (with his "A Prophet") are just about the exceptions. This appears to be the impression among the Festival audiences as well.
As far as the Competition is concerned, the canvas seems equally bleak, with a single ray of hope coming from Vimukthi Jayasundara's "Between Two Worlds", which screened at Venice. I really wonder why a cinematically engaging Konkani work, "Paltadcho Manis" (The Man Beyond the Bridge") by Laxmikant Shetgaonkar was not included in the Competition. Instead, we have Atanu Ghosh's "Angshumaner Chhobi" and Satish Manwar's "Gabhricha Paus". Shetgaonkar was surprised that while his film was found suitable to open the Indian Panorama section, it was not considered worthy of competing with 14 other movies.
Judging these competing entries would be a five-member jury, headed by Brazilian helmer Joao Batista de Andrade. The brochure says that his "latest film is "The Trunk" (1999)! Part of the jury is Indian actress Sarika, whose recent claim to fame was "Parzania". Is she important enough to be on this panel? This is a question that has been making the rounds at the Festival venue. Jean-Michel Frodon ( French film critic), Kenichi Okubu (Japanese university lecturer) and Vic Sarin (film director from Kashmir) are the other jurors. Hardly known in India, and relatively unknown even in their own countries.
With a budget of about Rs seven crores that come out of the taxes that you and I pay, IFFI has no business to squander the money on putting up a festival year after year that shows no sign of perking up. Rather, it exhibits a strong tendency to decline and decay.
Gautaman Bhaskaran has been covering the International Film Festival of India for 20 years as he has been Cannes.