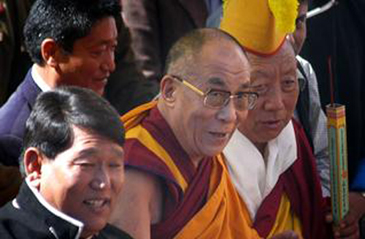 Tibet's spiritual leader, the Dalai Lama visiting the Buddhist monastery town of Tawang in India
New Delhi recently allowed Tibet's spiritual leader, the Dalai Lama, to visit the Buddhist monastery town of Tawang in India's northeastern State of Arunachal Pradesh. This region, which lies on the Indo-Tibetan border, has long been claimed by China as its own or at least parts of it and most certainly Tawang. Beijing refers to Arunachal as "Southern Tibet", and for many years, India did not allow the Dalai Lama to visit Tawang, but finally relented this time, despite bitter protests by China.
Tawang holds a special place for the Tibetan leader. It is the most sacred town on the Tibetan Buddhist map after Lhasa. Besides, Tawang was the point through which he entered India fifty years ago after escaping from Tibet. He was sick, weak, depressed and angry when the people of Tawang offered him a home and comfort. Later, Dharamshala in northern India became the Tibetan seat of administration in exile.
Beijing has been furious over the Dalai Lama's visit that is seen as both India's affirmation of its right over Arunachal and the spiritual leader and his people's call, however veiled, for greater autonomy in Tibet, if not outright independence. The Chinese Communist Party's flagship newspaper, People's Daily, in an unusually harsh comment, attacked India in mid-October as "a previous victim of colonialism and hegemony that has started to dream about developing its own hegemony".
India has a long-standing border dispute with China. But several round of talks between the two since 2007 have not produced any tangible result, mainly because New Delhi is in no mood to yield even an inch of land in Arunachal, smarting as it still is under the humiliating defeat it faced in a brief border war with China in 1962.
New Delhi's intention of not allowing Beijing to get an upper hand in disputed territories became clear when India announced last June the stationing of a squadron of nuclear-capable Sukhoi 30 MKI fighters within striking distance of Arunachal.
Earlier in October 2008, Indian Prime Minister Manmohan Singh visited Arunachal during a run-up to the parliamentary elections. China fumed, because it has always seen any such visit as inimical to its own interest. Immediately after the visit, it tried to block an Asian Development Bank loan to India that included flood control in the State. But failed.
It is interesting to note that while New Delhi seems to be getting tougher in its dealings with its powerful neighbor, the West, particularly the USA, has in recent months been careful not to offend Beijing, given the ongoing economic crisis. India's permission for the Dalai Lama's Tawang visit is a case in point. On the other hand, the Barak Obama government has adopted a policy of strategic reassurance towards China in a move to get its help in pumping oxygen into the world economy and to make sure that it does not dump its huge holdings of American public debt.
This could be the possible reason for some sort of cooling off in the India-U.S. relationship lately. It is likely that this tie may not remain in the same favored state it was during the Bush era. The former American President may have been a villain for the whole world, but his tenure was marked by a sense of softness towards New Delhi. The nuclear non-proliferation treaty is ample proof of this.
Beyond Tawang and Washington lies a fierce competition between India and China. Each dream of becoming not just an Asian, but a global leader. Both have an excellent chance of attaining that. One's decline could benefit the other's rise. Suspicious of the growing Chinese influence, particularly in South Asia, New Delhi may see Tibet as a tool to check Beijing. With Obama about to start his first official visit to Asia, including China, India sees this as a great opportunity to play the Tibet card.
Obama had refused to meet the Dalai Lama when he was in Washington some weeks ago. However, the President had promised to meet the leader at a future day. Would that be during his coming visit? With New Delhi determined to get the Tibet issue rolling, Obama has to do a tight-rope walking if he is not to overtly displease Beijing. In any case, this would be his priority. India for him can merely be a secondary issue in the current scenario. Not a good development for Tibetan aspiration as well.