| | |
| --- | --- |
| | A police van leaves Kolkata's Alipore Jail where Dhananjoy Chatterjee was to be hanged till death at 4:30 a.m. on Saturday, Aug. 14, 2004. Courtesy AFP |
The recent hanging of 40-year-old Dhananjoy Chatterjee in a Calcutta prison has been widely condemned by the media and the public in India.Although what Dhananjoy did 14 years ago was nothing short of brutal, what the State did to him was as barbaric, even sadistic.Dhananjoy raped and murdered a 14-year-old school girl in Calcutta some 14 years ago. Her family certainly deserved justice. But the way it was meted out was inhuman and cruel.Indian law courts took 14 years to send Dhananjoy to the gallows. And all these years, he was kept in jail, and, worse, in solitary confinement. His companion was just a radio-set.Dhananjoy had already served out a life term in jail. In India, a life sentence runs for 14 years. Often, it is less, because the convict is freed in about 11 or 12 years depending on his or her conduct.Obviously, a serious breach of justice had been committed in the case of Dhananjoy. What was even more terrible was the fact that during every moment of this long incarceration he lived on tenterhooks, led a life of agonizing uncertainty, hovered between hope and despair, between life and death.
Members of various social and human rights organizations light candles in protest against the hanging of Dhananjoy Chatterjee near the gate of Alipore Central Jail in Kolkata. 39-year-old Chatterjee was hanged to death early morning at the Alipore Jail bringing to an end his 14-year-long legal battle to escape the death sentence. It is India's first execution since 1995.
Courtesy AP
And, what seemed utterly despicable on the part of the Indian State was the timing of the execution. He was put to put to death on Aug. 14, 2004, a day before the country celebrated its 57th Independence Day.Sadly, much of the debate that one saw in the weeks leading up to the hanging centered on this particular case, and not on — what should have been — capital punishment as a deterrent. The debate raged on whether a "low life like him has a place in society."Nobody denies that men like Dhananjoy must be prevented from harming more and more people. A rapist or a killer on the lose is certainly a threat to the well-being of a community.But is sending such a convict to the gallows an answer to heinous crimes. The reply to this is a clear no. Studies have proved beyond doubt that capital punishment never deters someone about to rape or murder. Can one about to indulge in a crime of passion (religion or love or hate) be ever checked by the threat of the noose? Can a serial murderer ever be halted in his gory tracks by the fear of the lethal injection?"No" is what sociologists and criminal psychologists say here.
| | |
| --- | --- |
| | Members of the Association for the Protection of Democratic Rights (APDR) stage a silent protest to demand abolishing hanging in India at the Alipore Central Jail in Calcutta Aug. 13, 2004. Courtesy AP |
In fact, the many, many nations that have done away with death sentence have found a drop in their homicide rates. On the contrary, those who still have this form of punishment on their statue books have not seen any such decline at all.What is more, this extreme form of penalty in a poorer country such as India — where the interpretation of law and its enforcement are heavily influenced by money, power, social status, religion and caste — may well lend itself to arbitrary judicial decisions.A renowned U.S. Supreme Court judge once made a devastating statement: "Capital punishment is for those without capital." Dhananjoy was a very poor man, and the girl he raped and killed belonged to an influential family. And the legal battle was doomed right from the start.A former Indian Supreme Court Chief Justice, P. N. Bhagawati, said as early as 1982 that death sentence was "unconstitutional" because an overwhelming number of those convicted were poor. Indeed true.Another example of how this extreme rule of law may be blatantly misused lies in the fact that in India's 57 years of independence not single policeman has been sentenced to death for custodial killing. There have been hundreds of such cases, including those of fake encounters, where cops have butchered extremists or other anti-social elements in jails or outside after asking them to escape!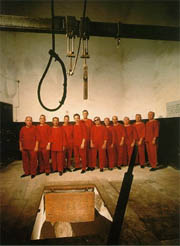 A couple of years ago, a mass genocide of Muslims in the Western Indian State of Gujarat was spearheaded by the government in power there. Till date, nobody has been found guilty! In the final analysis, all I can say is that India calls itself a great civilization with a rich history and culture that dates back to the almost beginning of time. Is it too much for such a country to join the rank of civilized States which have done away with the ritualistic killing of its citizens?Dhananjoy was given a good dinner the night before he was to hang, and given a leisurely bath and a new set of clothes before he was led to the hangman amidst the chanting of religious hymns.His last words to those around him were terrifying. "I am innocent. India is murdering me," he uttered.What, if he really were? American statistics have on record the number of people who escaped the electric chair in the nick of time because they were found innocent. There must have a greater number who died even though they were not guilty. Dhananjoy could well have been one of them.We would, of course, never know. But the blood of an innocent man can weigh heavily on a nation's conscience.