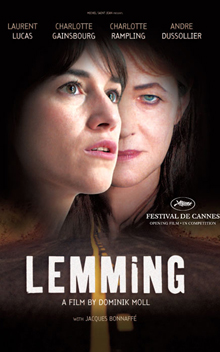 Dominik Moll's French film "Lemming"
One of the most unique aspects of the ongoing 11th Mumbai Film Festival is a 20-member group of young movie critics. Drawn from several Mumbai colleges, they are undergraduate students bound together by their passion for cinema. Not just the run-of-the-mill song-and dance potboilers, but sensitive, serious and meaningful fare.
With a slightly higher number of girls than boys, the team was chosen after a rather strict process of elimination. The Festival asked about 35 colleges to pick two of their best students with a fair knowledge of cinema to watch Dominik Moll's French work, "Lemming" and write a review of it. The students had no clue about the film they were to watch before they entered the auditorium. This was to prevent prior preparation. And "Lemming" is a many layered, rather complicated work that foxed even veteran reviewers.
Two movie critics, Rashid Irani and Ashok Rane went through the reviews of 70-odd kids and picked the 20 best. Bikas Mishra, the project's coordinator, said that they were amazed at the perceptiveness of the boys and girls, and their grasp of the medium. Some of them wrote extremely insightful reviews.
Amit Khanna, one of the brains behind the festival, felt that the concept of appointing these critics was to encourage the youth to get involved in the annual event, apart from, of course, inculcating a finer sense of cinema aesthetics in them. "These children are getting a great opportunity to watch contemporary world cinema, which will enable them to understand the medium better and the kind of cinema that was being made", he said.
The young critics would watch 27 films in the course of the eight-day Festival and review them. Some of them were being published by two big newspapers.
Before the young reviewers got on the job, they had attended a workshop by the renowned German critic, Daniel Kothenschulte, who taught them the basics of how to review a cinematic creation.
However, the moot point remains. Must one become a critic or reviewer at the first shot? Would one be prepared at all? One of the young critics at the Festival, Sneha Reddy, doing her first year of Bachelor's degree in Mass Communications, said that she found it extremely uncomfortable watching Lars Von Trier's latest shocker, "Antichrist". "I closed my eyes every time such horrific scenes flashed on the screen", she looked disturbed. Reddy was referring to scenes of genital mutilation that the Von Trier work has aplenty. So how honest could Reddy's review of "Antichrist" be? And, can you really blame her for shutting her eyes when the characters on the screen went about their sadistic adventure?
Even some of the seasoned reviewers at Cannes where "Antichrist" was premiered last May found it so repulsive that they walked out of the auditorium in utter disgust. One of them, a respected British critic, asked Von Trier at the Press conference that followed why at all he had made such a work. The Danish director with his usual devil-may-care attitude replied that he was forcing nobody to watch his work. He added that he was the "best director in the whole world". If "Antichrist" shocked viewers, the maker's arrogance was even more upsetting. Curiously, Von Trier had made this picture in the midst of his extremely debilitating depression that had got him almost bedridden for two years. "There were days when I would debate endlessly whether to get out of bed for a glass of water", he had said.
In the final analysis, one would infer from all this that it is easier said than done to get into the shoes of a critic, and perhaps it would call for many years of hard watching before one is ready to confront and critique a film, let alone even give it a good watch, so to say.