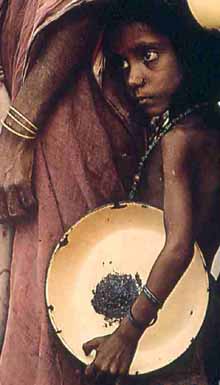 The number of hungry people in India soars as starvation become commonality.
India is still hungry 62 years after it was freed from British colonial yoke. The Global Hunger Index for 2009 places India at a poor 65 in the list with even China, though far more populous than its Asian neighbor, doing much better. While China has brought down the number of its hungry people by 58 million during the past decade, shockingly India's number has risen by 30 million since the mid-1990s.
Although India's hunger is no longer related to food famines and shortages – which plagued the country before Independence with the last major famine having taken place in 1943 – yet 240 million citizens (out of the total billion plus) or 21 per cent of the population go hungry to bed night after night. Ironically, India produces enough food, and more, to feed its millions, but does not generate enough employment opportunities for them to afford that food. Even basic food, such as rice, wheat and lentils, remains beyond their means. Instances of severe and endemic hunger and even starvation are, therefore, not exactly rare.
Some experts aver that India's situation is much worse than that in sub-Saharan Africa, and, of course, in China, where only nine per cent of the population remain hungry. In absolute terms, this works out to 117 million people. The reason here is simple: not enough food is being produced for the population, which is quite unlike the case in India.
India, on the other hand, while producing enough food, is terribly callous about storage, wastage, distribution and, finally, mass affordability. A government report last year had this to say: The production of foodgrain may rise 4.6% to an estimated 227.3 million tonnes in the year ending 30 June 2008. About 20 million tonnes of wheat, rice and lentils, the equivalent of Canada's annual wheat crop, is eaten by rats and birds or spoilt, because of improper storage and warehouse facilities. A whole lot of grains is stored in the open.
Lopsided government schemes and misplaced priorities have led to perennial neglect of the nation's villages, where closer to 65 per cent of the population still lives. A large number of villagers are illiterate and know little else than farming or related activities. These men and women have been displaced by industrialization, and have hence been left without enough income. Obviously, with many farmers unable to step into an industrial regime, the picture could not but get bleaker. Hunger exists not because there is not enough food in India, but because people cannot access it," the Global Hunger Index report notes.What is even worse is children going hungry: when they do — and a staggering 47 per cent of them under six are horribly malnourished – their overall development takes a hit. They cannot concentrate at school, and are very likely to be caught in a trap of poor education, under employment and poverty. The poverty-hunger chain remains unbroken. Rather, it gets strengthened. Thus, India's much-touted human capital remains underutilized. Income distribution worsens, leading to disastrous consequences. One of them is mass suicides by farmers, the most important segment of the rural population.About 200,000 farmers have ended their lives since 1997, indicating the most tragic symptom of poverty and hunger. Driven by debilitating debts, and facing starvation, the farmers have little option but to kill themselves. Debt reflects negative economy. Two factors have pushed Indian agriculture from green to red: rising costs of production and falling prices of farm produce. Both have resulted from trade liberalization and corporate globalization. For example, in 1998, India was forced to open up its seed sector to global corporations, which changed the input economy. Farm saved seeds were replaced by corporate seeds, which need fertilizers and pesticides. And these cannot be saved.Currently, the Indian government provides rice and wheat at subsidized prices to 316 million people, the poorest of the poor, through a public distribution system. However, the scheme is flawed on many counts: foodgrains do not always reach the needy, because they are sold to middlemen by unscrupulous traders. Otherwise, why would India be still so hungry? Let me give one more concrete example. Punjab, a northern Indian State, is termed the best on India's hunger index. Yet, the State ranks below Gabon, Honduras and Vietnam in the Global Hunger Index.Any move to stamp out hunger must look beyond merely providing food stamps and public distribution. The root cause of hunger is employment, and unless sufficient opportunities are generated, India cannot progress toward a hunger-free society. In India's case, a lot more attention needs to be given to villages. This would mean better infrastructure that would facilitate greater economic activity. Also, improved medical care in rural regions would not only ensure better health for the inhabitants but also encourage reverse migration from cities, which are "living hells" to quote Prime Minister Manmohan Singh.