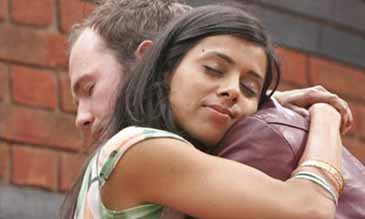 "Land Gold Women" (2009)
If cinema must entertain, it must also evoke ideas and provoke minds. But most of Indian cinema stops with titillating one's baser senses. It is merely once in a way that a film such as "Land Gold Women" is made that not only tells a story that engages you, but also pans across and focuses on social malaises, such as, in this case, honour killing. Written, scripted and helmed by Avantika Hari, a Tamil who grew up in Dubai and now lives in Mumbai after her recent marriage with a Bollywood producer-director, the movie is a disturbing look at honour killings in Britain.
Set in Birmingham, "Land Gold Women" explores these horrific murders often committed by the girl's closest relatives like her brother or father. The narrative follows a Pakistani family as it grapples with the young teenage daughter's affair with a white boy. The father, a university professor of history, changes from a liberal to a fanatical conservative when he sees his British educated daughter drifting from what he perceives as Islamic tradition.
Hari, who passed through the hallowed portals of the London Film School, tells me in Mumbai, where the ongoing Film Festival is screening her movie, that honour killing predates Islam, and could, therefore, never have been sanctioned by the religion, a fact that perpetrators of this heinous crime never admit.
Little wonder, then, that such killings continue with women being buried alive, stoned to death, burnt alive or stabbed. In Britain alone, there are at least 13 such murders every year, with the United Nations reporting 5,000 such cases annually the world over. If the clergy is a party to this crime, keeping alive a barbaric practice, British courts are guilty as well. For, they tend to reduce jail terms under the plea that these cases fall under socio-cultural and religious categories and hence can only attract milder punishment.
Hari feels that not only are honour killings absolutely un-Islamic but also not religion specific. They are to be found across the world, irrespective of faith or economic and social status. Usually, this kind of murder is committed to save a family's honour.
Hari's debut feature leaves one shaken, and though the mother's tacit support of her daughter's murder may seem incredible, the director avers that the older woman had no choice. Protest from her would have got the sword on her. But would not a mother save her child even if that means losing her own life? Hari says no, because years of social conditioning mutes her own rationality and a sense of fairness. "Land Gold Women" tells us how through the story of a young Eurasian couple who find that Shakespeare was after all terribly wrong.
END