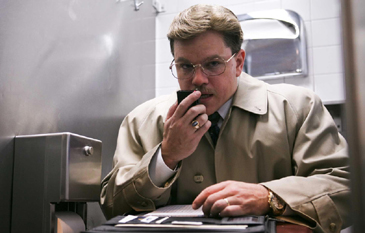 Matt Damon's "Informant"

It will open in Mumbai (Bombay) on Oct. 29, 2009 with Academy award winning director Steven Soderbergh's "The Informant". A movie that tries hard to be a comedy, it has been scripted by Scott Z. Burns and is based on a book also titled "Informant" by Kurt Eichenwald. The story centres on a complex and habitual liar, a top executive at agribusiness giant Archer Daniels Midland who helps the FBI expose a price fixing scandal at his company in the 1990s. Eventually, he is also prosecuted for embezzling large sums of money. The film, which premiered at the recent Venice Film Festival, stars Matt Damon, Scott Bakula, Joel McHale and Melanie Lynske.
India's Union Information and Broadcasting Minister Ambika Soni will be the chief guest at the inaugural ceremony, to be held at Fun Cinema, Andheri. Greek master Theo Angelopoulos and Indian actor-director Shashi Kapoor will be given Lifetime Achievement Awards.Indian Director-producer Yash Chopra will be felicitated by FIAPF, the international federation of film producers association, and Indian star Amitabh Bachchan's four-decade screen presence will be celebrated towards the end of the Festival.
Angelopoulos' "The Dust of Time" will close the eight-day event on November 5. The second part of his trilogy, the work covers a 20-year period beginning at the end of the Stalin era and running through Nixon's Watergate and the fall of the Greek junta.
A five-member jury of Hollywood screenwriter and director Paul Schrader ("Taxi Driver", "Raging Bull", and "American Gigolo"), Iranian filmmaker Jafar Panahi ("The White Balloon" and "The Circle") , Philippine auteur Brillante Mendoza ("Kinatay" and "Lola"), Indian director Shaji N. Karun ("Piravi", "Swaham" and "Vanaprastham") and former Director of the Locarno Film Festival Irene Bignardi will judge 13 movies by first-time helmers in competition.
Denmark's "Applause", Singapore's "Here", Chile's "Huacho", Argentina's "La Tigra, Chaco", Germany-France's "The Day Will Come", Turkey's "Wrong Rosary", Iraq's "Whispers with the Wind" and India's "The Man Beyond the Bridge" (in Konkani language) will compete for several large cash prizes, including best picture, best director, best actor and best actress.
Laxmikant Shetgaonkar's "The Man Beyond the Bridge" is also part of the 26-movie Indian Panorama of the International Film Festival of India, to begin in Panaji on November 23. The work may open this section.
Initiated by Reliance Big Entertainment, the Mumbai Film Festival is the only one of its kind in India to be organized by an independent body of movie professionals and will have several categories other than the main competition.