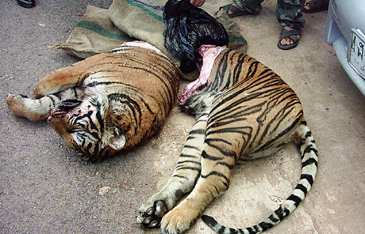 A tiger brutally killed in India
India and China have for decades shared an uneasy relationship that basically worsened after the border war between them in the early 1960s. The armed conflict essentially over border dispute and Beijing's stand on one of the Indian States has now given way to another kind of animosity. This time, it over India's national animal, the tiger.
The Indian population of this majestic creature has been plummeting dangerously. Today, one would be surprised if there are more than 1,000 tigers in the country's forests against 40,000 a century ago and closer to 4,000 in 2002. In roughly seven years, 3,000 of these cats have vanished into the poacher's trap.
Despite New Delhi's efforts – which admittedly have been inconsistent, even lackadaisical, and full of loopholes – tigers continue to be killed. According to some global and national experts, a tiger a day is being butchered. Many forest reserves that were earmarked under a dedicated scheme called Project Tiger (set up in 1973) helped protect the big cat initially, but could do precious little as time rolled by. Poachers got an upper hand, backed as they were – and still are – by powerfully notorious crime syndicates.
Poachers have a flourishing market in China and a few Southeast Asian nations, where tiger parts are touted as medicine and aphrodisiac and sold at frightfully fancy prices. Tiger penis and bone soup are considered to be great libido-enhancing delicacies. A tiger pelt, for instance, fetches a staggering $50,000 in China while the teeth, claws, whiskers and bones can net between $5,000 and $10,000.
The tiger trade, which is routed into China through Nepal and Myanmar, is officially illegal there. But a black market thrives unchecked in China. What is more, China maintains scores of tiger farms, where an estimated 4000 of these animals are bred and their body parts, including whiskers and claws, are harvested for making traditional Chinese medicine. It is now in great demand in the wake of spiralling healthcare costs.
New Delhi has been pushing Beijing to try and check the trafficking of tiger parts through Nepal. India has also been urging China to phase out its tiger farms. Tiger poaching is only next to the leading narcotics smuggling on the Indo-Chinese border. India's concern has a sense of great urgency given the speculation that Beijing may lift the ban on tiger parts imposed in 1993. This could completely wipe out the cats in India.
This year alone, India has lost as many as 66 tigers. At least two reserves now have not a single of this animal left. Aiding the poachers are several factors. Forest cover has steadily gone down, and increasing farm activities have played encroachers with human settlements, complete with livestock, springing up on the peripheries of these areas reserved for the tiger. Often, villagers poison tigers that prey on their cattle. But more often, driven by poverty, these men help poachers for handsome returns.
The few forest guards are underpaid, undernourished and ill-equipped to meet the challenges posed by gangs of poachers, armed with night-vision glasses, sophisticated weapons and powerful vehicles. And the Indian judicial system is an awfully cumbersome process: convictions are rare, and poachers get bails easily to step back into the forests to hunt down the next tiger.
The disquieting Indian trend reflects the global scenario. Today, there are fewer than 5000 of these feline creatures in the world, compared with 100,000 a century ago. In fact, the tiger's habitat has shrunk so much that it now confined to Asian forests in India, Indonesia, Kampuchea, Myanmar, China and Malaysia. Even there, three tiger subspecies, the Bali, Javan and Caspian, have completely disappeared while the five remaining: Amur, Bengal, Indo-Chinese, South China and Sumatran - are on the World Conservation Union's "endangered" list. Admittedly, India still has the largest concentration of these cats.
But the question is, will India be able to sustain this position, and more importantly, help raise the number of tigers given the aggressive poaching and the innumerable advantages they seem to enjoy?
"India's large mammals, particularly tigers, elephants and rhinos, require a huge amount of space for movement and procreation. Deforestation hampers this ability which in turn impacts their gene pool and undermines the species' viability," avers environmentalist Ramesh Thakur, who has trekked extensively across Indian forests. "So, the key to protecting the tiger is to protect our forest cover." But this is not going to be a cakewalk for the Indian Government. A mere 20 percent of the nation's land mass is forest. But half of even this has been "poached" by villagers who use the area for farming and livestock grazing. In 2002, the Administration drafted a program to raise the forest cover to 33 percent, but nothing appears to have happened till now. A disappearing forest that drives the tiger deeper into the woods making it easier for the poacher to finish it, weak guards, and, above all, lack of political will could turn India's national pride into national shame.