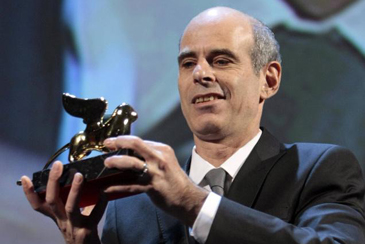 Director Samuel Maoz receives the Golden Lion Best Film Award for 'Lebanon' at the 66th edition of the Venice Film Festival in Venice, Italy on Sept. 11, 2009.
The Venice Film Festival jury, headed by renowned director, Ang Lee, and which included Indian helmer-script writer Anurag Kashyap, gave the top Golden Lion Award for the Best Picture to an Israeli movie, "Lebanon". Directed by Samuel Maoz, it picturises the agonising moments a small group of young Israeli soldiers faces as it remains trapped in a battle tank in hostile Syria. These men in the early twenties are not heroes out to seek martyrdom in war, but are terribly afraid of dying and desperate to escape. The movie is based on a true story that happened during the first Lebanon war in 1982.
The Silver Lion for the Best Director went to Shirin Neshat for her work, "Women without Men". The narrative unfolds during the tumultuous days of the CIA-backed coup in the Iran of 1953 that changes the destiny of four women who meet in a pretty orchard garden and find peace, freedom and company. Neshat debuted with this feature.
Germany's Fatih Akin clinched the Special Jury Prize for his "Soul Kitchen" about two brothers who eventually find that they are made for each other when it comes to getting their restaurant back on to the hot plate.
Todd Solondz won the Best Screenplay honour for "Life During Wartime", a tragic-comic look at prisoners of love and life during wartime.
Colin Firth starred in fashion designer-turned-director Tom Ford's "A Single Man" who is searching for the meaning of life during the 1962 Cuban missile crisis. Firth won the Coppa Volpi for the Best Actor in a difficult performance that puts his character through the trial and tribulation of a man in the midst of a personal crisis as well.
The Coppa Volpi for the Best Actress went to Ksenia Rappoport in the Italian work, "La Doppia Ora" (The Double Hour), a supernatural thriller.
The Marcello Mastroianni Prize for the Best Young Actor or Actress went to Jasmine Trinca in Italy's "The Great Dream", based on a true story set during the 1968 violent student movement in Europe, when love was free and rules were broken. Trinca plays Laura, torn between two men, a cop who wants to become an actor and a rebel student.