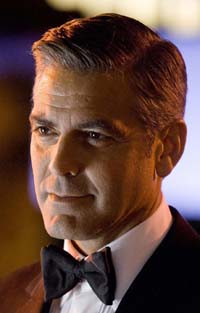 George Clooney
Two of the movies with the loudest buzz at the ongoing Venice Film Festival, which opened on Sept. 2, 2009 are "The Men Who Stare at Goats" and "The Informant." Starring in the comic dramas are two of the world's sexiest men, George Clooney and Matt Damon. Friends for a long time, they worked together in "Ocean's" trilogy and "Syriana," which fetched Clooney the 2005 Supporting Actor Oscar
Part-time Italian resident, Clooney returns to the Venice Lido with "The Men Who Stare at Goats," a serious-comic film based on Jon Ronson's 2004 nonfiction bestseller about the U.S. Army's use of paranormal devices for third-degree torture. The movie is set in Iraq, and Clooney essays a "psychic soldier."
"The Informant" resembles Steven Soderbergh's 2000 Best Picture contender for the Oscars, "Erin Brockovich". The new film narrates the true story of Mark Whitacre, a corrupt executive who turns whistle blower and exposes the giant agricultural firm that he works for. Oscar nominee Damon ("Good Will Hunting") put on 14 kg to play this part.
Both Damon and Clooney, who were there at Venice last year to promote their works, will be feted and showcased on the Lido this year as well. And Venice plays an important role in heralding the awards season. Many Golden Lion winners (the Festival's top honour) have gone on to win the Oscars, Golden Globes and Bafta. Alfonso Cuaron, Alejandro Gonzalez Inarritu and James Schamus are but three names.
Venice has historically been the playing screen for budding talent. It was there that Akira Kurosawa was recognised as a master. That was in 1951 and it was his "Rashomon," and over the years the Festival by the picturesque Adriatic Sea has discovered innumerable talents. Men like Robert Altman and Charlie Chaplin may not have been exactly Venice's discovery, but they were celebrated and pampered by the Festival. And made the darling of the people and the paparazzi.
The 66th Venice Film Festival opened with the epic and nostalgic Sicilian work, "Baaria," in a gala ceremony hosted by Italian actress Maria Grazia Cucinotta. Helmed by Giuseppe Tornatore, "Baaria" became the first Italian movie to kick off the world's oldest film festival in nearly 25 years.
Italian Prime Minister Silvio Berlusconi, who also owns the country's largest media empire called the movie a masterpiece, creating enormous interest in the Tornatore saga. He said no real Italian show miss the film. The director himself said that this was his most personal work till date.
The Festival which, runs through September 12, has a competition made up of entirely world premiers, with a healthy dose of Hollywood fare, though one did not see any American star at the inaugural gala.