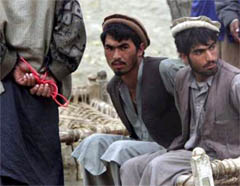 Al-Qaeda soldiers
It is 20 days since three Indians among 18 taken hostage in Iraq have had to endure agonizing torture. Their families in India have faced every minute of this time dreading the worst.All three kidnapped Indians were driving trucks in Kuwait and Iraq when they were whisked away.On July 21, 2004 a group calling itself Bearers of the Black Banners, abducted the men threatening to behead one hostage every 72 hour unless their Kuwaiti employer closed operations in Iraq.Iraqi insurgents, reportedly loyal to imprisoned Saddam Hussein, have quickly learnt that countries such as India and the Philippines can be easily pressured.I would say this is not really farfetched. In 1999, when an Indian Airlines plane was hijacked from Kathmandu to Khandahar, a top minister from New Delhi had to personally escort hardcore Islamic terrorists from Indian jails to Afghanistan to buy the air passengers' freedom.These rebels were later found to be part of Al-Qaeda. One of them, Omar Sheikh, was subsequently implicated in the murder of an American journalist, Daniel Pearl, in Pakistan.What was worse, India had to pay a huge ransom as well. Though this was kept hush hush, Indian press got wind of it and went to town with it, much to the embarrassment of the Indian administration.
Trial of Omar Sheikh
The trial of Omar Sheikh, the prime accused in the abduction and kidnap of Daniel Pearl, and three of his alleged accomplices started inside the main jail of Karachi April 6, 2002
There are fears now that history is about to be repeated in Iraq. Although, we are being told that the Kuwait and Gulf Transport Company, where the three Indians were working, had agreed to pay money for the release of the hostages, it is suspected that the firm has been demanding a share of the ransom from India.A brilliant cartoon by E. P. Unny in The Indian Express suggests this in no uncertain terms. It says, are we going to pray or pay for the freedom of the kidnapped truckers.Obviously, India's new coalition government, just three months old, is under intense pressure to ensure that the men return safely.What is more, there has been a wide media coverage of the crisis in Iraq, and newspapers and television companies have been camping around the homes of the three kidnapped men in the north of India. This has also provided a pointed — and to many, cheering — reminder of the imperatives of democracy in a media age: the poor cannot be ignored.
Daniel Pearl is seen in this photo released by his abductors on Jan. 30, 2002 (Inset) His wife, Mariane.
Courtesy AP
"The television people really helped us a lot," said the 60-year-old frail looking mother of one of the victims. "Otherwise nobody would have listened to us poor people."Combined with May's election, which unexpectedly ejected the incumbent Bharatiya Janata Party government — a turn credited largely to impoverished voters — the current crisis seems to point to a new power reckoning in India.Bharat Karnad, an analyst at the Centre for Policy Research in New Delhi, said it was the 1999 "hostage-taking that legitimized the media as an instrument of influence."Although the air travellers were middle class, the poor in India have also begun to see the media as their ally."It is precisely the poor and illiterate who have begun to appreciate the political power they have," Karnad said. Until now, the government "depended on the countryside being complacent." Now, he argued, they have realized that "even a little thing can blow up in their faces."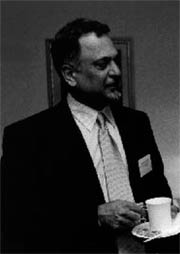 Prof. Bharat Karnad
New Delhi is now actively involved in trying to negotiate the release of the three Indians. This has not gone unnoticed in Pakistan: Two of its citizens were killed by their abductors in Iraq recently. Pakistanis will protest louder if India succeeds in getting its men freed, but given the fact that there is no democracy in Pakistan, criticism can merely have a limited effect.India has no such luxury; Nor did the Philippines, whose president, facing a coming election, agreed to withdraw its troops from Iraq early for the safe release of a truck driver. With 5,000 Indians working in Iraq, New Delhi is anxious that things should not go wrong. In any case, India did not send its soldiers to Iraq. But, it now appears as India's Foreign Minister Natwar Singh said, the all-pervading religion now is money, and the abductors in Iraq tout faith or political affiliation only as an excuse to get what they want, which is often hard currency or gold.