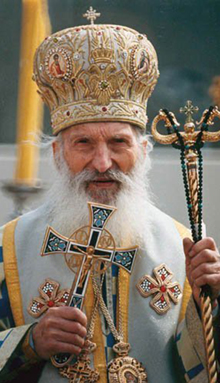 His Holiness Patriarch Pavle of Serbia
The ongoing de-Christianization of Kosovo continues and unlike the past frenzy of the anti-Serbian mass media in the West, we mainly have a deadly silence about the reality of Kosovo and the continuing Albanianization of this land. However, how is it "just" and "moral" to persecute minorities and to alienate them from mainstream society; and then to illegally recognize this land without the full consensus of the international community?
How ironic it is that the same United States of America and the United Kingdom, two nations who were in the forefront of covertly manipulating the mass media; remain mainly silent about the destruction of Orthodox Christian churches, Serbian architecture, and of course the past killings of Serbians and other minorities in Kosovo.
After all, according to America and the United Kingdom the initial conflict was about human rights, democracy, and liberty. However, what about the liberty and freedom of Orthodox Christian Serbs, Gypsies, and other minorities in Kosovo? Are these minorities free in modern day Kosovo and can they move around without the fear of discrimination, persecution or death?
Obviously, vast parts of Kosovo are out of bounds for the majority of minorities in Kosovo, therefore, the answer is no and many areas which were cleansed of Serbians and other minorities remain cleansed.
According to Minority Rights Group International (MRG) which is based in the United Kingdom, it is apparent that exclusion and discrimination is rife. Therefore, minorities face a bleak future and Serbians, Bosniaks, Roma, Croats, Turks, Gorani and Ashkali Egyptians are either being forced out because of alienation or because of limited economic opportunities.
The MRG is not alone in thinking that minorities have been badly betrayed because it is clear that Kosovo remains in limbo and minorities will continue to leave because of the ongoing situation.
Patriarch Pavle (His Holiness the Archbishop of Pec, Metropolitan of Belgrade and Karlovci, Patriarch of Serbs) is highly respected and a man of reason. He stated the following many years ago ( http://kosovo.net ):
"This humble publication is our cry and appeal to the Christian and civilized world. It is distressing to learn that in the year of the greatest Christian Jubilee, at the end of two millenniums of Christianity, Christian churches are still being destroyed, not in a war but in the time of peace guaranteed by the international community. We hope that these photos of the destroyed and desecrated Orthodox shrines will awaken the conscience of those who are able to stop the crimes and believe that they who already stood up against one evil will not remain just passive witnesses of another evil happening now in their presence.""We also make our appeal to all Kosovo Albanians, who reasonably see their future in their joint life with Serbs, to resist and prevent the acts of insanity.""In Kosovo and Metohija there will be no victory of humanity and justice while revenge and disorder prevail. No one has the moral right to celebrate the victory complacently, as long as one evil is being replaced with another and the freedom of one people is becoming the slavery of another."Patriarch Pavle stated this many years ago and sadly his words of wisdom have been ignored and instead America and the United Kingdom decided to create a new world order; this new world order was to carve up Serbia and to break international law. This breach of ignoring international law ultimately had greater repercussions because the Russian Federation would support Abkhazia and South Ossetia after conflict erupted in Georgia.
Therefore, a "new can of worms was opened" and the "Kosovo model" could inspire future mayhem because it is clear that international law was rendered to be unimportant.
Like I stressed in my last article about Kosovo (Kosovo and Systematic Persecution by KLA) it is clear that all sides committed atrocities, just like what happens in all wars. Pain can be felt on all sides and sadly many innocents were killed during the various civil wars which engulfed the former Yugoslavia.
However, the Serbian story war largely untold and the same can be said about the persecution of other minorities in Kosovo. Yet what is clear is that the Kosovo Liberation Army (KLA) was involved in running brutal death camps and this even applies to the killing of people for organs.
At the same time the KLA supported the ethnic cleansing of Serbians and other minorities, and the same applies to the destruction of Christian churches, monasteries, and other historical architecture which was a clear reminder of the roots of Kosovo.
Also, the hard sell by America, the United Kingdom, and other nations who support independence, is that independence was justified on the grounds of Serbian atrocities. Yet if the KLA was found to be involved in killing civilians for organs then "the spin machine" collapses and "democracy" rings hollow.
Therefore, in one part of Europe we are a seeing the silent destruction of Serbian Orthodox Christianity and the ongoing persecution and alienation of minorities in Kosovo.
It would appear that the violation of international law is deemed to be a viable policy for both America and the United Kingdom. Therefore, important questions, for example the role of the KLA in killing innocents for organs, the rise of the KLA in such a short space of time and a host of other vital questions remain unanswered.
However, it is vital to counter this cover-up and blatant violation of international law because it is clear that murky covert acts have been implemented by higher powers. Also, the world is still divided about the future of Kosovo but why did some nations behave so hastily without the full facts, and without taking into consideration the ongoing persecution and alienation of minorities in Kosovo?