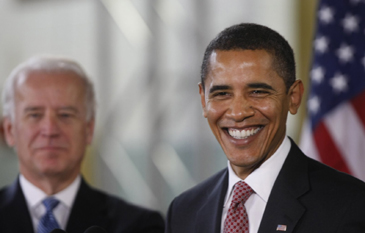 US President Barack Obama
The Muslim holy month of Ramadan is set to begin and already President Obama of America is in "manipulation mode" in order to draw America closer to the so-called Muslim world. However, it is clear that Obama's words are based on Islamic propaganda, however, like so often, coming from the words of a non-Muslim liberal.
Therefore, is it good to have a world leader who speaks on the behalf of another religion and at the same time, repackages it out of all proportion?
In the world of Obama he states that the rituals of Ramadan "remind us of the principles that we hold in common, and Islam's role in advancing justice, progress, tolerance and the dignity of all human beings." Therefore, what "justice" and "tolerance" is Obama talking about?
After all, Mohammed himself did not believe in the dignity of all human beings, on the contrary, Jews and Pagans were killed and enslaved, and within a short time all faiths would be banned from the lands of Mecca and Medina. The multi-religious nature of Arabia would be shattered and destroyed by both Mohammed and the early Muslim leaders who would then eradicate Christianity from Arabia.
If Muslims want to follow Mohammed and to uphold traditions like the superiority of Muslims in Islamic Sharia codified law; then this is on their conscience. However, unlike Islamic Sharia law which deems non-Muslims to be inferior, or indeed subhuman if you do not belong to the people of the book; modern Western law believes in the equality of law for all citizens, irrespective of race, religion, or gender.
In recent weeks we have seen the usual Islamic tolerance of non-Muslims by radical Sunni Islamists. This applies to burning Christians alive in Pakistan, beheading Christian converts from Islam in Somalia, killing innocent Shia Muslims in Iraq, killing Buddhists in Southern Thailand, beheading Christian pastors in Nigeria, persecuting Coptic Christians in Egypt, and so forth.
Instead of the world confronting this menace, we have so many Western leaders in appeasement mode and even moderate Muslims are overwhelmingly silent on the reality of Islam and any nation which is ruled by Islamic Sharia law. Given this, what "tolerance" and "dignity" of all human beings is based on the Koran and the Hadiths. Also, when did Islamic Sharia law believe in the "dignity" of all human beings and eqaulity?
Of course Obama understands the reality of what Islamic Sharia law means and sometimes it is much better to say nothing, rather than trying to fool people by making grand statements based on myths.
After all, the testimony of Christians and Jews in Islamic Sharia law is half that of a Muslim. Therefore, it is clear that Christians and Jews are deemed to be inferior in Islamic Sharia law and for other faiths, like Buddhists or Hindus, then their testimony is even less or according to some radical Islamists, all Buddhists and Hindus should be killed and not even the traces of Buddhist or Hindu monuments must be allowed (this happened in Afghanistan).
Obama is not alone in supporting institutions which clash with his own thinking, after all Obama claims to support the equality of homosexuals, religious freedom, democracy, gender equality, and so forth. The former Mayor of London, Ken Livingstone, embraced Sheik Yusuf al-Qaradawi, this Muslim cleric, like many others, supports the execution of homosexuals and he justifies terrorism according to an article which was published in the New York Times.
However, in modern day Saudi Arabia homosexuality is punishable by imprisonment or death. The Sunni Islamic Taliban in Afghanistan also kill homosexuals and of course this is sanctioned in Islamic Sharia law and by Islamic clerics. Recently, it was also reported that Muslims are killing homosexuals in modern day Iraq and homosexuals reside in fear in many mainly Muslim parts of the world, for example Palestinian controlled areas, Iran, Somalia, and a host of other nations.
Meanwhile in 2009 in the modern era we have several faiths that face annihilation or the imposition of jizya tax in order to survive under their Islamic masters. Therefore, the Baha'is reside in fear in Iran because of massive persecution; the Shabaks, Christians, Yazidis, and Mandaeans face death and persecution on a daily basis in Iraq; Buddhists in Southern Thailand are being beheaded and killed; Sikhs have been forced to pay jizya in Pakistan and recently Christians were burnt alive in this nation; the minority Ahmadiyya Muslim community also suffers massive inequality and persecution in Pakistan and they are not allowed to visit Saudi Arabia; and Hindus also fear radical Sunni Islamists in both Bangladesh and Pakistan.
Like I stated in a past article about the Mandaeans in Iraq, it is worth repeating because the Islam of Obama is very different to the reality of Islam and what is happening in the modern world.
Therefore, in 2007 the BBC covered a story about the Mandaeans via the headline "Iraq's Mandaeans face extinction" which was written by Angus Crawford. During the article Angus Crawford states that "The Mandaeans are pacifists, followers of Adam, Noah and John the Baptist." He highlights that by 2007 more than 80% had already fled their homeland because of the fear of death and daily persecution.
The article also highlights the plight of a 9 year old boy called Selwan. However, for this 9 year old boy he witnessed the hatred of radical Islam because he was forced to jump into a burning bonfire. The consequences of this, yes, the persecution of such a young boy, is around 20% burns and this only happened to him because he is a Mandaean.
The same article also highlights the forced conversion to Islam of Luay who is too petrified to give his full name. For Luay, a Mandaean, he was forced to convert to Islam and "forcibly circumcised." Also, like Angus Crawford mentions, because "he was forcibly converted. That means in the eyes of those same extremists, if he now declares himself Mandaean he is (an) apostate." Therefore, if he re-converts back to the Mandaean faith he may be killed by radical Islamists.
Given this, just where does President Obama think that these people want to reside after fleeing persecution? Does Obama think that all these minorities want to flee to Sharia Islamic law nations, like Saudi Arabia or do they want to flee to the West? Of course he knows the answer and he fully knows that in modern day Saudi Arabia that all converts from Islam face the death penalty.
Also, Ahmadiyya Muslims are forbidden from entering Saudi Arabia and the minority Shia Muslim community suffers enormous persecution. Meanwhile Muslim females can not even drive a car in Saudi Arabia and when a young girl's school was burning they were left to die because the fire brigade was too worried about mixing with the opposite sex.
Mohammed also married a child when he was an old man and the child was only 6 years old and like Sahih Bukhari (respected Islamic scholar) states "Aisha: that the Prophet married her when she was six years old and he consummated his marriage when she was nine years old." Therefore, because of this many young girls are married to old men in modern day Saudi Arabia and other Islamic Sharia law based nations and one must add is this the "dignity" that Obama is talking about?
Also, Mohammed stated that (Koran 9:29) "Fight those who do not believe in Allah, nor in the latter day, nor do they prohibit what Allah and His Messenger have prohibited, nor follow the religion of truth, out of those who have been given the Book, until they pay the tax in acknowledgment of superiority and they are in a state of subjection."
Mohammed also stated (Koran 5:38) "As for the thief, both male and female, cut off their hands. It is the reward of their own deeds, an exemplary punishment from Allah. Allah is Mighty, Wise." Therefore, radical Sunni Islamists in Somalia are enacting this because of the Koran and the same applies to killing apostates because this is also sanctioned in Islam.
Therefore, why is Obama making false statements and why is he ignoring reality? Remember, the same Obama who talks about the dignity of humanity visited the lands of Mecca and Medina. Of course, during his visit to Saudi Arabia he would not have seen one Christian church or Buddhist temple, and if he wanted to read his Christian Bible openly, then under Saudi law he would have faced prison.
The Saudi Arabia he visited is a land which continues to support the killing of apostates from Islam and which denies equality to any other faith, and even persecutes minority Muslim sects. The same Saudi Arabia supports the persecution of all religions and homosexuals; and Islamic clerics in this nation are open about their clear understanding of Islam.
Therefore, why does Obama close his eyes when it pleases him and why does he make false statements which can be ridiculed or openly contradicted at the drop of a hat? If the Dalai Lama, a Buddhist leader, wanted to visit and openly preach in Saudi Arabia he would be killed; therefore, where is the justice and equality in Islamic Sharia law and the Koran for non-Muslims?