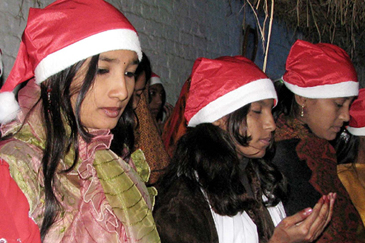 Pakistani Christians in a Christmas Mass
The nation of Pakistan faces many internal problems and minorities reside in fear because political leaders have been in self destruct mode. This applies to the role of Pakistan in fostering and spreading radical Sunni Islam to regional nations. At the same time the internal legal system is openly espousing hatred and creating mayhem by maintaining the blasphemy law.
This was clearly visible when Christians were burnt alive by radical Sunni Islamists, therefore, now is the right time to eradicate this dangerous law which is sowing discord and hatred. Both internal and external pressure is needed in order for Pakistan to start afresh. The same applies to crushing radical Sunni Islamic institutions and networks which are causing mayhem.
However, will the current leadership deal with this crisis and tackle rogue elements within both the political system and military? After all, the role of the security services in Pakistan is clearly a major issue because they have given a free reign to Sunni Islamic radicals to kill at random in both Afghanistan and Kashmir (India). More recently, this external export is now trying to challenge the state internally so the stakes are clearly high.
Turning back to the blasphemy law it is abundantly clear that this issue is being manipulated by radical Sunni Islamic forces within Pakistan. Therefore, many innocents have been put in prison on the grounds of blasphemy and this law threatens the Christian community, Ahmadiyya Muslims, and anyone deemed to have blasphemed against the Koran and Islam.
It is clear that the blasphemy law can be used by Muslims in order to crush both the minorities of Pakistan or to accuse so-called enemies of Islam or on the grounds of having a grudge. Therefore, many Christians and Muslims have been victims of this terrible law and the fear of being accused of this is great.
Dr. Nazir S. Bhatti, President of the Pakistan Christian Congress, has demanded openly and with a firm conviction that the government of Pakistan must "repeal the blasphemy law." Dr. Nazir S. Bhatti is also calling for the "arrest (of) the culprits before August 11, 2009."
According to an article written in the Pakistan Christian Post (http://pakistanchristianpost.com) by Joseph Keenan "The culprits belonged to a banned Sunni Muslim extremist group – Sipah-e-Sahaba…." This applies to the attacks on Christians in Gojra town which led to many Christians being burnt alive by Sunni Islamic zealots.
The article by Joseph Keenan also highlights how the brutal blasphemy law was implemented and strengthened. He states that the "Pakistan Christian Congress (PCC) said Section 298-A added in an amendment in 1980 stated that use of derogatory remarks, respect of holy personages, whoever by words, either spoken or written or by visible representation, or by any imputation, innuendo or insinuation, directly or indirectly defiles the sacred name of any wife or member of the family of prophet Mohammad, subject to three years imprisonment."
The article continues and shows you how the legal system became even more brutal and harsh against all minorities in Pakistan or against any person who supports freedom or liberty.
For "In 1982, another amendment was made and section 295-B was added in PPC, punishable with imprisonment of life." Then the most controversial part was added in 1986 because "section 295-C, was added, the most serious, controversial and presently invoked amendment was made, a capital punishment of death penalty."
Therefore, in modern day Pakistan you can be killed on the grounds of blasphemy according to the judicial system. Of course the blasphemy law is about Islamizing Pakistan and crushing all minorities or people who disagree with Islamization.
After all, in the past "fear," Islamic Sharia law and "dhimmitude" was part and parcel of Islamization and the same applies to laws which always favour Muslims versus non-Muslims during legal cases. Therefore, the blasphemy law is about stifling religious minorities and of course it panders to radical Islamists who desire to kill and persecute all minorities or any deemed enemy.
Joseph Keenan further comments that "There have been many arrests of Christians under section 295-B & C in Pakistan. Some have been brutally murdered in day light from (the) hands of radical Muslims, some killed in jails and police lock ups." He also makes it clear that fairness and protection is not happening and clearly the treatment of people accused of blasphemy is brutal and harsh.
Therefore, I hope many people join Dr. Nazir S. Bhatti because a "Black Day" will be observed on August 11, 2009, in order to highlight the ongoing suffering of Christians in Pakistan and the recent brutal murders which took place in the town of Gojra.
All information can be found at http://pakistanchristianpost.com The Pakistan Christian Post. Therefore, it is clear that "Black Day" is a way to raise a very important issue because does Pakistan want to modernize or Islamize?
Also, "the soul of Pakistan" is being blighted by hatred and moderate Christians, Muslims, Hindus, atheists, or whoever, must stand up and be counted because freedom and liberty is under assault and dangerous forces want to impose radical versions of Islam on the masses.
If the government of Pakistan wants a bright future for all citizens in this nation then real changes must be implemented and the forces of radical Sunni Islam must be crushed. Pakistan is "at the crossroads and on the abyss" because in parts of this nation it is a failed state because government control is being challenged by radical Sunni Islamic fighters.
Yet the real tragedy for minorities in Pakistan, irrespective if Christian, Shia Muslim, Ahmadiyya Muslim, Hindu, or whatever; is that minorities face systematic persecution at the hands of both radical Sunni Islamists and the central government. It is time for a new way in Pakistan and repealing the blasphemy law would be a good start and after the recent brutal murders of Christians, I clearly support Dr. Nazir S. Bhatti and other leaders who want the legal system changed.