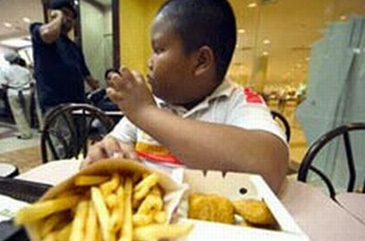 A kid enjoying fas food
Seventy million Indians with an ever expanding waistline; nearly half of the country's 250 million adolescents suffering from junk food related obesity. Isn't it high time to rewrite our health agenda?A seminar was recently organized in New Delhi by Heal India – a health and wellness magazine- in collaboration with Diabetes Federation of India, to discuss issues related to obesity, and the unhealthy eating habits of our children. Speaking on the occasion, Dr Anoop Misra, Director, department of Diabetes and Metabolic Diseases, Fortis Hospital, set the alarm bells ringing. He lamented the alarming rise of childhood obesity, which in Delhi alone has increased from 16% in 2002 to 24% in 2007. Dr Misra called for a nationwide campaign on the health hazards of fast food products like pizza and burgers.The galloping strides which the multinational fast food giants have made in our country are indicative of the unhealthy eating habits triggered and supported by them. McDonalds, Pizza Hut and Dominoes made humble beginnings in 1996 by opening branches in Delhi and Mumbai. Today, within a short span of 13 years, Dominoes boasts of 220 outlets across the country followed closely by McDonalds (160 restaurants) and Pizza Hut (137 branches). This, coupled with aggressive marketing techniques, has certainly increased the number of people, especially young people, who patronize these outlets.
Such factors have pushed India to the threshold of a childhood obesity epidemic which will leave us with an entire generation of overweight and disease prone youths, addicted to junk food, says experts.Nutritionists, doctors and parents blame the big marketing muscle of international fast food chains and Quick Service Restaurant companies. They call for a multipronged approach to fight the malaise. At the community level we need community fitness programs through resident welfare associations. Health walks and health food festivals organized by them can go a long way in inculcating good life style habits. At the family level there is an urgent need to restrict the TV/computer viewing time of children and have a mandatory one hour of physical activity under the supervision of parents. The pregnant women of the household should have an intake of a balanced nutrition to maintain a healthy foetus and avoid future heart disease/diabetes.The role of the schools is, by far, the most important and crucial in contributing towards the health of the nation. Physical activity should be a high priority item on the school's agenda. Our honourable Health Minister would do a great service by making yogic exercises compulsory in schools. This will help students and teachers alike to remain fit and fine. School cafeterias must ensure to provide healthy food and ban sweetened beverages and energy dense junk food. Small children look up to their teachers as role models, and so their eating habits can be moulded for better health. Nutrition workshops for parents can sensitize them on this very important issue of the well being of their children.At the government level, a concerted effort is needed to prevail upon the food companies to voluntarily limit their advertising of sugary snacks, soft drinks and other junk food items, as part of their corporate social responsibility. In fact, advertisements for commercial foods on television should not be aired in children's programmes. Transnational food companies should feel encouraged to manufacture healthy snacks.It is we as parents, elders and teachers, along with the multinationals, who have created the epidemic of obesity with the deadly recipe for disaster – high calorie consumption and low physical activity. Let us join hands with the likes of Dr Misra and Heal India to make a healthy India by rubbishing the rubbish food, and by paying equal attention (if not more) to healthy lifestyles.