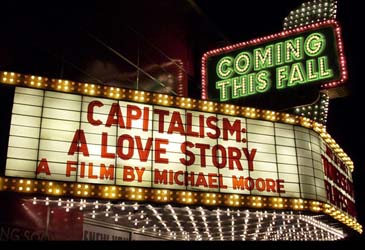 Michael Moore's documentary "Capitalism"
Michael Moore's documentary, "Capitalism", aptly titled for the times we now live in, will be one of the 23 movies to compete at the 66th Venice Film Festival to run from September 2 to 12. Moore's work is part of a rich American package that includes Gucci designer-turned director Tom Ford's "A Single Man" with Colin Firth and Julianne Moore (last seen in India in "Blindness"). This work, like the rest in Competition, will be a world premiere, and so too will the 24th competing entry that Venice usually announces mid-Festival as a surprise shot. Overall, there are 71 premieres, no mean record.
"The selection demonstrates the state of cinema in this precise moment, crisis included," said Festival Director Marco Mueller last night. He begins his second four-year run as the head of the world's oldest Festival. "The impact of the global recession is not evident in the large number of U.S. entries, 17 in all, six of those in Competition. This is 10 percent higher than last year's. It seemed at this point, the writers' strike, the economic and financial difficulties would have stopped the most unique and most stimulating aspects of American cinema, but instead, we have a wider and more varied offering where we have some of the most important names," Mueller said, citing Steven Soderbergh and Ford. Soderbergh's dark comedy, "The Informant" will screen Out of Competition and stars Matt Damon as a high-profile whistle-blower.
The Competition is truly international with five movies each from France and Italy (including the opening one, Giuseppe Tornatore's "Baaria"), four from Asia (including Sri Lanka's "Between Two Worlds" by Vimukthi Jayasundara) and two from West Asia.
Besides the bulging bag of premieres, Venice would boast of an equally impressive list of first and second directorial ventures. There will 16 first-time helmers, five of whom would be vying for the Golden Lion, a record for a modern-day Festival. Nine directors will showcase their second films.
Other important Competition movies will include Michele Placido's "The Big Dream", John Hillcoat's "The Road", Werner Herzog's "Bad Lieutenant: Port of New Orleans" and Claire Denis' "White Material".
***
COMPETITION"36 vues du Pic Saint Loup," Jacques Rivette (France)
"Accident," Cheang Pou-Soi (China-Hong Kong)
"Baaria," Giuseppe Tornatore (Italy) – Opening Film
"Bad Lieutenant: Port of Call New Orleans," Werner Herzog (U.S.)
"Between Two Worlds," Vimukthi Jayasundara (Sri Lanka)
"Capitalism: A Love Story," Michael Moore (U.S.)
"La Doppia Ora," Giuseppe Capotondi (Italy)
"Il Grande Sogno," Michele Placido (Italy)
"Lebanon," Samuel Maoz (Israel)
"Life During Wartime," Todd Solondz (U.S.)
"Lo Spazio Bianco," Francesca Comencini (Italy)
"Lourdes," Jessica Hausner (Austria)
"Mr. Nobody," Jaco van Dormael (France)
"Persecution," Patrice Chereau (France)
"Prince of Tears," Yonfan (Hong Kong)
"The Road," John Hillcoat (U.S.)
"A Single Man," Tom Ford (U.S.)
"Soul Kitchen," Fatih Akin (Germany)
"Survival of the Dead," George Romero (U.S.)
"Tetsuo The Bullet Man," Shinya Tsukamoto (Japan)
"The Traveller," Ahmed Maher (Egypt)
"White Material," Claire Denis (France)
"Women Without Men," Shirin Neshat (Germany)OUT OF COMPETITION "Anni Luce," Francesco Maselli (Italy)
"Chengdu, I Love You," Fruit Chan, Cui Jian (China) – Closing Film
"The Hole," Joe Dante (U.S.)
"The Informant!," Steven Soderbergh (U.S.)
"The Men Who Stare at Goats," Grant Heslov (U.S.)
"Napoli Napoli Napoli," Abel Ferrara (Italy)
"L'oro di Cuba," Giuliano Montaldo (Italy)
"Prove per una tragedia Siciliana," John Turturro, Roman Paska (Italy)
"REC 2," Jaume Balaguero, Paco Plaza (Spain)
"Scheherazade, Tell Me a Story," Yousry Nasrallah (Egypt)
"South of the Border," Oliver Stone (U.S.)
"Yona Yona Penguin," Rintaro (Japan)MIDNIGHT MOVIES "Gulaal," Anurag Kashyap (India)
"Dev D," Anurag Kashyap (India)
"Brooklyn's Finest," Antoine Fuqua (U.S.)
"Delhi-6," Rakeysh Omprakash (India)
"Valhalla Rising," Nicolas Winding Refn (Denmark)HORIZONS "Francesca," Bobby Paunescu (Romania) – Opening Film
"One-Zero," Kamla Abou Zekri (Egypt)
"Buried Secrets," Raja Amari (Tunisia)
"Tender Parasites," Christian Becker and Oliver Schwabe (Germany)
"Adrift," Bui Thac Chuyen (Vietnam)
"Crush," Petr Buslov, Aleksei German Jr., Borisd Khlebnikov, Kirill Serebrennikov, Ivan Vrypayev (Russia)
"Repo Chick," Alex Cox (U.S.)
"Engkwentro," Pepe Diokno (Philippines)
"The Man's Woman and Other Stories," Amit Dutta (India)
"Paraiso," Hector Galvez (Peru)
"Io sono l'amore," Luca Guadagnino (Italy)
"Cow," Guan Hu (China)
"Judge," Liu Jie (China)
"Pepperminta," Pipilotti Rist (Switzerland)
"Tris di donne e abiti nunziali," Martina Gedeck (Italy)
"Insolacao," Daniela Thomas and Felipe Hirsch (Brazil)
"1428," Du Haibin (China)
"I Travel Because I Have to, I Come Back Because I Love You," Marcelo Gomes and Karim Ainouz (Brazil)
"Once Upon a Time Proletarian: 12 Tales of a Country," Guo Xiaolu (China)
"Villalobos," Romuald Karmakar (Germany)
"Il colore delle parole," Marco Simon Puccioni (Italy)
"The One All Alone," Frank Scheffer (The Netherlands)
"Toto," Peter Schreiner (Austria)