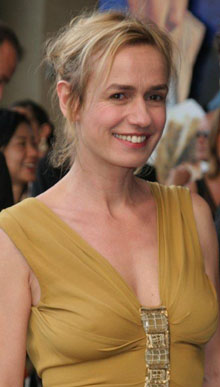 French actress Sandrine Bonnaire
It will be an Indian summer at Venice. Or, at least of sorts.
India's script writer-director Anurag Kashyap will be part of the main international jury at the prestigious 66th Venice Film Festival starting Sept. 2, 2009. The jury will be headed by auteur Ang Lee, who won two of the last four top Golden Lion Awards at Venice for "Brokeback Mountain" in 2005 and "Lust Caution" in 2007.
French actress Sandrine Bonnaire, American helmer Joe Dante, his Italian counterpart Liliana Cavani and Italian writer-director Luciano Ligabue will make up the rest of the six-member jury.
The jury will decide on eight main prizes, including the Golden Lion for Best Film, the Coppa Volpi for Best Actor and Actress, the Silver Lion for Best Director, and the Special Jury Prize. Bonnaire won the Coppa Volpi in 1995 for her part in Claude Chabrol's "La Ceremonie". Dante's "The Second Civil War" screened at Venice in 1997, Cavani clinched a Lion in 1965 for a documentary and Ligabue debuted at the lagoon city with his first feature "Radiofreccia".
Kashyap is the only Venice first timer on the jury. In India, he is well known for his critically acclaimed 2004 "Black Friday" about the 1993 Mumbai bombings. His later works such "No Smoking" (2007), "Dev D" (2009) and "Gulal" (2009) may not have been exactly panned, but did not quite match up to "Black Friday". However, his scripts for "Satya" (1998) and the Oscar nominated "Water" (2005) have been generally regarded as versatile.***
The Venice Film Festival announced its lineup in Rome on July 30. Four Indian movies figure in it. However, none of them has made it to the Competition slot, but will play in two of the sidebars, Midnight Movies and Horizons.
Anurag Kashyap has two of his already-seen-in-India works, "Dev D" and "Gulaal", selected for the Midnight category."Delhi-6" by Rakeysh Omprakash will also be slotted there.
The 2009 "Dev D" is a modern romantic takeoff on Sarat Chandra Chattopadhyay's 1917 novel, "Devdas", adapted to the screen innumerable times by stalwarts like P.C. Barua and Bimal Roy. More recently in 2002, Sanjay Leela Bhansali's "Devdas" premiered at Cannes, implying the West's strange obsession with this story of love, loss and defeatism, though Kashyap's version is a far more cheerful – even rebellious — look at the tragic hero. In fact, "Dev D" ends on a high, very different from Chattopadhyay's fiction that Bhansali and the others faithfully followed. Also released in 2009, "Gulaal" is an extremely brutal study of caste rivalries, student politics and regional pride passed off as honour. Set in Rajasthan, it is in a way about a nation coming to terms with its mindboggling diversities and frustrating prejudices. There is one graphically disturbing scene of a young woman professor stripped naked and locked in a room along with an equally naked youth by some thugs pretending to be students.
Also on the Midnight card, "Delhi-6" panders to Mehra's fetish for social messages. We saw that in "Rang De Basanti" with its rising passions and youth revolt. Shot in the lanes and by-lanes of the old city, "Delhi-6" tries to grapple with a host of issues that still bother India: untouchability, superstition, communal rift, middle class dream and urban malaise.
"The Man's Woman and Other Stories" by Amit Dutta will be part of Horizons. Nothing much is known about Dutta or his work.