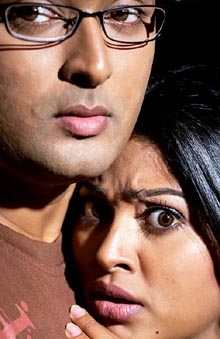 Director Arun Vaidyanathan's first feature"Achamundu Achamundu"
(There Is Fear, There Is Fear)
Tamil cinema is often loud and crass, having not quite got over the exaggerated theatrical style of Sivaji Ganesan or the childish antics of Rajnikanth. This is where short film director, Arun Vaidyanathan's first feature, "Achamundu Achamundu" (There is Fear, There is Fear), scores: the pleasantly toned down mannerisms and subdued style come as a refreshing change for Tamil audiences arguably tired of high-pitched dialogues and cacophonous songs. Shot in New Jersey and New York with Red One camera - a new technology vouched for by helmers such as Peter Jackson and Steven Soderbergh – the Tamil-English movie is woven around a rarely tackled subject.
American actor John Shea plays Theodore Robertson, a painter by day and a paedophile by night or other times. This paedophile is also a serial killer, and when he walks into the idyllic home of a Tamil non-resident Indian family in a New Jersey suburb, it is not hard to guess where the film will veer towards. Senthil Kumar (essayed by Prassana) is a software professional (what else?) and his wife, Malini (Sneha), is pretty, but a bit of a nag whose values seem at odds with the generation that Vaidyanathan portrays in the story he has penned himself. Robertson's attention lies less on the basement that he is called upon to spruce up and more on the couple's little daughter, Rithika (Akshaya Dinesh).
Though "Achamundu, Achamundu" shows considerable restraint when it deals with paedophilia and murder, keeping the actual acts off screen, the film ends up compromising on the dramatic element. It remains pretty flat till about the last 15 minutes out of the total 90 minutes or so. And the run up to the final confrontation that jerks the family into frightening realisation is unusually placid for a movie that advertises itself as a thriller. In fact, there is an almost desperate attempt to inject a sense of otherwise absent eeriness through the background score and a few visuals of the couple's house as it stands in a lonely lane.
The script does not help either to lift the work to a nail-biting level: Malini's fears of a stalker appear baseless in the absence of something that could have raised her suspicion in the first place. A van with its dark window panes rolled up and waiting outside her home is a trifle far-fetched occurrence to cause near paranoia in her. And a woman so shaken could hardly be expected to forget switching on the security gadget in her place, could hardly be so trusting of a total stranger like the painter.
And, worse, Sneha as well Prassana fail to convey that sense of scare that Vaidyanathan seemed to have attempted. Obviously, enough attention has not been paid to the emotive aspect, a perennial flaw of Indian cinema, at least much of it. In contrast, Shea sets the forbidding mood with that glint in his eye that spells evil with a bold, black E.
Perhaps, "Achamundu Achamundu" must take solace from the fact that its treatment is far more refined than the average Tamil work. Worth a see for this aspect.