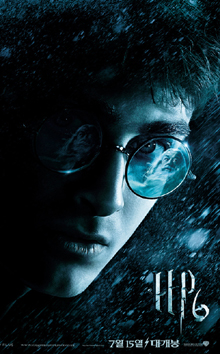 Harry Potter poster
Somewhere Harry Potter has lost his zing. He flies, but there is no fire in the speed. He waves his wand, but there is not enough magic in the swing. He romances a beauty, but the passion is passive. He talks but listlessly. Clearly the boy wizard seems tired of Hogwarts and all the hoopla that pervades the rather eerie school of witchcraft and wizardry. Warner Brothers' sixth edition, "Harry Potter and the Half-Blood Prince", adapted from J.K. Rowling's immensely popular seven-book series, appears jaded in concept and execution, the film's choice of words over action contributing to my dismay. Not just mine alone it seemed at the Chennai multiplex I saw the movie in which scenes of long conversations between and among the principal characters of Potter (Daniel Radcliffe), Ron (Rupert Grint) and Hermoine (Emma Watson) with little or no background score were interrupted by loud yawns, chatter and mobile calls!
Often, pictures stood still, the motion emerging out of words, the conspicuous absence of music adding to the audience's restlessness. This need not be a bad thing, but Potter fans used to constant movements on the screen were disappointed. And with Harry and his two best friends now at hormone driven ages, romantic interludes were anticipated, but Hermoine's yearning for Ron and Harry's admiration for Ginny (Bonnie Wright) often appeared clumsy. Maybe there were meant to be so.
These admittedly are by far the most important drawbacks of director David Yates' latest Potter film. He had also helmed the somewhat more impressive "Harry Potter and the Order of the Phoenix", and would again wield the megaphone for the final two movies of the series, "Harry Potter and the Deathly Hallows" Part One and Two — Rowling's 784-page last tome split into two because of its bulk.
Also, "Harry Potter and the Half-Blood Prince" may be a trifle difficult to understand for those who have not read the book, and Yates has failed here. The non-reader is often left puzzled, the plot not as clear one would have liked it to be.
The movie begins with the Death Eaters attacking both Muggles (men with no magical powers) and wizards. There is havoc, and the London Millennium Bridge collapses (what about the repercussions to this?). Professor Dumbledore (Michael Gambon), Hogwarts' Principal, whisks his prized student from his date and to Horace Slughorn (Jim Broadbent), a former potions professor. Dumbledore wants to lure Slughorn back to Hogwarts so that Harry might find from him a key clue regarding the Dark Lord Voldemort. He was once Slughorn's student.
Composer Nicholas Hooper, cinematographer Bruno Delbonnel and designer Stuart Craig together create the dark mood and set the tone for the final battle between Potter and Voldemort, bent on killing the boy. A seamless blend of composition, cinematography and design enrich the frames all right. But technology alone is not adequate to lift this Harry Potter work out of its gloom. Somehow, the characters fail to add that spark, their performances showing a marked strain. Is it the fatigue of having lived through five editions? Or, is it the fear that the series is about to end – and with it a lot of magic and stardom — that is troubling Emma, Rupert and Daniel? I wonder.