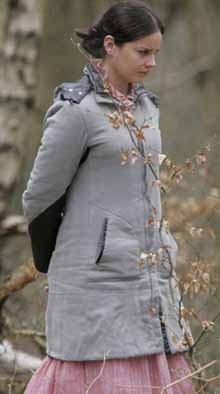 Jane Campion's period piece
"Bright Star"
Amid the economic depression and cinematic
disappointments with most masters ending up with minor pieces, the Cannes Film Festival offered a few gems to take back home. Maybe my tastes are old world, but I enormously seemed to like Jane Campion's period piece, "Bright Star" the best. True to the era it was set in, 19th century England, the movie ran at a delightfully leisurely pace from one picture postcard image to another of poet John Keats' meandering countryside, magnificent balls, yards of shimmering gowns and warm handwritten letters that pumped the adrenal into young hearts.Indeed a treat for romantics and poetry lovers, "Bright Star" may well be a joy forever marking Campion's return to Cannes after her 1993 Palm d'Or winner, "The Piano" Tracing the love story between a young Keats and his Hamstead neighbour, Fanny Brawne, Campion never losses sight of period details. Scenes of Brawne with a fine needle and thread, Keats with his pen and paper creating poetic pleasure that much after his death helped the world realise his genius and the passion between the two only restrained by the rigid social mores of the day have been frozen on frame with a classic touch. Critics may argue that "Bright Star"is nothing more than a Merchant-Ivory production with its alluring locales and marvellous costumes, but the film goes beyond captivating colours, and scripts a story with extraordinary feeling that the two main actors, Abbie Cornish (Brawne) and Ben Whishaw (Keats), help bring to the screen.Pedro Almodovar's "Broken Embraces" may not be as fantastical as the Spanish auteur's last work, "Volver." But his latest, which played in Competition, has his masterly touch that mixes and mingles the comic with the tragic. The story involves a movie director who loses his sight and the love of his life, Lena, (Penelope Cruz), in a car crash. He takes a new name after that and tries his to best to erase his past. As in a usual Almodovar work, there are many characters, each though finely etched. There is the director's wife, and a rich businessman who keeps Lena as his mistress. Intrigue and jealousy churned in a pot of passion eventually mends the broken embraces."Broken Embraces" is superbly engaging, and Cruz, who has long become Almodovar's muse and last seen in movies such as "Elegy" and "Vicky Christina Barcelona"has turned out to be a natural, still having an edge in Spanish cinema rather than English. Her Audrey Hepburn hairdo is almost the ultimate in glamour. Rodrigo Prieto's cinematography is exquisite with the volcanic landscapes of Spain adding to the richness of the texture.Ken Loach is another Cannes regular whose "The Wind that Shakes the Barley" literally shook the Festival a few years ago with its depth and feeling. He returned to Cannes this year with "Looking for Eric" an unlikely crowd-puller that got the auditorium roaring with laughter. Loach regular Paul Laverty's script is peppered with gags, and the actors help the story come alive in a refreshing way. They include former football player, Eric Cantona, the Frenchman who made it big in England.The game materialises in the home of a humble postman named Eric (essayed by Steve Evets). A motorcar accident, a divorce and an unhappy home atmosphere caused by his stepsons all lead to a hugely entertaining picture. Sentimental in parts, grim in some others, "Looking for Eric" was undoubtedly one of the Festival highlights. But here again, Loach was not his best, reaffirming my belief that this year's Cannes had admirably lined up the masters who unfortunately came with minor pieces. Have these men lost their touch? Is it time for the Festival to move on and try and find fresh faces and newer talents?