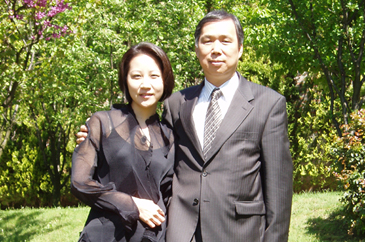 Eugene Choi and Kim Jonghae
Belgrade, Serbia On April 23, 2009 — Embassy of the Republic of Korea in Serbia and Belgrade Philharmonic Orchestra jointly hosted a piano recital of Ms. Eugene Choi at the Belgrade Philharmonic Hall to commemorate twenty years of diplomatic relations between the Republic of Korea and the Republic of Serbia.This was the kickoff event amongst other cultural events that will be staged to commemorate 20th anniversary of establishment of diplomatic relations between the two states. The finale of the events will be held on November 5, 2009 at Kolarac and will feature the renowned Serbian violinist Jovan Kolundzija in duet with the fascinating Korean pianist Eugene Choi and will be broadcast by Serbian National TV station - RTS.The atmosphere of the concert was warm and friendly. Many guests from diplomatic community and Serbian government attended the concert. The brilliant performance of the pianist Eugene Choi left many guest breathless. The program included works by Verdi, Liszt and Mozart.In addition to this concert, the Embassy of the Republic of Korea is planning a series of cultural events in Serbia during 2009, including concert in November, performances of a traditional Korean dance troupe in June and a professional Taekwondo Demonstration Team in September, among others.After the concert Ms. Choi granted an exclusive interview to The Seoul Times.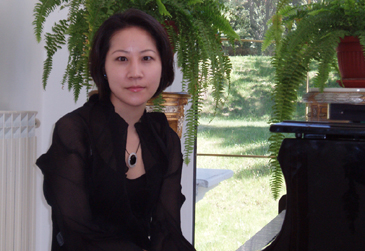 Eugene Choi
Ms. Choi, what does music mean for you?Music is for me what water is for the fish - an absolute necessity for existence. Music is the most powerful language of human emotions - by listening to music one can experience joy, agony, sorrow, beauty, etc. The devastating beauty of the 4th movement of Mahler's 5th symphony grips me and makes my heart ache. The cheerful tune of Beethoven's 8th symphony lifts up my soul. Listening to great music is a very strong emotional and spiritual experience for me. It purifies the soul. It fills my life.What does it mean to be on stage?I am privileged and grateful that I have the ability to share my thoughts with the audience. I share my ideas with the public - a very private experience for me. Sharing is always exciting. Great music written by Liszt, Tchaikovsky, Bach, Beethoven, Rachmaninoff just to name a few, is recreated through me and is shared with many. I feel ecstatic when the audience is touched by the music I created.Where do you live now and where have you been before?I was born in Seoul, Korea and left it at age 16 to study at the New England Conservatory of Music in Boston, USA. There I obtained the Bachelor's and Master's degree. Then I went to study with Prof. Lev Natochenny at the Hochschule für Musik in Frankfurt and received the highest degree in music performance in Europe, equivalent of the Doctoral degree in the US. Coming to Frankfurt was a life-changing experience for me. With Prof. Natochenny's artistry and guidance, I became a totally different person. He helped me find my true identity as an artist and I am eternally grateful for his help. Currently I reside in Frankfurt where I find the musical environment most suitable and satisfying.How would you compare the music scene in your native Korea and other areas?Unlike Europe, where classical music is a historically inherited part of life, there is still a distance between the general public and classical music in Korea. This probably has to do with a relatively short history of western classical music culture in Korea. People still consider classical music difficult to understand and associate it with socially and educationally privileged. Some think there exists even some formal dress code for classical concerts. These prejudices broaden the gap and make the listening experience of the classical music even less accessible.What do you think of a role as musician in the society?We live in a hi-tech world. Technological progress brought us fast access to information and conveniences of life. But it did not heighten our spirituality. Music, Art and Literature still fulfill that requirement. We, musicians, bring classical music closer to people, especially younger people. We create interest and draw public to concert halls. I chose a program of Liszt's transcriptions of famous operas such as Rigoletto, Tristan and Isolde, Marriage of Figaro and Don Giovanni for the CD recording I just finished to familiarize listeners with the music they used to hear in different setting. Although these works are transcendental performing difficulty, listeners should find them enjoyable because of the easily recognizable, familiar melodies. I feel privileged being able to play and I feel I should give back as much as I can by making my contribution to public cultural education.What is in your calendar now? When is your next concert in Seoul?I have concerts in Muju Festival in Korea at the end of July. Other concerts in season 2009-2010 include a solo appearance with an orchestra in New York's Summit Festival as well as a solo recital and chamber music recital, a soloist appearance with Sueddeutscher Kammermusik Orchester in Frankfurt, a solo appearance in Alte Oper Frankfurt, a duo recital with the renowned violinist Jovan Kolundzija in Belgrade and a recital in Weilburg festival Germany.Short biography of Eugene Choi:EUGENE CHOI has been praised for her exceptional musical abilities, formidable technique and outstanding musical architecture. She made her U.S. debut in 1997 in the Boston Symphony Hall under the baton of Keith Lockhart and returned to repeated appearances as soloist with such Maestros as Stanislaw Skrowaczewski, Benjamin Zander and Richard Hoenich, in Jordan Hall, Boston. She is a winner of numerous competitions and scholarships including Corpus Christie Competition, Harvard Musical Achievement Award, Boston Symphony competition, Chosun competition. In her native Korea she appeared as soloist with Seoul Philharmonic, Yewon Philharmonic, Eurasian Philharmonic, Gangneung Philharmonic as well as Busan Philharmonic orchestras. A live recording of her concert with the Eurasian Philharmonic Orchestra in Seoul Art Center was released in 2005. Her repeated appearances in Alte Oper Frankfurt in 2006, 2007, 2008 have received rave reviews from Frankfkurter Allgemeine Zeitung, Neue Presse and Frankfurter Rundschau. Her highly acclaimed debuts in Rheingau Festival and Weilburger Schlosskonerte Germany were followed by a radio broadcast debut in Varazdin Festival, Croatia and a local TV broadcast debut in Ljubljana Music Festival, Slovenia. Recent solo appearance as soloist in Grieg Concerto with the Gyunggi Philharmonic Orchestra, sponsored by Norwegian Embassy in the 'Grieg memorial concert' prompted rave reviews from the critics and audience alike. The June 2008 concert was broadcast by cable TV network in Seoul. This was followed in August by the First Prize in the Concerto Competition of the Summit Music Festival in New York.Upcoming concerts include chamber music and solo recitals, as well as appearances with orchestras in Muju Festival Seoul in July and Summit Festival in New York in August 2009. Further engagements include concerts with Südwestdeutsche Kammerorchester in Frankfurt, November 2009 as well as a recital in Alte Oper Frankfurt, Duo recital with Violinist jovan Kolundzija in November and December 2009, and Weilburger Schlosskonzerte 2010.Ms. Choi has obtained both her Bachelor and Master of Music Degrees from the New England Conservatory of Music in Boston, USA and her 'Konzertexamen' with "Excellence" from the Hochschule fur Musik Frankfurt am Main in the "Meisterklasse" of the renowned Prof. Lev Natochenny, a disciple of the legendary Lev Oborin.