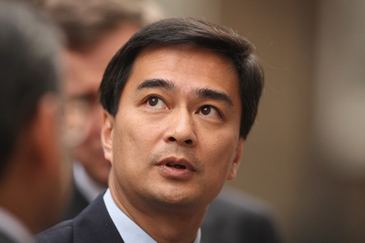 Prime Minister Abhisit Vejjajiva of Thailand
BANGKOK, Thailand — Prime Minister Abhisit Vejjajiva, and three of his top ministers, are being protected against an "assassination attempt," after crushing an insurrection in Bangkok.Royalists clad in yellow shirts, and their revolutionary rivals who wear red shirts, are also hiding in safe houses or behind bodyguards.This pro-American, Southeast Asian nation appears to be descending into a morass, where politically minded movers and shakers now fear death squads and suspicious undercurrents with each new day."Now there are attempts from some groups of people who do not want the conflicts to end," the prime minister told Parliament."This is like the eve of a war, and we risk losing our democracy," said Mr. Abhisit on Wednesday (April 22) after earlier clamping a "state of emergency" on Bangkok and five provinces."For the past 10 days, I am surrounded by about 10 fully armed marines," said Foreign Minister Kasit Piromya, unveiling the assassination plot for the first time."I belong to a very special group of Thai people led by the Thai Prime Minister Mr. Abhisit [and] the Deputy Prime Minister Mr. Suthep," the foreign minister said, naming the top two officials on an assassination hit list.The list included the leader of the pro-monarchy yellow shirts, Sondhi Limthongkul, who was shot on April 17 in Bangkok by five unidentified gunmen, hours before he was to meet the foreign minister for lunch, Mr. Kasit said.Mr. Sondhi survived with a bleeding head injury, and his vehicle was riddled with M-16 assault rifle bullet holes."The fourth person is myself, and I think the fifth person under an assassination attempt at the moment is the minister of finance," Mr. Kasit told the Asia Society in New York on Wednesday (April 22)."So the five of us, at the moment, are protected by the security forces."Mr. Kasit linked the alleged multiple-murder plot to a former prime minister, Thaksin Shinawatra, who has been living in self-exile after the military toppled him in a bloodless September 2006 coup."Now I think he has resorted to some sort of assassination attempt," Mr. Kasit said, without offering any evidence.
Bangkok alerted Interpol that Mr. Thaksin is "evading" his two-year prison sentence for corruption in a real estate deal, a spokesman for the prime minister, Dr. Buranaj Smutharaks, said in an interview on Wednesday (April 22).Mr. Thaksin reportedly received a passport from Nicaragua, after Thailand stripped him of his travel documents.Mr. Thaksin wants his conviction overturned, and an end to various corruption trials against him, his family, and political allies.He also wants the return of two billion U.S. dollars in assets, which the coup leaders froze.Mr. Thaksin helped lead anti-government red shirts during a violent April 11-13 insurrection, when he called on supporters to unleash a "peaceful revolution" to force a nationwide election which he expects to win.The riots left two people dead, and 123 injured."I already ordered an urgent investigation into the matter, to find out how the attackers on Sondhi got the cartridges of the M-16 assault rifles from our army unit," Army Commander-in-Chief Gen. Anupong Paojinda said on Thursday (April 23), adding a fresh twist to the latest bloodshed."The army must not choose sides," Gen. Anupong told unit commanders earlier this week."It cannot be red or yellow."The injured Mr. Sondhi, however, had many enemies.Mr. Sondhi's right-wing yellow shirts shut down Bangkok's airports for eight days in November, stranding 300,000 people here and abroad.More recently, Mr. Sondhi spoke out against a new, dangerous militia of "blue shirts," whose roots are opaque."One of his latest targets was Defense Minister Gen. Prawit Wongsuwon, said to be the prime minister-in-waiting," the Bangkok Post reported on Thursday (April 23).Mr. Sondhi's son, Jittanart, warned against "the police, a coalition of new power forces he calls 'the Gestapo,' a military element working towards the creating of the 'blue' power faction, and 'the prime minister-aspirant'," the English-language paper said.Prime Minister Abhisit punished two police officials for failing to prevent an assault by red shirts against an Asian summit venue in Pattaya on April 11, which forced the evacuation of several international leaders by helicopter.Mr. Abhisit and his Deputy Prime Minister for Security Affairs, Suthep, were trapped together in their limousine at the Interior Ministry during the insurrection on April 12.Police stood idle while the red shirts smashed their vehicle.Mr. Abhisit then changed his personal security to include mostly army troops, supervised by senior army officers.Politicians said the government, police and army include supporters of rival groups.Many people praised the military for forcing the surrender of thousands of red shirts on April 13, after protesters used firebombs, knives, rocks and clubs while blockading streets, burning buses, and threatening to ignite a tanker truck filled with liquid natural gas in central Bangkok.After the army crushed the insurrection, three red shirt leaders were arrested, and others disappeared, including the highly vocal Jakrapob Penkair who was said to have fled Thailand."I am now in hiding, with protection" against arrest, said Sean Boonpracong, a spokesman for the red shirts' United Front for Democracy against Dictatorship, in an interview on Tuesday (April 21).