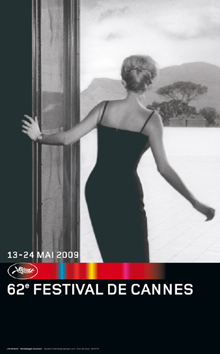 India does not figure in the Cannes Film Festival's Competition lineup announced here Thursday noon. It has been several years since an Indian movie found a place in the Festival's official selections. Some of Cannes' old-timers are back this year at its 62nd edition. Ang Lee, Pedro Almodovar, Quentin Tarantino, Johnny To, Jane Campion, Lars Von Trier and Terry Gilliam will premier their films. Tarantino's much speculated "Inglorious Basterds" tracing the story of a bunch of American soldiers fighting Nazis' in World War II will compete with 19 others for the Festival's top Golden Palm Award. Brad Pitt, who stars in it, will be at Cannes, and so will Tarantino, who won the Golden Palm for his "Pulp Fiction" in 1994.Another Palm winner, Dutch helmer, Von Trier ("Breaking the Waves," "Manderlay," etc), will present his horror work, "Antichrist," about a couple who turn reclusive after the death of their son.Australia's Campion (whose "Holy Smoke" was shot in India), yet another Palm winner, will be at Cannes with her literary biopic "Bright Star." Featuring Ben Wishaw and Abbie Cornish, the movie will narrate the love affair of the 19th century poet, John Keats, with Fanny Brawne.Pedro Almodovar, also a Cannes regular, will screen his melodrama "Broken Embraces," starring his eternal favourite, Penelope Cruz.Lee's "Taking Woodstock" reportedly made it into the Competition list at the last minute after the Festival's dashing and young General Delegate, Thierry Fremaux, decided to back it. Set against the backdrop of the famed 1969 music event, "Taking Woodstock" stars Liev Schreiber, Jeffrey Dean Morgan and Emile Hirsch.Ken Loach's "Looking for Eric," about a troubled young soccer fan, will vie for the Golden Palm, and so will To's French-made "Vengeance" starring pop sensation Johnny Hallyday as a hitman out to avenge his daughter's death.Palestinian director, Elia Suleiman's family saga spanning half a century from the 1940s, "The Time That Remains," Michael Haneke's black-and-white drama" The White Ribbon," about fascism in a German school in 1913, and Malaysian helmer, Tsai Ming-liang's "Face," tracing the travails of a Taiwanese director in Paris, will be some of the other entries.This year, 52 feature films from 32 countries will be screened, 46 of which are world premieres. Twenty movies will screen in Competition.The Festival will close on May 24 with Jan Kounen's Coco Chanel biopic "Coco Chanel and Igor Stravinsky." Cannes will open on May 13 with Disney's 3D animated "UP." This is the first time an animation will cut the cinematic event's red ribbon.
The list of films in Competition:
"Bright Star," Australia-U.K.-France, Jane Campion"Spring Fever," China-France, Lou Ye"Antichrist," Denmark-Sweden-France-Italy, Lars von Trier"Enter the Void," France, Gaspar Noe"Face," France-Taiwan-Netherlands-Belgium, Tsai Ming-liang"Les herbes folles," France-Italy, Alain Resnais"In the Beginning," France, Xavier Giannoli"A Prophet," France, Jacques Audiard"The White Ribbon," Germany-Austria-France, Michael Haneke"Vengeance," Hong Kong-France-U.S., Johnnie To"The Time That Remains," Israel-France-Belgium-Italy, Elia Suleiman"Vincere," Italy-France, Marco Bellocchio"Kinatay," Philippines, Brillante Mendoza"Thirst," South Korea-U.S., Park Chan-wook"Broken Embraces," Spain, Pedro Almodovar"Map of the Sounds of Tokyo," Spain, Isabel Coixet"Fish Tank," U.K.-Netherlands, Andrea Arnold"Looking for Eric," U.K.-France-Belgium-Italy, Ken Loach"Inglourious Basterds," U.S., Quentin Tarantino"Taking Woodstock," U.S., Ang Lee ***
Special Screenings:
"Petition"
Director: Zhao Liang, China"L'epine dans le coeur"
Director: Michel Gondry, France"Min ye"
Director: Souleyumane Cisse, France-Mali"Jaffa"
Director: Keren Yedaya, Israel-France-Germany"Manila"
Director: Adolfo Alix Jr., Raya Martin, Philippines"My Neighbor, My Killer"
Director: Anne Aghion, U.S
Un Certain Regard:
"Samson & Delilah"
Director: Warwick Thornton Australia"Adrift"
Director: Heitor Dhalia Brazil"The Wind Journeys"
Director: Ciro Guerra, Colombia"Demain des l'aube"
Director: Denis Dercourt, France"Irene"
Director: Alain Cavalier, France"Independance"
Director: Raya Martin, Philippines-France-Germany"Le Pere de mes enfants"
Director: Mia Hansen-Love, France-Germany"Dogtooth"
Director: Yorgos Lanthimos, Greece"Nobody Knows About the Persian Cats"
Director: Bahman Ghobadi IranEyes Wide Open"
Director: Haim Tabakman, Israel"Mother"
Director: Bong Joon-ho, South Korea"The Silent Army"
Director: Jean van de Velde, Netherlands"To Die Like a Man"
Director: Joao Pedro Rodrigues, Portugal"Police, Adjective"
Director: Corneliu Porumboiu, Romania"Tales from the Golden Age"
Directors: Hanno Hofer, Razvan Marculescu, Cristian Mungiu, Constantin Popescu, Ioana Uricaru, Romania"Tale in the Darkness"
Director: Nikolay Khomeriki, Russia"Tzar"
Director: Pavel Lounguine, Russia-France"Nymph"
Pen-ek Ratanaruang, Thailand"Precious"
Lee Daniels, U.S.
Feature Film Jury:
Lee Chang-dong, director, author, screenwriter, South Korea
Isabelle Huppert (president), actress, France
Asia Argento, actress, director, screenwriter, Italy
Nuri Bilge Ceylan, director, screenwriter, actor, Turkey
James Gray, director, screenwriter, U.S.
Hanif Kureishi, author, screenwriter, U.K.
Shu Qi, actress, Taiwan
Robin Wright Penn, actress, U.S.