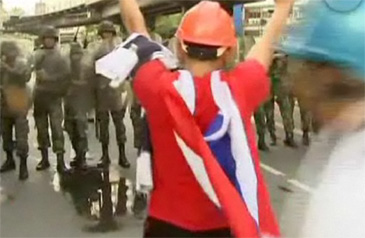 A demonstrator confronts Thai soldiers in a street protest in Bangkok, Thailand on April 13, 2009. Thai government earlier declared a state of emergency.
BANGKOK, Thailand — The army opened fire with M-16 assault rifles on Monday (April 13) against thousands of protesters who burnt buses, hijacked a natural gas tanker truck, blocked streets, and surrounded government buildings during worsening political violence which injured 94 people."It is very brutal suppression. They use the military with M-16s, they aimed and shot at the people, and then many people died," said self-exiled former prime minister Thaksin Shinawatra on Monday (April 13), though the government denied any deaths."They are asking for democracy and true justice," Mr. Thaksin told the British Broadcasting Corp from an undisclosed location abroad, where he is hiding from a two-year prison sentence for corruption while demanding a "peaceful revolution" against Thailand's "elite." Pro-Thaksin protesters, wielding firebombs, knives, rocks and clubs, retreated from some barricaded intersections, leaving bonfires and burning vehicles billowing black smoke above Bangkok's jumbled skyline."We used only blank bullets on the protesters," said Army Spokesman Col. Sansern Kaewkamnerd on nationwide TV."We also used 'practice bullets,' which created loud noise. The protesters distorted this, claiming that the soldiers fired live bullets and killed many protesters," Col. Sansern said on Monday (April 13).Officials said more than 94 people were injured, including 23 soldiers, but the military's use of its "state of emergency" powers to crush the demonstrators raised fears of increased casualties."It's a step-by-step process to restore order and stop violence," said the beleaguered, increasingly vulnerable, Prime Minister Abhisit Vejjajiva on Monday (April 13) in a televised broadcast.
Mr. Abhisit rejected the protesters' demand that he resign, dissolve Parliament, and allow fresh elections, apparently because he feared Mr. Thaksin's candidates would again win a nationwide majority, while British-born Mr. Abhisit would not be able to muster enough support.Clinging to power, Mr. Abhisit was reportedly holed up on a military base, struggling to end the spiraling mayhem while the American and other embassies warned their citizens to stay off Bangkok's dangerous streets.Anarchy erupted in some neighborhoods where pro-government residents battled protesters to chase them from their streets, without waiting for security forces.The military's Supreme Commander, Gen. Songkitti Jaggabatara, appeared on all of Thailand's TV stations simultaneously on Monday (April 13), warning protesters not to riot because the army would use "every means to end the chaos," but not use force "excessively."In the streets, braying protesters at makeshift barricades filled small bottles with gasoline, to make Molotov cocktails, which they lit and hurled at troops.They also pushed a handful of buses, taxis and other vehicles into the path of approaching soldiers.Thousands of troops swarmed key intersections, pointing their U.S.-supplied M-16 assault rifles into the air and firing ferocious volleys, though some soldiers leveled their rifles and shot at clusters of protesters.A potentially explosive confrontation occurred when a few demonstrators hijacked a large, white, tanker truck filled with liquid natural gas, sparking fears they would ignite the vehicle in Bangkok's crowded Din Daeng residential neighborhood on Monday (April 13) morning.Horrified residents rushed into the street and, aided by nervous soldiers, commandeered the truck away from rioters."There have been calls to instigate illegal acts, including blockading roads and government buildings, obstructing government officials from carrying out their duties, attempting to harm the prime minister and other government officials, and even setting bounties for certain persons, which violate the individual rights and freedoms of others," the foreign ministry said in a statement on Monday (April 13)."Negotiations will be undertaken first, before being stepped up to such measures as the firing of blank bullets, warning shots, and tear gas. No weapons have been, or will be, used except in self-defense," the ministry said.Many protesters eventually retreated to their strongholds, including the prime minister's Government House office and other official buildings, which they earlier surrounded.The United Front for Democracy Against Dictatorship's protesters wear red shirts and support Mr. Thaksin, whose elected government was toppled in a clumsy, bloodless, 2006 military coup — which still haunts this country's politics.Mr. Thaksin, a billionaire telecommunications tycoon, uses satellite video links to appear each night on large screens erected at the protesters' venues, to boost and inspire the red shirts.Mr. Abhisit came to power four months ago by convincing politicians within Parliament to support his coalition, including several of Mr. Thaksin's former colleagues who turned against him.The red shirts are confident an election would enable their rural-based majority to win and bring Mr. Thaksin home, so he can nullify the corruption cases against him, and get back his two billion U.S. dollars in assets which the coup leaders froze.The split within this Southeast Asian, mostly Buddhist nation includes elements of class warfare — with the red shirts against Bangkok's middle class and elite — plus rural voters rising against a minority of relatively pampered urbanites who tend to support Mr. Abhisit.In November, anti-Thaksin protesters wearing royalist-colored yellow shirts, blockaded Bangkok's airports for eight days, stranding 300,000 travelers here and abroad.The yellow shirts' allies within the security forces stood idle until military-backed Mr. Abhisit was able to become prime minister.