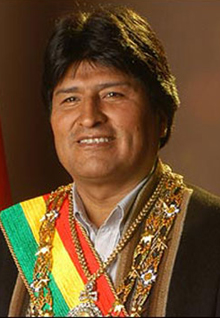 President Evo Morales of Bolivia
President Evo Morales of Bolivia promised to challenge the status quo when he was elected and he is still sticking to this policy despite the complex political situation. Therefore, the indigenous issue alongside social disparity and implementing radical reforms are still part and parcel of the Morales political camp. Despite this, the political situation is still tense therefore can Morales overcome many countless obstacles that he faces?It must be remembered that President Morales re-wrote the history books because he became the first fully indigenous head of state since the Spanish Conquest changed the landscape of South America. This in itself was revolutionary but more important, Morales firmly believes in socialism and the need to create a nation based on social equality. However, while the political landscape may be changing, it is apparent that elite vested interests remain and the future of this divided nation is far from certain.
For this reason, Morales called a referendum on August 14, 2008, in order to increase his power base. Of course this was a gamble but the gamble was rewarded because 67.4% of the electorate supported Morales. Therefore, the opposition was dealt a severe blow because Morales was given a fresh mandate but differences still remain in many parts of Bolivia.
From the outset the indigenous population and the marginalized believed that they had a head of state that would help to redistribute power, wealth, and land. After all, the Movement for Socialism (MAS) had been involved in many social protests prior to taking power. For example, during the Cochabamba protests of 2000 the socialist movement made it clear that their loyalty was with the alienated and dispossessed. Therefore, MAS promised to help the marginalized via genuine reforms and part of these reforms would come via the redistribution of gas wealth and by implementing land reforms.
However, you still have major opposition towards Morales and in the past tensions have erupted over many different issues. For example, in early 2007 around 20,000 miners took to the streets after Morales introduced a tax hike. While more threatening for Morales, six of the nine governors who have power throughout Bolivia are opposed to him. The Santa Cruz region, for example, is blessed with an abundance of oil and agricultural resources, and clearly the political leaders of this region are not happy about Morales. Similar ill-feelings can be felt in La Paz, Cochabamba, Beni, Pando, and Tarija.
The major issues in these areas are varied but clearly centralization and declining revenues are at the heart of the matter. The same can be said about challenging the status quo and undermining the traditional nature of Bolivian society, whereby the landowning class had major power. Given this, many governors are demanding greater autonomy and the need to introduce de-centralization policies.
Morales and MAS responded towards this major threat via the introduction of a new Bolivian constitution. Therefore, Morales lambasted the opposition in Santa Cruz last year for "fomenting and funding the autonomy movement in a bid to grab national resources." He further added that he would not tolerate the break-up of Bolivia because the demise of Bolivia would merely create more chaos and lead to greater poverty.
At the moment, however, the opposition appears to be too divided and they are mainly concerned about regional issues or preserving their power base. These divisions mean that Morales can further bypass the opposition by appealing to the masses and by rallying them around the unity of Bolivia. Also, it is still apparent that Morales is widely respected amongst the indigenous population, the marginalized, within the socialist movement, and amongst other groups which are represented in Bolivia.
Jim Shultz, director of the Democracy Centre, which is a human rights organization located in Bolivia, states that "This is a country that has existed in a state of de facto apartheid for decades, centuries, millennia, depends on how you want to count it." He further added that "For people who were used to being marginalized, even though they're the majority, to see somebody who looks like them, who dresses like them, who talks like them, become the president of their country, you can't underestimate the emotional symbolism of that."For now, Morales remains popular amongst the poorest in society and within the indigenous population. Yet poverty remains a major issue and the boom years of past high prices for petroleum is over at the moment, so an easy source of revenue will not apply in 2009 if prices remain in the doldrums. Therefore, Morales needs to implement "real reforms" because an economic downturn could unleash new political forces and the opposition will try to make the most of any natural divisions.
At the same time, Morales needs to become more pragmatic with regards to international foreign investments because many international investors are worried about past infringements. This applies to nationalization and a less than fluid legal framework.
Overall, it would appear that the road ahead is still rocky and the opposition will pounce on any major internal crisis given the opportunity. Given this, it is essential that Morales implements more pragmatic reforms and steadies the socialist power base. He also must try to reach-out to the opposition because they are not united, and he can reduce their collective threat via genuine compromise when it is applicable and in the interest of Bolivia.For now, the downtrodden still have a leader who can appeal to them and indigenous people now see hope. Yet with each passing year, it will become apparent that words will no longer be enough, therefore, more reforms are needed. However, Morales must do this by being more open to fresh international capital and by utilizing the energy and mineral reserves of Bolivia.
LEE JAY WALKER
leejayteach@hotmail.com
THE SEOUL TIMES