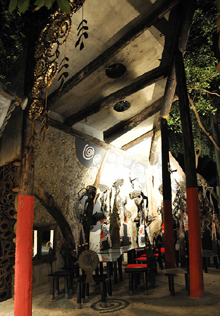 Five-Dime Driftwood House Restaurant (çêÊÇàÏ÷ù) in Taipei
Planning a trip to a foreign destination, while generally pleasurable, is often frenetic and sometimes stressful, especially for those who are not frequent flyers, or have little travel experience. In addition to the routine requirements of checking the passport, obtaining an allocation of the local currency, booking hotels, purchasing flight tickets, perhaps obtaining a visa and/or inoculations, I also like to prepare by familiarizing myself with a few words of the local language. No matter how inadvertently I manage to confuse or mispronounce my vocabulary on arrival, I realise my stumbling efforts are mostly valued. I have also found it beneficial before embarking on any overseas sojourn to learn something of the local the etiquette, protocols and manners, as such knowledge enhances my appreciation of any new cultural experience. Often inappropriate behaviour and lack of sensitivity have the potential to impair the vacation and give rise to inadvertent misunderstandings, and even offence. This is especially true if the trip is associated with business.This point was illustrated during the first night of my recent visit to Taiwan. While dining alone in the restaurant of my hotel in the capital Taipei, I observed a Western businessman at a nearby table absent-mindedly drumming on the table with his chopsticks. Then as if to signify the completion of his meal, he lodged the chopsticks upright, like joss sticks, in his bowl of unfinished rice, instead of replacing them on the chopstick holder. From their body language I suspect his Taiwanese companions were not impressed, and if he was on a business mission, any deal may have remained unconsummated.In this thriving island state of some 23 million mainly Han Chinese, traditional values remain strong. Respect for parents, ancestor worship, a distinct emphasis on education and work, and the importance of ¡®saving face,' are core features of the Taiwanese culture. While it is difficult to interpret exactly what ¡®saving face' means, essentially it seems to reflect the personal protection of dignity, reputation and prestige. Making derogatory remarks about someone, losing one's temper with an employee or guest, or rebuffing a gesture of friendship, may cause that person to ¡®lose face.'Later in the week, during a sumptuous Taiwanese meal, this time in Taipei's remarkable Five-Dime Driftwood House Restaurant, I raise the concept of ¡®face' and local etiquette with my guide, Mr Lin, who provided me with some useful insights and instruction as to their place in Taiwanese culture. Etiquette is as important in Taiwan as it is in Japan and Korea, perhaps even more than on mainland China, and certainly more so than in Hong Kong.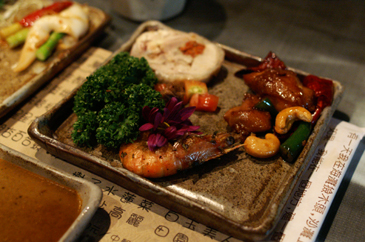 Five-Dime Driftwood House Restaurant (çêÊÇàÏ÷ù) in Taipei
As in Korea, modesty and humility are both obvious and explicit. Elders are treated with the utmost respect and allowed to pass through a doorway first, be seated first, and receive the first serving of any meal.Numbers too, exhibit great significance in Taiwanese culture. When I first visited the country in 1983, I was informed at reception that my hotel had no fourth floor as the number four symbolizes death. Now I learn that it is important not to mention the number four or to give gifts in sets of four. The number six, however, is deemed to be lucky, so too is eight, but as in western culture thirteen is thought unlucky and to be avoided.Mr Lin tells me that it is essential that business men visiting Taiwan arrive with a superfluity of business cards and that they be prepared to hand these out in appreciable numbers. Business cards, I learn, should be given and received with both hands, and on receipt of a card it is important to study and handle it with respect and not immediately stuff it unread in the back pocket. In Taiwan, apparently the back pocket is a most insulting repository for a business card! During a break between courses, Mr Lin draws my attention to the next table where two groups of Taiwanese businessmen are meeting for a ¡®working dinner.' All arrive soberly dressed in smart dark blue or black suits. "Punctuality is very important to us," confides Mr Lin. "The senior member of each party should lead the way and receive the most attention," he adds. I watch as each member nods respectfully to the others. Is there also just the suggestion of a bow? If there is, it is less marked than would be afforded in Japan.In Taiwan, handshake greetings are less common, and definitely less bone-crushing than in western society. I am advised by Mr Lin that generally men should not shake hands with women, unless the woman offers her hand first, and an arm around the shoulder of a new associate, particularly a female, is an absolute ¡®no-no.' Before settling down to their meal, and following the mandatory swapping of business cards, our new neighbours also exchange gifts. Mr Lin emphasizes that the gift "should not be tacky," and that "the wrapping is very important." Black, white and blue wrapping papers are to be avoided; yellow, pink or red paper is preferred. I note that the person receiving the gift does so by holding out both hands with palms up and that the parcels are carefully placed on the table where they remain unopened. Gifts of scissors or cutting implements are to be avoided as these signify a severing of relationship, while umbrellas, clocks, towels or handkerchiefs are likewise to be shunned due to their association with bad luck.
Of course any social gaffes, especially by foreigners, will rarely cause a ripple in Taiwan, as the Taiwanese people are much too polite to comment. However, in business circles, perceived crass and unseemly behaviour may just be the difference between closing a deal or going home empty handed. While any western book on etiquette may be a slim volume, the equivalent Taiwanese publication is apparently much more substantial.For more information on Taiwan www.taiwan.net.tw or www.tourtaiwan.or.krGroup or individual tours: Golden Foundation Tours www.gftours.com.twFive-Dime Driftwood House Restaurant www.five-dime.com.twJohn Hagan's visit to Taiwan was hosted by the Taiwan Tourism Bureau and sponsored by China Airways.