| | |
| --- | --- |
| | Nepalese King Gyanendra (right) walks with Chinese leader Jang Zemin, reviewing honor guards of China. Jang invited the Nepalese King for state visit. |
Nepal may be a tiny kingdom in the Himalayas. But it is of paramount importance to China and India, because Nepal lies sandwiched between the two giant powers. Both look upon Nepal, an essentially Hindu kingdom, as a some sort of a buffer.Though relations between Beijing and New Delhi have vastly improved since 1962, when China invaded India, there are still pinpricks to irritate both. Their race to economic superdom has often seen competition turn into rivalry, which serves as an excuse to find fault with each other.While Nepal may share religious and cultural affinity with India, Kathmandu's political loyalty and ism have invariably veered towards China. India has been perturbed over what it sees as covert Chinese encouragement of Maoists insurgency in Nepal, where a sham of a democracy, an authoritarian and unstable royal regime and grinding poverty have combined to help the spread of rebellion.During the past few months, there has been a growing concern about the state of political affairs in Nepal. In early July, 2004 incidents in the royal household affirmed that not all was well between King Gyanendra and his son, Crown Prince Paras.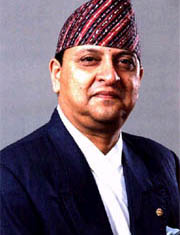 King Gyanendra of Nepal
The son stormed out of his father's birthday celebrations, and went to a nightclub. When his wife followed him to get him back home, he fired shots from his gun. A little later, he sped without his personal bodyguards to Pokra, about 200 km from Nepal, where security forces mistook him for a Maoist guerrilla and almost shot him dead!Paras has been an added headache for Gyanendra ever since he took over as Nepal constitutional monarch after the 2001 massacre at the royal palace. The killings of King Birendra and members of his family caused a blot on the status of the monarchy, and exposed the gross indiscipline behind the palace walls.Nepalis do not accept the official version of the bloodbath, and soon after the tragedy fingers were pointed at Gyanendra, Birendra's younger brother. The suspicion still lingers, and has been one reason for King Gyanendra's dwindling support among his subjects. They feel —all the more — he is guilty because there have been convictions till date.Also, Gyanendra's overt political ambitions, his dissolution of an elected Parliament in 2002 and his dismissal of the prime minister have not gone well with the people. This has not only led to an erosion of the king's personal image, but also that of the monarchy. Nepalis suspect that the king is trying to strengthen his position by playing one political party against another.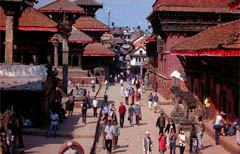 Durbar Square in Katmandu
All this has caused a rethink on the usefulness of monarchy. The Maoists, waging an insurgent war against the palace, were the first to advocate the abolition of monarchy and the institution of a republic.What may be particularly unnerving to the king is that even the Nepali intelligentsia, students and politicians have now begun to actively propagate the idea of a republic. They aver that Nepal's is not a constitutional monarchy, but a real one, and that the king is an impediment to democracy.Adding to this is not only the Maoist rebellion, which has crippled the small nation beyond belief, but also the frightening disarray in the political system. Nepal has had 14 governments in as many years, and Gyanendra's interference has ensured that no party stays in power beyond a few weeks.Given a choice, the king would have banned all political activity. But a wave of street demonstrations soon after Gyanendra ascended the throne caused such an upheaval that he was forced to invite political parties to suggest a consensus candidate to head a new government. The parties failed to nominate one, and the king chose one himself. Needless to say, Sher Bahadur Deauba has been a mere puppet.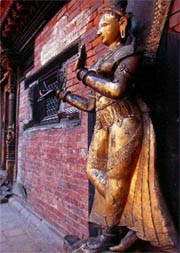 Ganga goddess, inside Royal Palace
Obviously this kind of political tension has a ripple effect on neighboring countries. India finds itself facing an exodus of Nepali refugees trying to cross over the border. What, however, has been worrying New Delhi more is the possibility of Maoists rebels entering India; there is a strong suspicion that they have links with some of India's insurgent groups, spread across the country.With Nepal's in-house problem hardly appearing to be close to a solution, there are fears of worsening poverty, a fact that can push more and more Nepalis into India. New Delhi is bracing itself to check such illegal entry, but given the porous border between the two states, the task will be by no means easy.
Country Profile: Nepal
With its ancient culture and the Himalayas as a backdrop, the landlocked Kingdom of Nepal has for many years been the destination of choice for foreign travellers in search of adventure. Nepal is also one of the poorest countries in the world, a situation made worse by an ongoing Maoist rebellion.
OVERVIEW
Nepal has been under the sway of an hereditary monarchy or ruling family for most of its known history, largely isolated from the rest of the world.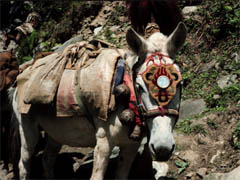 A brief experiment with multi-party politics in 1959 ended with King Mahendra suspending parliament and taking sole charge. Democratic politics was introduced in 1991 after popular protests — but it remains extremely factionalised with frequent changes of government. The king assumed executive powers in 2002, heralding a period of bitter political stalemate. Maoist rebels have been waging a campaign against the constitutional monarchy in a conflict that has left some 8,000 people dead since it started in 1996. Nepal has difficult relations with its neighbour Bhutan over an influx of some 100,000 refugees. With the world's highest mountain, Everest, and spectacular scenery and wildlife, the country has become a popular destination for tourists. It also boasts a distinctive Hindu and Buddhist culture. But it faces a number of environmental challenges such as deforestation, encroachment on animal habitats and vehicle pollution in the capital, Kathmandu.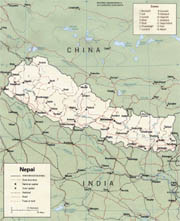 Most of the population depend on agriculture — and over 40% are estimated to live below the poverty line. Foreign aid remains vital to sustaining the Nepalese economy, and the country is also dependent on trade with neighbouring India.
FACTS
Population: 25 million (UN, 2003)

Capital: Kathmandu

Major language: Nepali

Major religions: Hinduism (official), Buddhism

Life expectancy: 60 years (men), 60 years
(women) (UN)

Monetary unit: 1 Nepalese rupee = 100 paisa

Main exports: Carpets, clothing, leather goods,
jute goods, grain

GNI per capita: US $250 (World Bank, 2001)

Internet domain: .np

International dialling code: +977 LEADERSHead of state: King Gyanendra Bir Bikram Shah Dev King Gyanendra ascended the throne in June 2001 soon after then Crown Prince Dipendra gunned down his parents King Birendra and Queen Aishwarya and seven other royals. The 29-year-old Crown Prince Dipendra ran amok at a family dinner in a drunken and drug-fuelled rage before killing himself.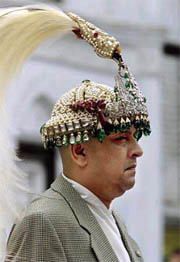 King Gyanendra at his enthronement in 2001

King Gyanendra, who was born in 1947, is thought to be a more forceful man than his predecessor. In 2002 he dismissed a popularly-elected government and assumed executive powers himself. Educated in India and Nepal, Gyanendra is well known in Nepal for his conservation work. He is also interested in developing the kingdom's tourism potential, and owns a hotel in Kathmandu. Gyanendra is married and has two children. His youngest son, Paras, who is now the crown prince, leads a controversial lifestyle and has been at the centre of numerous car accident scandals. Prime minister: Sher Bahadur Deuba Sacked in 2002 for failing to organise elections or to tackle the Maoist rebellion, Mr Deuba was reinstated by the king in June 2004. The leader of a breakaway faction of the Nepali Congress, Mr Deuba was tasked with organising elections within a year. His predecessor resigned amid daily street protests. MEDIAThe Maoist rebellion in Nepal, and the efforts to suppress it, have had a profound impact on the press and broadcasters. The media rights group Reporters Without Borders said press freedom had been "one of the great victims" of a state of emergency imposed in November 2001. More than 100 journalists had been arrested by the security forces and some of them had shown signs of torture, it added.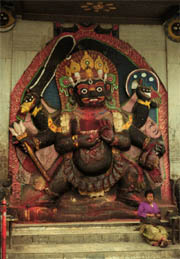 A degree of press freedom returned with the lifting of the state of emergency in August 2002, but in late 2003 Reporters Without Borders said a new wave of attacks on media workers was under way, perpetrated by both sides in the conflict. Hundreds of privately-owned publications represent diverse political views; many of them highlight cases of corruption and carry criticism of officials. The government publishes a Nepali-language daily and an English-language newspaper. It operates national radio and TV services. Private FM stations broadcast their own news bulletins.The Press

The Kathmandu Post - English-language daily

The Rising Nepal - English-language

Gorkhapatra - state owned, Nepal's oldest
newspaper

Kantipur - dailyTelevision

Nepalese Television Corporation (NTV) - state-run

Kantipur TV - private

Image Channel TV - private Radio

Radio Nepal - state-run

Hits FM - commercial

HBC 94 FM - operated by Himalayan Broadcasting Company

Radio Sagarmatha - FM, public, community station

Kantipur FM - commercial

KATH - FM, commercialNews agency/internet

National News Agency (RSS) - state-run

nepalnews.com - private, online news