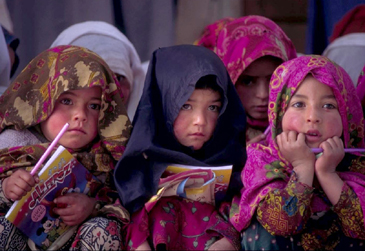 Schoolgirls in Pakistan
Pakistan is currently in crisis because many parts of this nation are out of control and central forces can do little to stem the tide of hatred. For recently the Taliban and other radical Sunni Muslim organizations have warned young females from obtaining an education. This policy is not related to the government of Pakistan. Instead this barbaric policy is being introduced by radical Sunni Islamic forces who desire to rule by fear. Therefore, in the last few days at least five schools have been bombed by pro-Taliban forces. So how can Pakistan and other nations stop this barbaric threat from radical Sunni Islamic zealots?
Of course the political correct liberals in the West and the "well meaning" who try to excuse every crime committed by these fanatics, remain mainly silent when issues like this occur. Therefore, we hear so much about Guantanamo Bay but what about the dark forces of radical Sunni Islam, why don't we get more information about this? Yes, Guantanamo Bay can be questioned because of the violation of international law. Yet what about informing people about the brutal ideology of radical Sunni Islam? After all, they support the persecution of women, killing homosexuals, killing converts from Islam, stoning people to death for adultery, closing female schools, killing teachers who teach females, and many other barbaric and draconian measures.
Yet the political correct who were aghast by Guantanamo Bay, say very little about the reality of radical Sunni Islam. Therefore, today we are seeing a new wave of radical Sunni Islam in parts of Pakistan and Afghanistan once more. This means a new drive against women in order to maintain a firm male grip over society. However, the mass media, on the whole, appears to be asleep on this issue?Therefore, in the early part of the 21st century we are witnessing a militant Sunni Islamic ideology which supports destroying schools which teach females, killing teachers who teach females, and other brutal beliefs. This is the mindset which is taking a firm hold in parts of Afghanistan and Pakistan. To the followers of this radical Sunni Islamic ideology, they deem the killing of innocents and ruling by fear to be Godly. In their eyes it is right to humiliate and persecute women, Shia Muslims, kill converts who leave Sunni Islam, to chop hands and feet off for minor crimes, to stone women to death for adultery, and so forth. This ideology is similar to Nazism, it is about the destruction of all alternative thought patterns and it is based on ruling by fear.
This radical Sunni Islamic Sharia state would mean a return to an age of complete barbarity. If a political movement in any developed nation rose up like this, then all liberals and democrats would be aghast, however, many parts of the mass media are ignoring the reality of what radical Sunni Islam means. Therefore, without any major political desire, this problem will be left unchallenged and females will be the first victims and after them the rest will follow.
Given this, the government of Pakistan and outside nations must work closely together in order to support the most vulnerable in society. Pakistan also must close down all radical religious schools because these schools are breeding grounds for radical Islamists who indoctrinate very young people. Therefore, the "real war" must be the control of "education and welfare services."
America and NATO are now bogged down in Afghanistan because Islamic Sunni militants can freely move between Afghanistan and Pakistan. Yet while the military is needed to prevent the Taliban from taking power; this policy must be more dimensional. Secular schools are needed and all welfare services must be taken over by both central governments. At the same time, all moderate Sunni religious leaders must work alongside the government in order to stop the next generation from being brainwashed.
Education and the welfare sector is the "real war" and the central governments of Afghanistan and Pakistan must be supported in these vital areas. The world must act and it must act alongside moderate forces within Afghanistan and Pakistan. If not, then this radical Sunni Islamic movement will threaten other societies and nations, for example Bangladesh, Indonesia, Nigeria, and others.
In modern day Afghanistan and Pakistan you have many people who face persecution. This applies to females who merely want to go to school, Shia Muslims who face enormous persecution, moderate Sunni Muslims, different sects within Islam, converts to Christianity or other faiths, and so forth. The NAZI style methodology of radical Sunni Islam is clearly very potent and just like in NAZI Germany, all alternative points of views are deemed to be punishable by death or other forms of coercion by the use of brute force.
If Afghanistan and Pakistan, alongside outside nations, can not protect females throughout all of society, then who can be protected from these dark forces? The battle ground is clear for all to see, it is about the control of the education sector and welfare sector. At the same time, internal corruption must be ended via genuine reforms and international financial support must be aimed at creating "a just society" and not just window dressing.
Of course this will not be easy, but the military option by itself is not viable and the same applies to maintaining the current status quo. Major institutions in both nations need to be changed alongside greater centralization where central power is very weak. Also, moderate Sunni Muslim clerics must come forward because radical Sunni Islam desires to destroy everything, including the diversity of Sunni Islam. The Taliban and other organizations desire a world where women are stoned to death for adultery and where women remain in the shadows; this radical ideology needs to be challenged by all forces which support humanity, if not, this crisis will grow and spread.