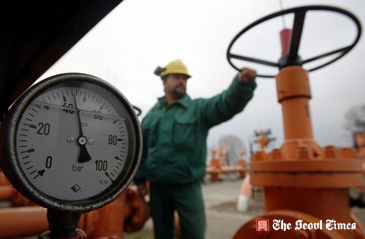 EU is alarmed by gas dispute between Russia and Ukraine
Currently, the European Union (EU) is alarmed by the current energy dispute between the Russian Federation and the pro-American government of Ukraine. Therefore, the ongoing crisis between Russia's Gazprom and Ukraine's Naftogaz is raising serious issues related to a viable energy policy for the EU. If a long-term solution can not be found, then the EU must take the guilty party to task or if the EU believes that both sides are equally guilty, then an alternative energy policy must be installed. So what is the likely outcome?
Before focusing on the current state of affairs between Gazprom and Naftogaz, it is clear that some political leaders in the EU are seeking other alternatives or methods to protect themselves from a future crisis. Therefore, the Prime Minister of the Czech Republic, Mirek Topolanek, urged the 27-nation EU to look at other approaches. This applies to a 120-day strategic reserve of oil and natural gas in order to create "a cushion" for Europe. He further added, and both the Russian Federation and Ukraine should take note, that the EU should support the Nabucco natural gas pipeline. This pipeline would carry Caspian gas via a route which would bypass both nations. However, the geopolitical reality of the Nabucco natural gas pipeline does raise serious questions.
Therefore, it is clear that the stakes are very high and the Russian Federation and Ukraine have much to lose from the continuing crisis. So why is this issue so complex? From a Russian Federation point of view, then clearly the finger must be pointed at Ukraine. After all, it is the energy supplies of the Russian Federation which supports many European nations and clearly the Ukraine is a transit nation. This is a valid point of view and of course some see "the hand of America" behind this crisis.The Prime Minister of the Russian Federation, Vladimir Putin, stated that "Our European partners really have become hostage to the dispute between Russia and Ukraine." He made this comment while he met the prime ministers of Bulgaria, Moldova and Slovakia. He further commented that "No country has the right to take other countries hostage by taking advantage of its transit role." Putin also stated that"European Commission officials could use their influence over Ukraine more to ensure the supply of gas."The three prime ministers of Bulgaria, Moldova and Slovakia, who met Putin, made it clear that they do not want to get embroiled in the bilateral dispute between the Russian Federation and Ukraine. The Prime Minister of Bulgaria stated that "The worst thing for me is that millions of citizens of Europe feel like hostages and hundreds of thousands of people are really suffering." The Prime Minister of Moldova, Zinaida Greceani, also spoke about the terrible consequences of this dispute and how people in Moldova are suffering terrible hardship. However, the Slovakian Prime Minister, Robert Fico, did state that Ukraine was "losing the trust" of its European partners.Yet according to the Ukrainian President, Victor Yushchenko, it is abundantly clear that Moscow is to blame. Yushchenko commented that the "Ukraine can clearly prove it has no fault in this dispute. We have not cut gas deliveries, nor have we stolen gas. We will do all in our power to resume deliveries to Western Europe." He stated this in Poland and he further added that "Russia wants to undermine our credibility as a transit state for gas to Europe, but our technical system is sound."The President of Ukraine also refuted that energy was being manipulated by Naftogaz. He made this claim by stating that "We've asked the European Union to examine the circumstances under which this crisis arose. If (Russia) claims we stole gas, it can take Ukraine to an arbitration court. There we can prove this is not true." Yushchenko also mentioned that the Ukraine was being treated unfairly by the Russian Federation. This applies to the fact that the Ukraine pays $450 per 1,000 cubic meters of gas it receives for domestic consumption compared with much lower prices for other nations. The EU is obviously alarmed by events and clearly this crisis must be resolved and this applies to a long-term solution. Jose Manuel Barroso, European Commission President, stated clearly that "If the agreement is not honoured, it means that Russia and Ukraine can no longer be considered reliable partners for the EU in matters of energy supply." He also advised that if the current crisis in not resolved then European energy companies should sue Gazprom and Naftogaz. Barroso also commented that "The current situation is in short most unacceptable and incredible." Yet to some people, the real "fingerprints" to this crisis can be found in the Bush administration in America. After all, this crisis, and the conflict in Gaza, is being played out in the final death throws of the Bush administration. Therefore both issues have tones of covert support from America. The same applies to America strengthening ties with Georgia last week. Therefore, the Deputy CEO of Gazprom, Alexander Medvedev, voiced concerns about the role of Washington in the current crisis. He stated that the Ukraine was "dancing to the music which is being orchestrated not in Kiev but outside the country." This comment was aimed at American meddling.Overall, it would appear that both the Russian Federation and Ukraine are embroiled in a bigger dispute and this applies to either the containment of the Russian Federation, from a Russian perspective. Or from a Ukrainian perspective, this is about Russia trying to bully the Ukraine. Also, given the American, Ukrainian and Polish alliance, not to mention that Georgia could be used via a future energy pipeline; then the "hand of America" does appear to be behind this crisis. Yet the newly elected Obama, who will soon take power, may not be interested in continuing the work of Bush and he may decide to "reach out" to the Russian Federation? Therefore, time may be on the side of the Russian Federation?However, the EU is not interested in these political games and instead they desire a viable energy policy which works, and not a policy which can be held to ransom. Therefore, the Russian Federation and Ukraine are playing a dangerous game if either nation or both nations are blamed for this crisis. Yet clearly it is a fact that the Ukraine is a transit nation and the Russian Federation did demand EU monitors. Also, the Russian Federation is in a stronger position because of their vast energy resources. So the "moral high-ground" does appear to belong to the Russian Federation and if Obama decides to move closer to the Russian Federation, then maybe the nation of Ukraine will "be left in the cold" in the long-term?Lee Jay Walker
leejayteach@hotmail.com