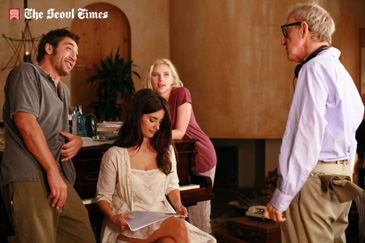 Woody Allen's "Vicky Cristina Barcelona"
Woody Allen still delights us and leaves us craving for more. His cinema is often chocolate and cheese of the finest variety. An auteur to the core, his films are sheer dramas, peppered with his passion for love, romance, art and history. Obsessed with magnificence he goes in search of sights that are fascinating, beauty that is breathtaking and intellectualism that is intriguing. In Allen, I see a charm that may be old world, but gloriously gracious and succulently seductive. Allen takes us to the Catalonian countryside in "Vicky Cristina Barcelona," where two young American women, the best of friends since school, spend their summer. Both are seeking different things. Vicky (Rebecca Hall) is engaged to a nice, handsome New Yorker and is just bidding adieu to her last weeks of what she perceives as freedom, while Cristina (Scarlett Johansson) has just broken up with her boyfriend and is dreaming of finding another price charming. It is into their idyllic vacation that celebrated Spanish painter Juan Antonia (Javier Bardem) slips into silently and sensuously. Eyes hooded, smile taunting, Antonia invites the two women to a naughty weekend of wine, sex and gay abandon. Sensible Vicky senses the danger in such frolic, but flies along with a girlishly excited Cristina even though the about-to-be-married woman finds little in the man. He is not handsome, he is not intelligent, Vicky argues with Cristina, but before long ends up in Antonio's arms, her lips crushed and body entwined in sheer ecstasy.Bardem plays the Latin lover (and what a change from the ghoulish character he portrayed in "No Country for old Men") to perfection and soon has Cristina as well to warm his bed. But the cushions go flying disturbing this cosy comfort when Juan's former wife, Maria Elena (Penelope Cruz), storms in, fresh out of a pill-popping suicide attempt, and tries to take charge of his affairs. After all I am his ex-wife, and I am concerned about the women he sleeps with, she tells Cristina, by then perplexed by the interludes.
Set in luscious light and canvassed over hauntingly pretty architecture and romantic nooks, "Vicky Cristina Barcelona" uses animal intensity and melancholic moods to subtly state the hard-to-resist sexual ardour that the three women experience with Juan. Johansson may not be much of an actor, but Allen cleverly camouflages this by giving her enough laughs and exhibiting her youth. Hall is marvellous, conveying the sense of dilemma through a touching tinge of sorrow that tells us that Allen's movie is as much a tragedy as it a comedy. And, of course Cruz is her fiery Spanish best as the woman still in love with a man who seeks sex as hungrily as he does his art. Switching between Spanish and English (which was once an obstacle for her) with ease, she infuses fire and fury as she does comedy and carefreedom into her role. Tousled hair and brilliant eyes help her ooze sex that even Cristina finds hard to ward off. Shot in Spain, "Vicky Cristina Barcelona," amply demonstrates that there will always be a hunger for this kind of Woody Allen, and the film is freely available on discs.