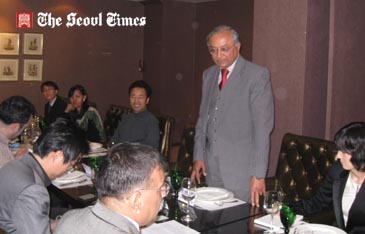 New Indian Ambassador to Seoul Skand Ranjan Tayal (standing) poses for The Seoul Times during a luncheon meeting with local journalists at the Taj restaurant in Seoul on Dec. 19, 2008.
New Indian Ambassador to Seoul Skand Ranjan Tayal emphasized the need for more and better ties between India and South Korea at a recent meeting he hosted for the local journalists.The top Indian envoy hosted a luncheon at Taj restaurant in Myong-dong, Jung-gu, Seoul on Dec. 19, 2008 on the occasion of New Year's holiday.Some 20 journalists were invited from such major news entities as JoongAng Ilbo, Chosun Ilbo, Maeil Economic Daily, Korea Economic Daily, Yonhap News, Hankyoreh Shinmun, and The Seoul Times.
As being the largest democracy, India is the country of diversity and of opportunities, said the envoy during the luncheon.He said that the two countries have close historical and business ties. In particular, India's interest in South Korea is huge, according to the ambassador.Amb. Tayal said that out of about 1 billion population some 600 million are eligible voters in India. And about half of the total electorates actively participate in the voting processAs a democratic and active country, India enjoys good relations with its neighbors including Russia, Japan, USA, China, and Arabic countries, according to the envoy.Ambassador Tayal came to South Korean in September of 2008, and started his mission as the new Indian ambassador on Oct. 6, 2008. He replaced the former Amb. Nagesh Rao Parthasarathi. Mr. Parthasarathi is now serving as Indian ambassador to Senegal.Amb. Skand Ranjan Tayal joined the Indian Foreign Service in the year 1976. Since then he has served in such Indian missions as Sofia, Warsaw, Geneva, and Moscow.He was India's consul general in Johannesburg from 1996 to 1998. He also served as consul general of India in Houston in the United States between 2002 and 2005.He was ambassador of India to Uzbekistan prior to his appointment as ambassador of India to the Republic of Korea.In the Ministry of External Affairs in New Delhi Amb. Tayal has worked in the United Nations Division and was also director (UNESCO Unit) and secretary to the Indian National Commission for UNESCO during the years of 1990 through 1995.Amb. Tayal was head of division for all consular, passport and visa work in the Ministry of External Affairs during the years of 1999 through 2002 when he was also the chief passport officer of India.He was managing the Central Passport Organization of India as CEO with a staff strength of 2,500 and a budget of over US$25 million.For details or inquiries please contact the India Embassy in Seoul at 02-798-4257 or 798-4268.