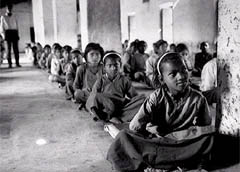 School kids in India
At a time in India when the government is struggling to raise the literacy rate by attracting especially young children to schools, a horrible fire in a primary educational institution in the town of Kumbakonam killed 90 kids under 10 last week.The fire in the southern Indian city broke out in the school's kitchen, where lunch was being made for the children. Food is a freebie that the government offers in those institutions that it runs or aids as an incentive for poorer parents to send their sons and daughters for primary education.But it was that kitchen that negated what had till that black day seemed like an honorable deed by the government to nourish body and mind. A fire in the ground floor kitchen quickly spread to the roof made of highly combustible thatch trapping children in their classrooms on the level above. A single narrow exit leading to an equally narrow staircase stopped the boys and girls from escaping. Ninety were burnt alive, and several others have been severely wounded or maimed for life.This tragedy while throwing up uncomfortable questions has led to the usual knee-jerk reaction from the Tamil Nadu administration under which Kumbakonam falls. Schools with thatched roofs have been asked to replace them with fire-proof material before July 30. Or, the institutions will have to close down.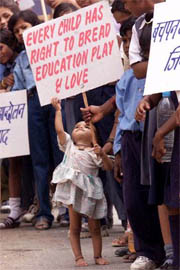 Given the precarious fund position — brought about by lack of resources or corruption which prevents money from reaching the right points — many schools which cater to the economically weaker segments of Indian society may be tempted to shut down temporarily or permanently. Either way, students will suffer, and the literacy graph can take a knock.What the government could well do now is to take a fresh look at the state of teaching and educational institutions in the country. There are hundreds of schools across India that have woefully inadequate infrastructure. Sometimes, cattle sheds are converted into classrooms!And except for Tamil Nadu and a few other states, lunch is not served for primary school kids, although this is mandatory under a government of India regulation. While scarce revenue is cited as a cause, sometimes red-tapism and money laundering ensure that poorer children go without the meal, sometimes the only one they have in a day.Yes, the larger issue is that India needs to allocate more for education, certainly basic education. Now, the government plans to spend 6 percent of the total GDP on education and health, a figure that is still much lower than that on defense. India's dauphins' spending is the third after America and China.However, a more critical factor is the lack of focus, even interest, on the education sector. Teachers even in elite schools are paid a pittance, with the result that the best of talent cannot be drawn, and serious absence of commitment is noticed. Even in the Kumbakonam school, some Press reports say that teachers ran away leaving very young students to a gruesome ordeal. There are heart-rending signs of them trying to break walls to escape the fire.But, well-to-do schools are also guilty of such callous behavior. Most rich institutions have inadequate fire-fighting arrangements, and, worse, do not carry out safety drills at all. Naturally, in emergencies such as fire, teachers themselves do not know what to do.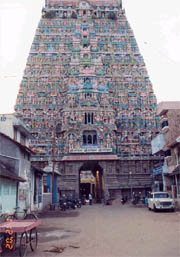 Sarangapani Temple in Kumbakonam
Unfortunately, India's education system has just not internalized safety as a prime value. Add to this, the reluctance of school managements to take on, what is strictly speaking, their responsibility. Some years ago, a school bus in New Delhi plunged into a river after the vehicle's breaks failed. Many died. Kids often die just outside their school gates, and institutions refuse to be accountable often on ridiculously flimsy grounds. For instance, they said after the first mishap that the bus was being managed and operated by someone who was not part of the school team!I would merely say at this juncture that the safety of a child is of paramount importance, and schools which fail to adhere to basic requirements must be penalized with heavy fines. I think every government officer in charge of education in Tamil Nadu — in this case — must be asked to forfeit a month's salary for not enforcing the safety standards laid down by India's law.The Kumbakonam school had violated every fire rule or just about. It had no proper exits, certainly not enough number, and no equipment to fight a flame, an inferno that quickly converted a temple of learning into a grave of death and demolished dreams.