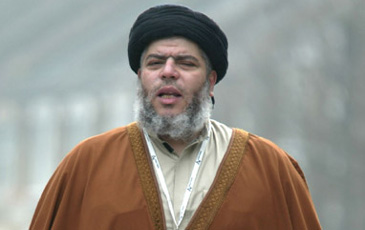 Radical Sunni Muslim leader Abu Hamza al-Masri
Photo Courtesy of The Cleveland Leader
Mumbai is in turmoil after Islamic jihadists attack many parts of this commercial city. At that moment at least 125 people have been killed in this ongoing carnage and clearly the security forces of India are at a loss. After all, the response was rather aimless during the first 24 hours. Therefore, Islamists were given a free reign for far too long during the initial stages. Obviously, at the moment the mass media is clutching at straws with regards to why this attack was so violent. Yet in the "cold light of day" it is clear that terrorism is a growing threat in India. Therefore, what are the long-term consequences of this event? Also, can India's security forces restore confidence because this major incident does not speak well for India's security services?
At the moment reports are sketchy, therefore, it is easy to make wrong conclusions because the situation is so chaotic. Yet before focusing on this event, it is important to remember that terrorist attacks are on the increase in India. Indeed, Mumbai was attacked in 2006 and this led to the loss of hundreds of people being killed after Sunni Islamists caused mayhem. More recently, you have had a spate of terrorist attacks by Indian Muslims, and not only by outside forces, which was often the case in the past. Therefore, the threat of terrorism is real and it is a growing problem in India.Turning back to the current crisis, then it is noticeable that many Islamic shahid fighters are very young and this attack resembles young Muslims in Thailand who launched an offensive against the central government several years ago. Also, this might be the start of a fresh uprising by the Muslim minority in India? However, this is purely guesswork, because the finger is also being pointed at radical Sunni Islamists in Pakistan. This does not imply that this was blessed by the government of Pakistan, because it certainly was not but you always have fear of rogue elements within Pakistan causing mayhem. Yet, at the moment it is pure speculation if this was an internal attack by Muslims from India. Or if this attack was aided by outside forces so for now we have to wait and see.Yet it is abundantly clear that radical Sunni Islamists desire to cause mayhem and carnage in Mumbai, and in other parts of India. At the same time they also want to kill international nationals because of their "Sunni Islamic one world point of view." So this attack is aimed at destabilizing India and killing citizens from India and other nations. International support can be heard loudly and the main opposition leader in the United Kingdom, David Cameron, was clear in his views. For David Cameron commented that "Our sympathy must be with the victims, yes of course, but also our support for the Indian government at this time," he says. "[The attackers] want to separate countries like Britain and India and we should be saying our trade, our tourism, everything we do together, our relationship together, will get stronger." Other comments of support have been stated by the next leader of America, Barack Obama. He focuses on the need for collective unity in order to "root out and destroy terrorist networks." Meanwhile, the President of Pakistan, Asif Ali Zardari, commented that "Militancy and extremism in all its forms and manifestations have to be eliminated and all countries need to co-operate with each other in this regard."Russian President, Dmitry Medvedev, spoke from the heart by stating that "The monstrous crimes of terrorists in Mumbai arouse our wrath, indignation and unconditional condemnation. The inhuman terrorist attacks on hospitals, hotels and other public places aimed at killing peaceful civilians, taking and murdering hostages are crimes directed against the very basis of civilized society. Those guilty of them should be severely punished. We support resolute actions of the Indian government to cut short terrorist actions. I would like to pass my deepest condolences to relatives and friends of those killed and wish the swiftest possible recovery to those injured."Indian Prime Minister, Manmohan Singh, who must be fearing the worse, condemned this deplorable attack against innocents. He also stated that the attacks were coordinated and launched by people outside of India. Manmohan Singh made it clear that these attacks were." well-planned and very orchestrated attacks, probably with external linkages, were intended to create a sense of panic by choosing high-profile targets and indiscriminately killing innocent foreigners." He added further that "It is evident that the group which carried out these attacks, based outside the country, had come with single-minded determination to create havoc in the financial capital of the country." Therefore, the Prime Minister of India vowed "the strongest possible measures" to stop a further terrorist attack. Manmohan Singh also made it abundantly clear that India." will take up strongly with our neighbours that the use of their territory for launching attacks on us will not be tolerated and that there would be a cost if suitable measures are not taken by them."However, when we look at the bigger picture we can draw some conclusions. Firstly, India's security services had no idea about this major terrorist attack. Secondly, if armed militants can attack a place like Mumbai, then other major cities are open to similar type of attacks. Thirdly, this will lead to further communal tensions within India. Fourthly, international business may decrease their investments in Mumbai because of this terrible carnage.So overall, the nature of this attack will certainly cause major shockwaves throughout India and the international community. Also, if the finger can be pointed at outside forces, then how will India respond? Yet before the jigsaw can be put together, it is abundantly clear that India's defences were not prepared and intelligence gathering also failed.