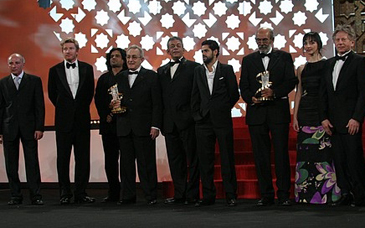 Marrakech international film festival, Morocco Nov. 14 - 22, 2008.
Arguably the most impressive film festival on the African continent, the one in Marrakech in the Kingdom of Morocco, an erstwhile French colony, opened its eighth edition on November 14. True to what last year's jury president, director Milos Forman, remarked about an ideal festival "offering a selection that gives the audience an international knowledge of cinema, centred around different cultures," Marrakech would present precisely this. A wide selection of 120 movies, including 32 in the official sections, out of the 400 previewed, will be screened during the nine-day event. Twenty countries will be represented, including the rarely seen Palestine and Guatemala. A strong northern European presence will include entries from Denmark, Finland, Iceland and the Netherlands. Sadly, India's mark is confined to Tariq Tapa's "Zero Bridge," which played at Venice and cannot strictly speaking be called Indian. For, it has been coproduced by America, and Tariq himself is an American national whose claim to India has been his boyhood visits to Kashmir with his family during holidays. This proves, once again, that the Indian nation of 1000-plus films annually has been unable to penetrate the international festival circuit in any significant manner.
Marrakech rolled out with Barry Levinson's "What Just Happened." Reviews of this have been upbeat. Here is one: "Robert De Niro stars as Hollywood movie producer Ben in Levinson's latest comedy about good times and bad times in film production. It is hard to say whether it is De Niro's comedic acting skill or the clever screenwriting of Art Linson that makes this movie funny but either way you will be entertained." The work seemed apt to get a festival rolling, and I am sure it will set the mood for a mix of serious and light stuff.
And here are a few samples of what Marrakech has on offer. "Gasolina" from Guatemala tells us how three teenage girls spend their spare time: well, stealing petrol for their joy rides in the car of one of their mothers! "Laila's Birthday" from Palestine shows how a judge, forced to become a cab driver after the government runs out of money to pay him, juggles with his familial demands.
Zhang Chi's debut feature, "The Shaft," depicts the dilemma of a miner's family in the mountains of Western China. His daughter is torn between a new life, perhaps excitingly so, and her love that she has to leave behind. The son dreams of becoming a singer, the drudgery of dirt and dust as a miner horrifying him, and his father retires to get out of the darkness of the pit only to find himself facing another gloom. His wife is missing. "The Girl in the Park" from the U.S. is another family drama the centres on the Travis, whose lives are shattered after their secrets pop out of the closet.
Argentina's "Empty Nest" tackles the loneliness of a couple when their last child leaves. The same subject replays in the Italian entry, "The First Day of Winter," where an introverted teenager misses out on the carefree joys of youth. In "Disgrace," a powerful apartheid drama from South Africa, a professor is forced to resign from the university after his affair with a student.
Apart from these, the festival will celebrate the feminine mystique by honouring two "timeless heroines." One of them is Malaysian-born Michelle Yeoh, whose "Crouching Tiger, Hidden Dragon" hit the box-offices in India. Her childhood passion for ballet led her to the London Royal Academy of Dance, but an injury ended her career as a ballerina. But another door opened. Her 1984 television commercial with Jackie Chan pushed her into the big league, earning her the title of "Kung-fu Queen." She performed her own stunts and endeared to her fans with screens parts in works such as "Tomorrow Never Dies" and "Memoirs of a Geisha." Her last two films, Asif Kapadia's "Far North" and Mathieu Kassovitz's science-fiction thriller, "Babylon AD," firmly established her as an actress of substance and style.
Marrakech will also pay tribute to another great charmer, Sigourney Weaver, whose roles in Roman Polanski's "Death and the Maiden" and Manoj Night Shyamalan's "The Village" were some of her most applauded moments in cinema. David Auburn' s "The Girl in the Park" will be screened at Marrakech.