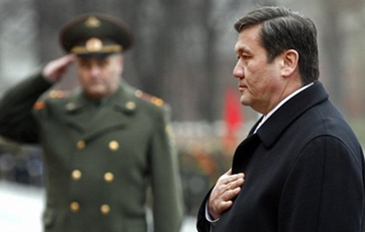 Mongolian President Nambaryn Enkhbayar Photo Courtesy of AP
The nation of Mongolia is very large in landmass, however, her population is very small and it would appear that this nation is not blessed by her geography. However, if we focus on this nation being democratic, independent, and neutral; then clearly Mongolia can help to soothe relations between China and the Russian Federation during times of difficulty. Therefore, can Mongolia play a good "hand of poker" and make the most of her geopolitical reality?For leaders in Moscow, it is clear that Mongolia is important because this nation is surrounded by both China and the Russian Federation. Therefore, the geopolitical significance of Mongolia is obvious to both China and the Russian Federation. Given this reality, political leaders in Moscow desire to help this nation because it is vital that Mongolia at least remains neutral.
Also, America could encroach by offering vast economic and political support. Therefore, important policies are being implemented by the Russian Federation with regards to energy routes, transport networks, economic zones, for example the Tumen River Delta Economic Zone, and other dynamic policies. So the strategic importance of Mongolia to the Russian Federation is abundantly clear and Moscow desires to maintain a neutral Mongolia.China shares similar views towards Mongolia because if tensions did develop with the Russian Federation, then Mongolia would be an important nation because of the geopolitical reality of this country. So Mongolia is deemed to be a vital "buffer" between both China and the Russian Federation. However, at the moment both Beijing and Moscow have cordial relations between each other and towards Ulan Bator. Therefore, Mongolia should upgrade her economy while both nations are working together on so many issues.
China is also worried about the "American card." So it is in the interest of both China and the Russian Federation to shore up their relationship. After all, American meddling could upset the applecart. However, China does have one major "ace" and this applies to the economic angle. Therefore, China does have a lot of economic influence in Mongolia because China is Mongolia's major trading partner.
China and the Russian Federation also fear America having major military bases in Mongolia in the future. This applies to America having independent bases in Mongolia or via the framework of NATO troops. China is also worried about the Taiwan issue, therefore, China can not afford a weakness within her geopolitical zone of influence and Mongolian neutrality is a must for the leaders of Beijing.America, on the other hand, desires to keep both nations in check and of course they hope to increase their influence in Mongolia for geopolitical and military reasons. America also understands that Mongolia is in a very strategic region and they desire to increase their influence within the "backyard" of both China and the Russian Federation. America also knows that Mongolia could be threatened, after all inner Mongolia lies within the nation of China. Therefore, it is a good way for America to keep an eye on her main rivals, while justifying this on past history. Given this, the nation of Mongolia must utilize her geographic reality in order to boost the economy of Mongolia. Therefore, astute leaders are needed in order to play "a wise game." If this happens, then Mongolia can gain from economic and political support from all the major powers. Of course this is not going to be easy, therefore, diplomacy and statecraft is badly needed in order to maintain the current status quo. However, for now Mongolia is utilizing her geography well because international investment continues, despite the remoteness of this nation. Yet dangers remain within the political system of Mongolia because earlier this year you had mass demonstrations in this nation. Therefore, Mongolia needs to focus on democracy and transparency because internal political tensions will lead to international capital flight and it will reduce direct foreign investments.
Also, it is hoped that regional or global institutions will help this nation. This applies to the Asia–Pacific Economic Cooperation forum, NATO's Part­nership for Peace, the Northeast Asia Cooperation Dialogue, and other major institutions. The European Union should also develop a robust policy and democratic nations throughout the region should implement favorable policies towards this nation, for example South Korea and Japan. Therefore, it is vital for Mongolia and positive outside forces to help this nation to develop and to utilize the natural resources of this country.
If Mongolia can maintain her neutrality in the future, then her economy will continue to benefit and her global influence within Northeast Asia will also blossom. In this sense Mongolia is already winning and maybe this weak nation can help to reduce respective tensions in this part of world via her diplomatic policy? Therefore, all major political parties in this nation must refrain from using violence and intimidation. Instead, they must focus on preserving the independence of this nation and creating a stable economic and political system. So it is vital for Mongolia to utilize the international political system because it is clear that this nation is of strategic importance.