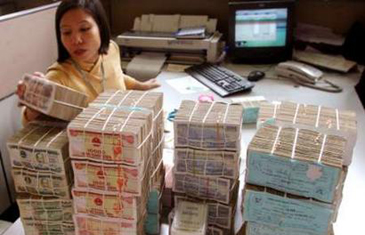 Vietnamese woman stacks money at a bank in Hanoi.
Vietnam modernized her economy in the 1990s and doi moi restructuring helped to develop many sectors. Of course the government "pulled the strings" in many areas of the economy when this policy was in the initial stages, however, the government reduced its influence once economic measures had taken root within Vietnam. However, global economic convulsions are clearly underway in many nations and Hungary, Iceland, the Ukraine, and others, now seek economic aid from the IMF. These global convulsions can also be seen in Vietnam and inflation and price hikes is causing discontent. Therefore, will rampant inflation lead to political chaos and revolts? Or will the Communist Party in Vietnam maintain order?
Without a doubt the Communist Party of Vietnam is alarmed by rising prices, inflation, growing economic disparity within society, and other knock on effects. After all, during periods of high economic growth the government remains mainly immune from political discontent. However, Vietnamese people, like people all over the world, will challenge the status quo during difficult times. So now it is essential for the ruling Communist Party to implement new economic measures which can shore up the economy.
However, this will not be easy because inflation is already causing problems and economic hardship is growing because of price hikes. In August, 2008, thousands of workers went on strike in Long An province, Binh Duong province, and in other parts of Vietnam. Strikers demanded higher wages and greater control mechanisms to contain the rising cost of living. The vice chairman of the Vietnam Labor Federation, Hoang Ngoc Thanh, commented that "salaries are too low and many face difficulties meeting costs for rent and healthcare" This statement was reported in the Tien Phong daily, however, this is just the tip of the ice-berg because similar opinions are being expressed throughout Vietnam.
To be fair to the government of Vietnam, they are taking notice of the situation because political leaders fully understand that bread and butter issues is what counts, and if economic gains are not maintained then a power vacuum could emerge. Therefore, the Prime Minister of Vietnam, Nguyen Tan Dung, is trying to help sectors which have been badly hit by the current economic downturn. For example, he issued temporary economic aid via the finance and agricultural ministries in order to provide a lifeline for fisherman. Yet, state intervention could undermine the policies of doi moi and other policies of restructuring within Vietnam. This in turn could lead to a more conservative economic policy.
Therefore, political and economic polarization is a distinct possibility and tensions could easily erupt if the current situation fails to improve. After all, people now expect more because of past economic liberalization and the current younger generation is far more distant towards communism rather than the older generation. So if the party wants to maintain its strong power base it must come to terms with the changing nature of Vietnam.
Given this, a new dynamic way is needed whereby the political leadership seeks to implement new reforms in order to keep up with the changing environment. At the same time, they also need to shore up their power base by offering support to people who are finding it difficult to survive. So tax relocation must be targeted and greater prudence must take place in order to reduce economic wastage.
Therefore, price subsidization of basic food stuffs is needed because it would appear that prices will continue to increase in the short term. If the political elites are really astute, then surely this type of measure, and others, must be implemented in the short-term. At the same time farmers need greater economic aid because they have been left behind and the growing economic gap between cities and the countryside is a stark reality in modern day Vietnam.
One other major fear is that reformists will lose out if political tensions erupt. Therefore, it is vital for reformists within the political party to rise up and be counted. Times may be challenging in modern day Vietnam but the old days must not return. Instead a new Vietnam needs to rise from the ashes of the past. However, if a major economic downturn appears then you could have an internal power struggle between reformists and conservatives.
Overall, the situation may be under control at the moment but events can quickly spiral out of control and this is always a possibility. After all, look at the economic demise of Hungary, Iceland, the Ukraine, and others, in the last few weeks. So patience is needed with regards to the people of Vietnam, however, this patience can only last providing the current political leadership does something to stem the rising tide of discontent. Therefore, the current situation will certainly test the one party state and it is interesting to see how they respond, will it be positive or negative?