| | |
| --- | --- |
| | A man with terminal AIDS-related tuberculosis sits on his hospital bed in Gulu, northern Uganda. |
Undoubtedly, AIDS is a terrible threat facing mankind. The disease — even two decades after the first cases were reported/detected — has no vaccine or cure. Cocktail drugs prolong life, sometimes improve it. But treatment continues to be expensive, with rich countries such as the U.S. even fighting shy of sending larger delegations to the recent international conference on AIDS in Bangkok, let alone coming forward to invest adequate resources to fight the scourge.As a developing nation, India is struggling to cope with the 20th century plague. Bill Clinton once said that AIDS "will slice the nation like a hot knife through butter." India's development could be affected, though the U.N. Secretary-General, Kofi Annan, told the Bangkok meet that "India and China may not see that much economic damage because of the vastness of their populations."However, experts warn against complacency. They say that the enemy is at the gate. I would say, the enemy is already entering the gate.About 5.1 million Indians are HIV positive. This may be less than one percent of the adult population, but AIDS is not an infection that can be ignored. Going by the experience of countries such as South Africa, the tendency to underestimate the impact of the HIV can prove to be a costly error.
| | |
| --- | --- |
| | A girl holds her baby sister at the edge of a sugarcane field near Hlabisa in South Africa's Kwazulu-Natal province, one of the world's worst AIDS hotspots. AIDS has left many children here without parents. |
What is more, AIDS is very different from other diseases, which usually decline with time or begin to slow down. This is where AIDS continues to worry us.A newspaper article makes an interesting observation. "In India, the consequences of AIDS will be devastating. India has more people (51 percent) who are under 24 years of age, compared with China's 39 percent and America's 29 percent. AIDS hits young people disproportionately, and this means India's most productive section of the population can be affected"With the AIDS epidemic spreading in India, the nation is not quite equipped to deal with it. India's spends only 0.7 percent of its GDP on public health. Many Indian States have fewer than 20 hospital beds for every 100,000 people. Woefully inadequate to take the HIV head on.Yet, India's black cloud of AIDS has a silver lining. The infection is still in its early stage, and the time is now to make a two-pronged attack on HIV: an aggressive prevention campaign and care/treatment of those already suffering.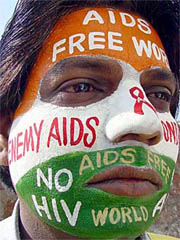 Prevention and education alone do not work. After all, who is going to step out and be tested for HIV unless he knows that he is not going to die for want of medical care? And if he is looked after, he will live longer and lead a healthier life. He will be productive, and may well serve as an example of hope and caution. The governments will lose less, and the economy will do better. Actually, States such as Brazil have proved that adequate and effective care of those afflicted with AIDS actually helps to save money. Obviously. A man or woman disabled by lack of treatment cannot be economically constructive. And, greater the number of such sick people, the greater will be the burden on the country, as some of the African nations have proved.Of course, one can argue that Brazil is relatively well off than India. But the World Health Organization has established that AIDS can be satisfactorily dealt with even in "poor resource settings." Haiti is a good example of this.But, before India embarks on a comprehensive system to deal with AIDS, it must get past two major obstacles: stigma/apathy and scarce funds. There is still shame associated with AIDS. This needs to be corrected through social education and programs (stage plays and movies).Now, Indians suffering from AIDS face social ostracism, part of which stems from misinformation. There is yet no clear understanding of how the HIV travels from one to another. Questions such as, will I get AIDS by using a towel used by one who is an HIV positive, still do the rounds even among India's educated classes. This kind of misconception needs to be removed before we can hope to fight social guilt.
| | |
| --- | --- |
| | A religious healer in Lagos, Nigeria talks to women infected by HIV. Without access to medical treatment, many Africans put their faith in spiritual cures. |
And, yes, India has to spend more money on AIDS prevention and treatment. It now spends 19 cents on every infected adult, while Uganda spends $ 1.80 and Thailand 55 cents.The happy part of India's AIDS story is that the country still has time on its side, though not much. The administration has to act quickly if it hopes to avoid a repeat of what happened in the sub-Saharan Africa, where the HIV has wiped out millions of working men and women, and left legions of children orphaned to face a frighteningly dark future. India, better beware.