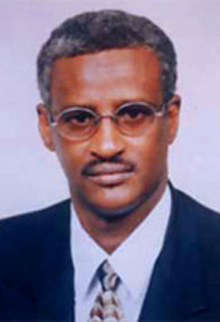 The Ethiopian Ambassador to Japan, Abdirashid Dulane
I was kindly invited by the Ethiopian Ambassador to Japan, Abdirashid Dulane, in Tokyo, and the Third Secretary, Dawit Yirga, on October 14th. At all times, both Ambassador Abdirashid Dulane and Dawit Yirga, spoke openly about many diverse issues. Therefore, I will touch on these issues, while protecting their privacy with regards to topics not related to Ethiopia.
Before I start, these two fine representatives of Ethiopia offered the best of this ancient nation. For both representatives came from different ethnic groups and different faiths. Yet this did not matter, for both were proud to be Ethiopian and race and religion did not enter the equation. Therefore, all the positives of Ethiopia was mirrored in this one room and this is what Ethiopia is famous for.
Therefore, the land of Orthodox Christianity and Islam, and other minor faiths within Ethiopia, including Judaism and Traditional Beliefs, could be seen in the rich mosaic of this nation by their genuine care for both Ethiopia and the international community. It should be remembered that Ethiopian Orthodox Christianity is one of the oldest branches of Christianity. Also, Ethiopia is famous in Islam because Muslims were given protection when they were being persecuted in the 7th century. Therefore, the Prophet Mohammed said that Ethiopia was "a land of righteousness where no one was wronged."
Moving back to my meeting with both Ambassador Abdirashid Dulane and Dawit Yirga, our conversation, in the late evening, was soon to focus on Somalia, the international community, and many other issues. At once, I could tell that both representatives felt a tinge of sadness and bewilderment, about the one-sided nature of a lot of media coverage surrounding Ethiopia and the Somalian issue. This bewilderment, from my perspective, is fully justified because many journalists are not looking at the bigger picture, or easy statements are being made without any real substance.
Therefore, both Ambassador Abdirashid Dulane and Dawit Yirga, spoke passionately about Somalia and the surrounding region. They also made it clear that Ethiopia was acting in good faith and that dangerous forces, for example terrorists, criminals via piracy, and Islamic radicals, had threatened to attack Ethiopia and other nations via radicalism and criminality. It must also be stressed, that recent events clearly vindicate Ethiopia because radical Islamists last week threatened to attack Kenya and of course piracy is a growing problem.
Also, international terrorism and criminality is working together via the financial mechanism of piracy and the international war against terrorism must include Somalia. After all, Al-Qaeda, and other terrorist organizations, desire to use Somalia for their own negative means. If radical Islamists took power then we would have another Taliban and Al-Qaeda conundrum, where women would be killed for adultery and radical Islamists could plot more international terrorist attacks.
If we concentrate on piracy first, then it is clear that a stable Somalia is in the interest of all nations. The German Defense Minister, Franz Josef Jung, stated that "We have to first push back the pirates, restore security on the high seas and make free maritime trade possible again." Currently eight European nations who are members of the European Union (EU) will deploy additional warships and other members may also get involved. The French President, Nicolas Sarkozy, also called for a major concerted effort to tackle this growing menace.
Therefore, Ethiopia is only interested in stabilizing Somalia and defeating forces which seek to cause deadly mayhem. Given this, it in the interest of all nations that a stable and viable Somalia can emerge. Yet this can only happen if proper funding and support is given to Ethiopia, Somalia, the African Union via their peacekeeping mission, and other major institutions, who desire to bring peace to this part of Africa.
Peter Bergen, who is a member of the important think-tank, New America Foundation, is a specialist on al-Qaeda and its network, counter insurgency methods and counter-terrorist policies, and he frequently writes about Afghanistan, Pakistan and Iraq. On April 9, 2008, Peter Bergen commented that "al-Qaeda and its affiliates have targeted the ungovernable regions within Gaza, Lebanon, Sudan, Somalia to establish safe havens, and they may be achieving success in certain areas. Areas such as these should be regularly monitored, al-Qaeda and affiliate activities should be disrupted and al-Qaeda should not be permitted to establish safe havens within these territories. As many African nations face the greatest threats from ungovernable regions, the U.S. should increase its annual funding for the Trans-Sahara Counterterrorism Partnership."
Therefore, clearly Peter Bergen clarifies the danger of Somalia and other failed regions where terrorism can grow. Added to this, Somali Islamic fighters stated that they would take their war to Kenya via terrorist attacks and other measures. This threat is real because Sheikh Muktar Robow, on October 17, 2008, stated that "We will order all our holy warriors to start the jihadi war inside Kenya."
Also, in the past radical Islamists like Fazul Abdullah Mohammed, who is wanted in connection with U.S. Embassy bombings in Kenya and Tanzania respectively; used Somalia, alongside other Al-Qaeda operatives, in order to spread international terrorism and radical Islam. Therefore, the linkage between failed states, Islamic terrorism, harsh and draconian implementations of Sharia Islamic law, piracy, and other forms of major criminality, including the drug trade, is clearly linked. So because of this, and other factors, Ethiopia felt obliged to support the international community and the people of Somalia.
Also, I will mention again that Ethiopia is not the richest nation in the world, however, despite this, Ethiopian soldiers and the government of Ethiopia is trying to help the nation of Somalia. Yet Ethiopia needs the international community to help both financially and via a major peacekeeping force. If the international community becomes fully involved then everybody will gain because forces of chaos will be defeated and the world will be a much safer place.Yet, in general, most nations are not pulling their weight and the burden on Ethiopia is severe but this neighbouring state is doing its best to help Somalia. Also, it is clear that Ethiopia desires to leave Somalia but only when the people of Somalia have hope. So if the international community becomes more robust on this issue, then Ethiopia can hand over the full reigns of power to both the Somalian people and the international community.
To conclude, this article was written after listening to the wise words of the Ethiopian Ambassador to Japan, Abdirashid Dulane, in Tokyo, and the Third Secretary, Dawit Yirga, on October 14th. However, I must state that this article, and my ideas, belong to myself and Ambassador Abdirashid Dulane and the Third Secretary, Dawit Yirga, may disagree with parts of my article? Yet, I would like to thank both Ambassador Abdirashid Dulane and Dawit Yirga for being great hosts, talking openly, and giving me the chance to discuss a major international topic.