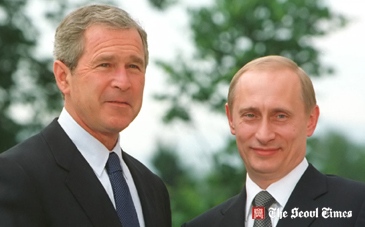 George Bush and Vladimir Putin

President George Bush will leave office in the near future, however, before this he appears to desire a more robust foreign policy aimed at alienating the Russian Federation. More alarming, if the Republicans win the next election then John McCain may increase this growing theme within America. After all, the new enemy is of course the old enemy because John McCain warns about the "dangers posed by a revanchist Russia." Also, when McCain sees PM Vladimir Putin, he can only see three letters which are "KGB." So will America continue with this anti-Russian theme and is it justifiable?
If we focus on recent events in Georgia then it is clear that tensions have increased between America and the Russian Federation. The same applies to the continuing expansion of NATO and the deployment of America's anti-missile system in Eastern Europe is also causing anxiety in Moscow. Therefore, it would appear that America is trying to encircle the Russian Federation and dialogue or mutual respect is being thrown out of the window.
Also, John McCain is sabre rattling and the same applies to the Secretary of State, Condoleezza Rice, because both are increasing their anti-Russian campaign. McCain made it clear that the Russian Federation should be kicked out of the Group of 8. He also stated that "Western nations should make clear that the solidarity of NATO, from the Baltic to the Black Sea, is indivisible" and the Russian Federation should have no say in this important matter.
This type of language is also being espoused by Condoleezza Rice after recent events in Georgia. For she stated that "Russia's reputation as a potential partner in international institutions, diplomatic, political, security, economic, is frankly, in tatters." She continued by adding that "Russia will pay a price. We look seriously with our allies and bilaterally at the consequences of this Russian action...Georgia will rebuild, Russia's reputation may not be rebuilt."
These statements, and others, alongside NATO expansion and the American anti-missile system, is causing a major rift between America and the Russian Federation? The same applies to the energy sector because America desires to bypass the Russian Federation via friendly nations in the former Soviet Union. Not surprisingly, both President Medvedev and PM Putin have hit back and they both firmly state that America is behind the current crisis between both nations.
The NATO equation clearly rankles many people in the Russian Federation because instead of a collective organization or understanding based on geopolitics, we are merely seeing NATO expanding eastwards. Therefore, it is clear that America believes that Russia's only collective space should apply to the Russian Federation. Outside this, then all the former Soviet states, apart from the Russian Federation, are deemed to be possible future members of NATO.
Behind all the smiles and rhetoric of President Bush it is clear that he, and his policy advisers, are intent on encircling the Russian Federation by supporting Georgia and the Ukraine. After all, look at both Georgia and the Ukraine, they are neither stable or bastions of democracy. Also, many people in the Ukraine do not want to join NATO but this does not seem to matter. Instead we get the American mantra that expansion is aimed at Iran and spreading greater democracy. However, just like McCain stated, "...the solidarity of NATO, from the Baltic to the Black Sea, is indivisible" and of course Iran is not the real issue because American posturing is aimed at the Russian Federation.So let us look at Georgia and why allowing this nation to join NATO would be problematic for the Russian Federation. Firstly, Georgia is deemed important to America because of geopolitics and the West desires to use both Azerbaijan and Georgia in order to bypass the Russian Federation via energy links. By doing this, then both the Russian Federation and Iran will lose out. Secondly, Georgia is probably the most anti-Russian state in the region because of past history so America can garner support more easily in this nation. Thirdly, by allowing Georgia to join NATO then clearly Moscow will feel vulnerable because parts of Southern Russia is also volatile.
However, and this is the crux, Georgia is far from being a stable democracy because of both internal politics and because of her internal ethnic divisions. If Georgia joins NATO then does this mean that NATO forces will crush Abkhazia and South Ossetia? Because both Abkhazia and South Ossetia desire independence from Georgia. So if Georgia is not even a unitary state, then how can this nation join NATO? If I was either an Abkhazian or South Ossetian I would be worried. Therefore, when the Georgian crisis broke out the Russian Federation was faced with a major problem and because of this they intervened quickly in order to help the Abkhazians and South Ossetians, and of course to maintain their influence in a very strategic region.
Now if we turn to the Ukraine then it is abundantly clear that this nation is always on the brink of political meltdown because tensions arise frequently. Also, in the east of this nation you have many ethnic Russians and they certainly do not desire to join NATO. More alarmingly, this nation could certainly be used to launch a military offensive against the Russian Federation if a similar problem like Georgia happened in the future or it could be "a dagger at the heart of Russia?" So once more does the Ukraine fit the criteria of a developed NATO nation given the current political situation in this nation? Also, if the Ukraine does join NATO then what about the ethnic Russians and Tatars in this nation, do they have a say in the matter?
Therefore, NATO membership must be stopped under the current thinking of America because this is clearly a political decision and it is up to nations like Germany to stop this American "madness." After all, you don't have any justification for encircling the Russian Federation like this. It must be remembered that the same America appears to be bent on causing divisions in the Balkans, the Middle East, Northeast Asia, and in Eurasia, and it is clear that the "American backyard" applies to the entire world.
So nations must stand up to this policy of divide and rule. Because this policy is clearly aimed at containing the Russian Federation (and any nation which is independent and strong) and you have no justification for this policy given the current situation. So does America want to contain the entire world, from China to the Russian Federation and then Venezuela and so on? Surely geopolitics is about understanding the self-interests of regional powers and collective organizations.
However, America is now bent on global containment and this policy is not valid in the 21st century because how can you claim that the Russian Federation is a global threat? On the contrary, the real threat appears to be America and if McCain obtains power and he follows through with his statements, then clearly the situation will increase. Therefore, America needs to think more deeply because it is much better to have a "shared relationship" with the Russian Federation and to implement safety mechanisms when both sides disagree.
Lee Jay Walker Dip BA MA
http://journals.aol.com/leejaywalker/uk/